Sarah Huckabee Sanders signs law bolstering religious freedom protections in Arkansas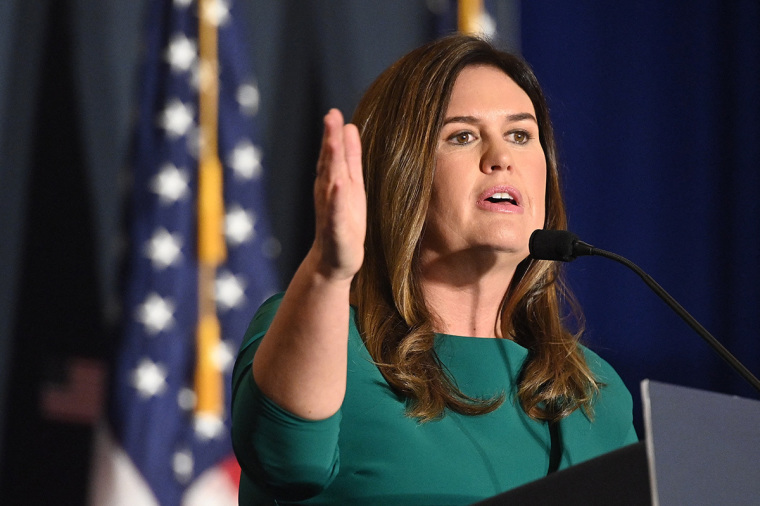 Arkansas' Republican Gov. Sarah Huckabee Sanders' signing of a bill protecting religious organizations' religious beliefs and identity from discriminatory actions has generated dueling reactions from religious freedom and LGBT advocacy groups. 
Sanders signed House Bill 1615, also known as the Conscience Protection Act, into law last Wednesday, banning the state government from taking "any discriminatory action against a religious organization on the basis of the religious identity or status of the religious organization."
This includes action taken in opposition to religious organizations that maintain "policies and procedures in accordance with a sincerely held religious belief, or the religious organization engaging in religious conduct protected by the First Amendment to the United States Constitution or the Arkansas Constitution."
The Republican-controlled Arkansas House of Representatives approved the measure in a 78-17 vote, while it passed the Republican-controlled Arkansas Senate by a 28-4 vote. The Senate vote fell along party lines, with one House Republican joining House Democrats in opposing the bill. 
An example of "discriminatory action[s]" provided in the bill are those that "alter in any way the tax treatment of, or cause any tax, penalty, or payment to be assessed against, or deny, delay, revoke, or otherwise make unavailable an exemption from taxation of any person" or religious organization on the basis of their beliefs. 
Additionally, the law orders the state government to "consider any person for a contract, grant, or agreement that would otherwise be considered for a contract, grant, or agreement but for a determination against the person wholly or partially on the basis that the person maintains policies and procedures, or acts in accordance with, a sincerely held religious belief."
The law requires the state to establish a "compelling government interest" if it takes action that has the effect of discriminating against an organization or person because of their religious beliefs.
The legislation also allows those who feel the state government has discriminated against them because of their religious beliefs to seek remedies in court. However, those seeking to take action against the state government for purported acts of religious discrimination only have a two-year window in which they can do so. 
The nonprofit legal organization Alliance Defending Freedom, which has won several religious freedom cases before the U.S. Supreme Court, praised the new law.  
"The Conscience Protection Act strengthens Arkansans' religious freedom rights by bolstering existing protections in the state's Religious Freedom Restoration Act and ensuring the government will not discriminate against religious individuals and organizations," said ADF Legal Counsel Greg Chafuen in a statement Tuesday. 
"The law doesn't determine who will win every disagreement, but it does ensure that all Arkansans — regardless of their religious creed or political power — receive a fair hearing if a government action forces them to violate their religious beliefs." 
As an example of the adverse treatment faced by religious organizations in the absence of legislation like the Conscience Protection Act, ADF cited the situation at the center of the 2017 U.S. Supreme Court case Trinity Lutheran Church of Columbia v. Comer. In that case, the state of Missouri denied a church day care a partial reimbursement grant for rubberized playground surface material available to other preschools simply because a church runs the preschool. 
The U.S. Supreme Court sided with the church in determining that "the exclusion of Trinity Lutheran from a public benefit for which it is otherwise qualified, solely because it is a church, is odious to our Constitution…, and cannot stand."
Chafuen commended the Arkansas General Assembly and Gov. Sanders for "ensuring that freedom of religion is protected for all Arkansans."
The LGBT advocacy group Human Rights Campaign issued a statement claiming that the measure is one of "two bad bills" before Sanders, warning that it "allows religious beliefs to be used as an excuse to discriminate against LGBTQ+ people." 
In Arkansas, two bad bills are still with Gov. Sanders for signature or veto.

HB1468 prevents school staff from addressing trans students by the correct name and pronouns.

HB1615 allows religious beliefs to be used as an excuse to discriminate against LGBTQ+ people.

— Human Rights Campaign (@HRC) April 18, 2023
The implementation of House Bill 1615 comes less than a year after Arkansas voters narrowly rejected Issue 3, a ballot measure that would have created the "Arkansas Religious Freedom Amendment." During the 2022 general election, 50.4% of Arkansas voters rejected the ballot measure, while 49.6% supported it. 
If passed, the Arkansas Religious Freedom Amendment would have mandated that the "government shall not burden a person's freedom of religion even if the burden results from a rule of general applicability." Like the Conscience Protection Act, Issue 3 would have enabled those who felt their religious beliefs were burdened by the government to take legal action.