Satanic Temple Demands Followers Sign Contract Giving Their Souls to Satan Before Unveiling Satanic Statue in Detroit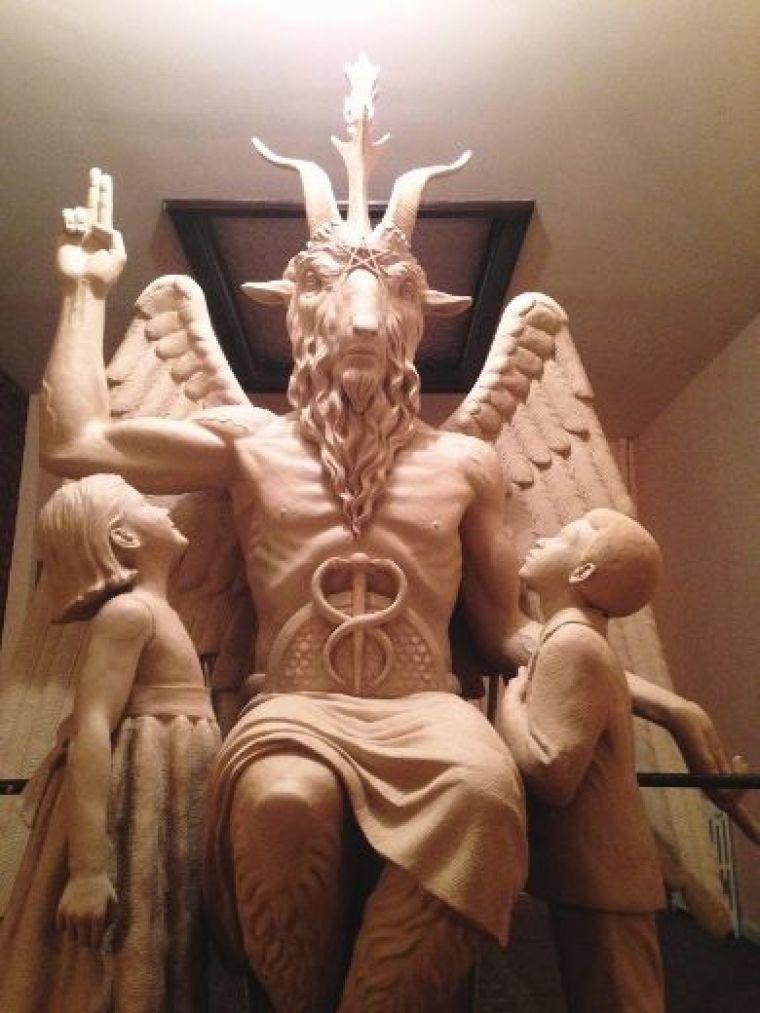 The Satanic Temple group reportedly presented followers who attended its unveiling of a Satanic statue in Detroit on Saturday with a contract that pledges their souls to Satan.
"I agree that by signing this document under any name, given or adopted, actual or pseudonymous, I am hereby avowing my soul to Satan (aka Abbadon, aka Lucifer, aka Beelzebub, aka the Antichrist). I do so knowing that He (aka The Fallen One, aka The Father of Lies) or any of His representatives may choose to collect my eternal soul at any time, with or without notice," the contract reads, as shared by The Friendly Atheist blog.
"I understand that my signature or mark representing any name, real or made up, upon these papers constitutes a lasting and eternal contract, and that there will be no further negotiations on the matter of my eternal soul."
TST spokesperson Lucien Greaves explained that attendees had to sign the contract pledging their souls to Satan after received an e-ticket which revealed the secret location of the event.
The 8½-foot-tall statue unveiled in Detroit is of Baphomet, a Satanic entity with horns, hooves, wings and a beard, depicted next to two young children.
The Associated Press revealed that the group had originally planned to host the unveiling at a popular restaurant, but had to change to a secret venue after the owner began receiving threats.
"Detroit is a very religious area," said Bert Dearing, the owner of Bert's Market Place in Detroit's Eastern Market district.
"When I rented the place, I just thought it was a church. I didn't know about the unveiling of a statue. We weren't aware they were into devil worshiping."
The large statue reportedly cost more than $100,000 to make. It was originally planned to be unveiled at the state Capitol in Oklahoma City, until Oklahoma's Supreme Court banned all religious displays.
Greaves has previously said that the point of the monument is to affirm that America "respects plurality."
"The entire point of our effort was to offer a monument that would complement and contrast the 10 Commandments, reaffirming that we live in a nation that respects plurality, a nation that refuses to allow a single viewpoint to co-opt the power and authority of government institutions," the TST spokesman said earlier in July, referring to the Oklahoma ruling.
"Given the Court's ruling, TST no longer has any interest in pursuing placement of the Baphomet monument on Oklahoma's Capitol grounds."
While TST required people to sign a contract giving their souls to Satan, they claim to not actually worship Satan, but promote "individuality, compassion and views that differ from Christian and conservative beliefs."
Some Christian pastors responding to news of the monument have said that the call for tolerance should apply to the TST group as well as other religious groups.
"If we ask others to be tolerant of our religion, we are going to be asked to be tolerant of their religion as well," Bishop Charles Ellis III, pastor of the 6,000-member Greater Grace Temple in Detroit, said according to Mail Online.
"Tolerable does not mean you have to practice what they practice or that you are condoning what they are practicing. I'm not saying I'm being accepting. I'm just saying I have no control over that."