Satanists Are Atheists, Freedom Activists, Not Devil Worshipers?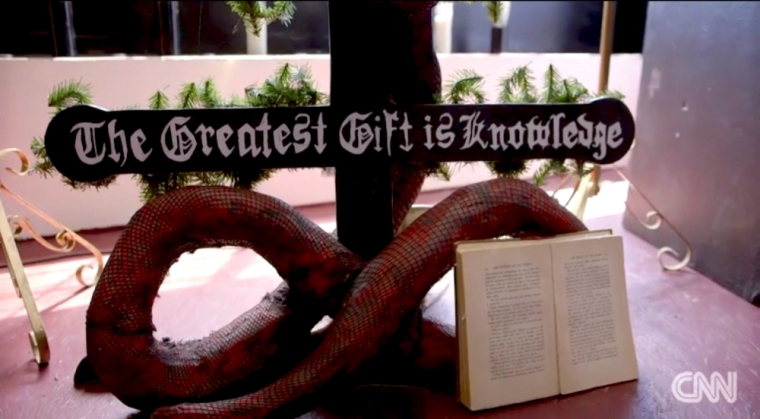 Satanists do not worship the devil as a person, and are more about "community activism and individual freedoms" than wearing black clothes, listening to death metal music or sacrificing animals, claims broadcast journalist Lisa Ling in her documentary series on CNN.
One of the most interesting things about the Satanic Temple is that they don't worship Satan, says Ling, who features the Detroit chapter of the controversial group on her CNN documentary-series, "This Is Life with Lisa Ling," which airs on Wednesdays.
"People need to realize that the Satanic Temple is a group that doesn't worship any kind of deity," Ling says, according to The Detroit News. "They just use the most controversial figure in the world to represent their religion and their political movement."
In her documentary, Ling asks a leader of the Satanic Temple why do they call themselves a religion. "Religion helps define who you are," comes the reply. "As Satanists, we are fighting for moral progress. We see how much encroachment there is of religion in public affairs, and I think it's only a responsible thing to fight for your deeply held views."
The Satanic Temple inaugurated a 2,000-pound, goat-headed occult idol of Baphomet in Detroit.
The Detroit chapter of the group was launched last year and claims to have about 200 active members.
Satanists are actually atheists, claims a CNN story associated with the documentary, quoting the website of the Church of Satan, which states: "Satan to us is a symbol of pride, liberty and individualism, and it serves as an external metaphorical projection of our highest personal potential. We do not believe in Satan as a being or person."
The Satanic Temple also says, "We do not promote a belief in a personal Satan. To embrace the name Satan is to embrace rational inquiry removed from supernaturalism and archaic tradition-based superstitions," the article adds.
It goes on to say that Satanists have no problem in celebrating Christmas.
"I personally just view it as more of a time to be with my family," Michael Mars, a Detroit artist and member of the Satanic Temple, tells Ling. "I feel like everyone should have the right to celebrate their religion, but every voice has to be heard."
The Satanic Temple uses symbols of Satan only to draw attention to what it sees as the hypocrisy of Christian symbols on government property, the article says, quoting Mars as saying, "There's nothing wrong with (having a nativity scene on government property) ... if other religions can be accepted as well. There can't be one dominating voice to all the voices."