Satanists Mount 'Snaketivity' Scene Display on Michigan Capitol Grounds; Christian Senator Responds by Adding Nativity Scene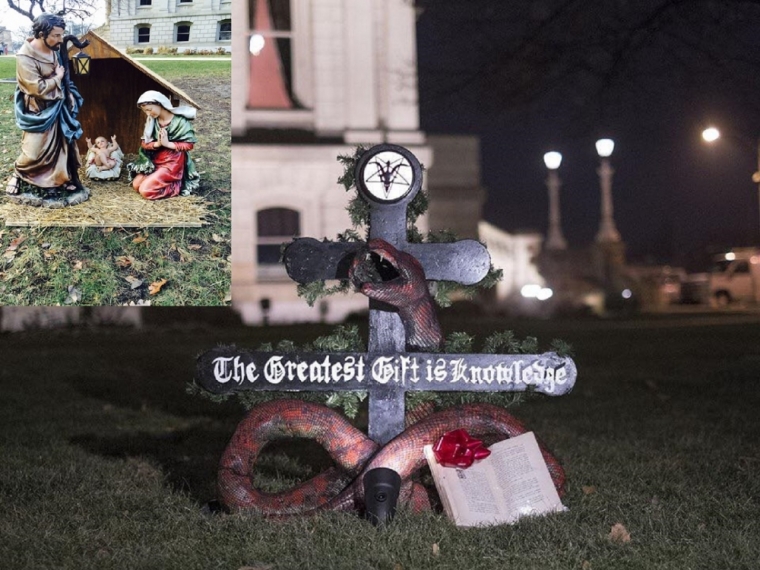 A Christian senator in Michigan was rankled into action Sunday after the Detroit chapter of the Satanic Temple mounted a mockery of the nativity scene called the "Snaketivity" on the north lawn of the Michigan Capitol featuring a snake, a satanic cross and a book called Revolt of the Angels.
The Satanic Temple, however, did not see it as a mockery but charged that it's an attempt to diversify the way in which the Christmas holiday is celebrated.
"I think that this holiday season is a time of year that is celebrated in many different ways. Having our government endorse one singular viewpoint or method of celebrating the season is problematic when we have a diverse community of people in Michigan," Jex Blackmore, Satanic Temple spokesperson, told the Lansing State Journal.
She said the group doesn't believe in "Satan as a deity" but noted that it's a "metaphor that informs our working goals."
The Satanic Temple display was approved by the Michigan State Capitol Commission for display until Dec. 23 in Lansing on the capitol grounds. Shortly after the Snaketivity went up last Friday, however, state Sen. Rick Jones, R-Grand Ledge, set up a Christian nativity scene on the opposite side of the front capitol lawn which is approved until Friday, well after the permit for the Snaketivity expires.
"I'm a little outraged that a Satanic group has decided to steal a Christian holiday," said Jones, according to mlive.com. "… As a Christian, I think it's important that we respond to this."
Jones further told the Journal: "They could have put theirs up in July or April or sometime. They didn't need to put it up in the Christmas season."
He added that he believes the Snaketivity was mounted to be "offensive," but he plans on ignoring the display.
"That's OK. We're going to ignore them. I'm not afraid of the snake people. I'm sure that Jesus Christ is not afraid," Jones asserted.
Randy Andrews, another Christian who gawked at the Satanic display on his way to play drums at the Cedarway Free Methodist Church, told the Journal that the group of satanists were sending the wrong message.
"It's just sad. People underestimate the power of Satan," said Andrews. "There's unseen forces of evil that can start destroying foundation of things that hold up our government."