Prominent Southern Baptist Leader Frank Page Resigns, Citing Unspecified 'Personal Failing'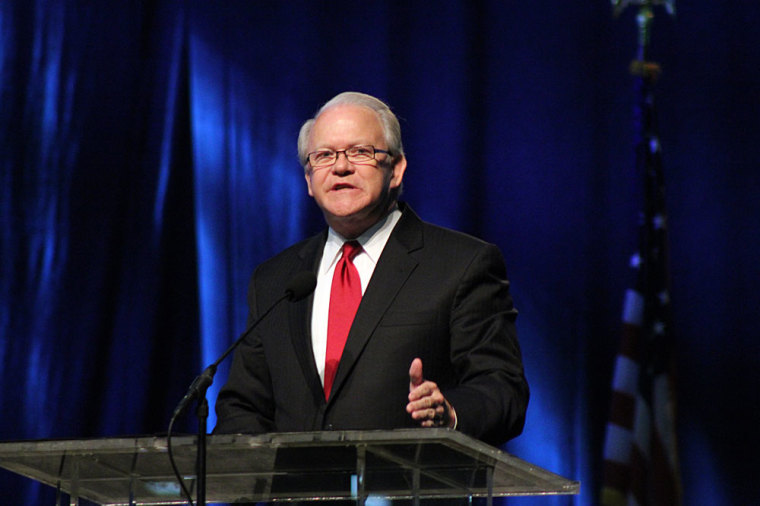 The president and CEO of the Southern Baptist Convention's Executive Committee has stepped down from his position citing an "inappropriate relationship," and is retiring from active ministry.
Frank S. Page, 65, who has been at the helm of the executive committee since 2010, announced Tuesday that he was retiring from ministry, and subsequently clarified that the reason he did so was because of a "personal failing."
In a statement to Baptist Press, Page said that "[a]s a result of a personal failing, I have embarrassed my family, my Lord, myself, and the Kingdom."
"Out of a desire to protect my family and those I have hurt, I initially announced my retirement earlier today without a complete explanation," he continued, and "after further wrestling with my personal indiscretion, it became apparent to me that this situation must be acknowledged in a more forthright manner. It is my most earnest desire in the days to come to rebuild the fabric of trust with my wife and daughters, those who know me best and love me most."
He did not elaborate further on the nature his personal failing, and what exactly he did remains unknown.
Stephen Rummage, who chairs the executive committee and is the senior pastor of Bell Shoals Baptist Church in Brandon, Florida said committee officers held a conference call Monday in which he learned of Page's plans to retire. In another conversation the next day learned this came about because of the inappropriate relationship that reportedly occurred "in the recent past."
"My heart is broken for Dr. Page, his family and everyone affected," Rummage said.
"I believe I speak for the entire Executive Committee in saying that we are committed to provide them the spiritual and emotional support they need in the coming days. We also recognize the stewardship we owe Southern Baptists and the watching world to communicate with truth and candor and to honor the Lord in our actions and decisions."
Rummage explained that the executive committee will be working on a plan to transition through an interim period in light of Page's resignation, in accordance with its bylaws, and will also begin a formal search for a new executive committee president.
During his time as president of the SBC executive committee, Page's efforts centered on equipping young leaders and numerous ethnic groups in Southern Baptist life in addition to evangelism and the inclusion of women, according to Baptist Press. The executive committee president also oversaw an annual budget of approximately $200 million for the SBC's Cooperative Program, which funds the denomination's state and national programs.
He was also the president of the denomination from 2006-08 while pastoring Taylors First Baptist Church in Taylors, South Carolina. From 2009-2010 Page served as the vice president of evangelization for the North American Mission Board, the missions arm of the SBC, which is supported by the Cooperative Program.
The annual meeting of the Southern Baptist Convention, the largest Protestant denomination in the United States, will take place in mid-June at the Kay Bailey Dallas Convention Center in Dallas, Texas.