SBC task force granted another year to combat sexual abuse, unveils online database prototype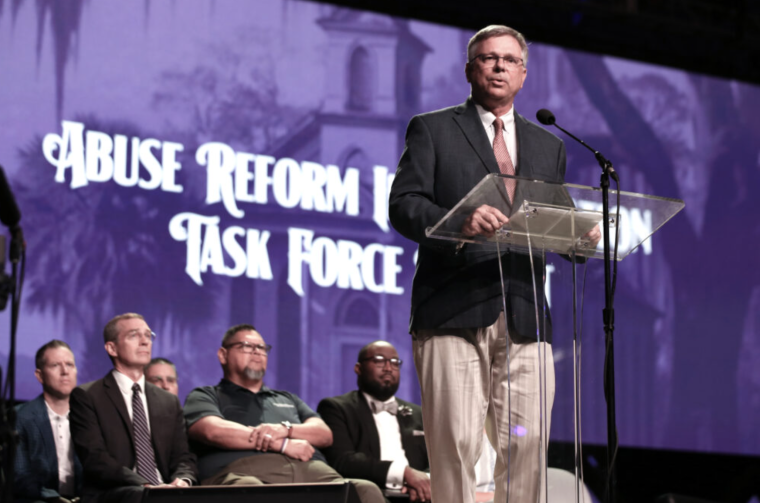 The Southern Baptist Convention's Abuse Reform Implementation Task Force (ARITF) has been granted another year to fulfill mandates outlined by SBC messengers last year to help churches combat sexual abuse within their ranks.
In its June 14 report to over 12,000 messengers gathered at the New Orleans Ernest N. Morial Convention Center, the task force asked for more time to fulfill mandates set forth last year, including the continued development of a ministry database keeping a record of those "credibly accused" of committing sexual abuse.
The request was approved by a majority of raised ballots.
"If we're not protecting our people from abuse, we are compromising our mission," Marshall Blalock, chairman of the SBC Abuse Reform Implementation Task Force, said.
"Our desire is to see all of our churches do justice, love mercy and walk humbly with God. I am certain everyone in this room is against sexual abuse, so our job should have been the easiest job in the world. But you all know it's far more complicated than it looks."
"We want to see Southern Baptist churches across this country be the safest places on earth for your children, your families, to hear the good news of the Gospel and come to know and love Jesus. That is the goal."
Those "credibly accused" of committing sexual abuse include those who have "confessed the abuse in a nonprivileged setting," been "convicted of abuse in a court of law," "had a civil judgment rendered against them for committing abuse," or have been defined as "credibly accused" according to the preponderance of the evidence, as examined by an independent third party.
Blalock said during their additional year, the task force will develop a fourth channel that will establish a means to conduct third-party investigations into allegations of sexual abuse.
"We have continued to work closely with churches and leaders and survivors and experts to thoroughly address concerns and ensure that development of this category is as effective as possible," he said. 
During the session, the task force unveiled a MinistryCheck prototype website, including those convicted, confessed or found liable in civil court. It will officially include names when a legal review of those names is completed, Blalock said.
"The thing that will tear this whole thing down is that we put somebody up there that is merely accused and there's no evidence behind it," Blalock explained. "We want to make sure that it is absolutely solid before we put it up there. So at this time, there's nobody on the database, but those will be coming soon."
In June 2022, messengers overwhelmingly voted to pass a series of abuse reform recommendations following the release of a report from Guidepost Solutions detailing the results of an investigation into allegations that some SBC leaders intimidated whistleblowers and exonerated churches with credible claims of negligence of sexual abuse victims.
The report identified 700 victims over a 20-year span and found that survivors of sexual abuse encountered "resistance, stonewalling, and even outright hostility" from some on the SBC's Executive Committee.
During Tuesday's meeting, ARITF unveiled a toolbox of resources for church leaders, including information to help them understand abuse and how to respond. 
"[Prediators] prey on high-trust environments, and churches should be high-trust environments," Blalock said. "But abusers go where they think they can hide. We must have the will to make sure there is no place to hide."
Jamie Arnette, pastor of First Baptist Church in Dillon, S.C., spoke out against granting the task force another year of work, explaining his church was unfairly placed on a list released by the SBC Executive Committee last year.
Blalock responded that church names will not be listed on the new website, only names, cities, states and photos of those credibly accused of sexual abuse.
Georgia Pastor Griffin Gulledge urged fellow messengers to vote in favor of the recommendation.
"Southern Baptists, keep your resolve, steel your spine, do what is right, speak for the abuse and continue this work of reform for this reason, because the sole question before us is extending the task force for another year," he said.
The ARITF will report again to next year's SBC annual meeting in Indianapolis.