Scotland Minister Forgives Pakistani Suicide Bombers Who Killed His Mother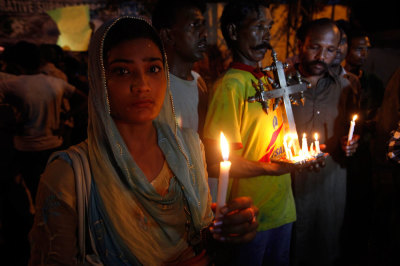 A Pakistani minister in Scotland has forgiven the suicide bombers who murdered his mother and other family members in attacks at All Saints Church in Peshawar, Pakistan, that killed 122 last month.
"It is wrong what these people did but I forgive them...Forgiving is what we learn from the Lord Jesus Christ. That is why I forgive," Aftab Gohar, a Church of Scotland minister, who lost his 79-year-old mother, nephew, niece, two uncles and other friends and relatives, told BBC News.
After the Sunday service on Sept. 22, bombs packed with ball bearings to ensure maximum carnage exploded, killing and wounding dozens who were socializing in the courtyard and lining up to receive food, Two Islamist militant groups with links to the Taliban later claimed responsibility, arguing that the attack had been a response to U.S. drone strikes.
Gohar initially heard of the attack via text message and frantically tried to get in touch with family members.
"Finally I got through and was able to speak to my mother. All she kept repeating was, 'My stomach hurts so much, it hurts so much'," said Gohar. Shortly after talking with her, Gohar's mother died.
Gohar himself flew to Peshawar in the days following the attack, grieved by the loss of loved ones, including his 11 and nine-year-old nephew and niece, who were among the youngest victims.
"It's such a shock. It feels like there is nothing left," he said. "We can't even visit our next-door neighbors because we are dealing with our tragedies and they are dealing with their tragedies and there is no time."
Gohar said that despite the actions of the Islamist militant groups, the image of Islam being a violent faith did not match the actions of the Muslims he knew, who instead came alongside the Christian community to comfort them.
"The majority of Muslims helped, taking victims to hospital or helping to prepare graves or prepare food for the injured as well as for the friends and relatives caring for them," said Gohar.
"The idea that all Muslims hate Christians is simply not true," he added.
Gohar added that many of the All-Saints families need financial support for surging medical costs. The attacks left his niece, 23-year-old Farah Javed paralyzed from the waist down, and Gohar mentioned that the family was struggling to cobble together funds, having already spent "considerable sums" to pay for medical treatment for relatives.
The minister is praying that the situation never repeats itself.
"We pray that [the terrorists] may one day develop the wisdom to understand that it is not right to kill children and other innocent people," said Gohar.