Firing of Gay Vice Principal Sparks Protests From Students, Catholic Community; Seattle Archdiocese Responds
A spokesperson for the Seattle archdiocese on Wednesday publicly addressed students and members of the community who are protesting the firing of gay Vice Principal Mark Zmuda from Eastside Catholic.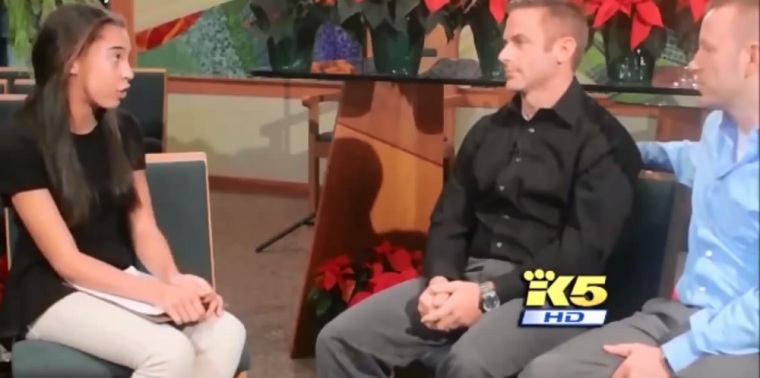 Zmuda stopped working at the private Catholic high school on Dec. 20, 2013. While the school claimed that he had resigned, the former vice principal said that he had been fired for marrying his husband.
Since his departure, a petition calling for his reinstatement has garnered nearly 21,000 online signatures, and on Wednesday a group of demonstrators marched to the Seattle Catholic Archdiocese to demand answers.
Once they arrived, a three-person delegation entered the church, returning with Greg Magnoni, a spokesperson for the institution.
"The school made its decision after a period of reflection, period of consultation, and having made that decision, the archdiocese supports them in that decision," Magnoni told the media and protesters.
"Would [Jesus] believe the discrimination is justified?" one woman questioned.
"The school, when it made its decision, had no intention to be discriminatory toward anyone," Magnoni responded to the woman.
Magnoni indicated that the archdiocese was now considering meeting with students, who since Zmuda's termination, have made themselves an active presence both in-person and through social media. They have also organized a solidarity day for Zmuda on Jan. 31, and asked that students and "concerned members of the community" to wear orange to show their support of the former administrator.
In a statement that the school released on Jan. 9, it said that Zmuda's marriage had violated its employee handbook, "which states that 'the public behaviors of our faculty and staff must at all times be consistent with the values and teachings of the Catholic Church.' The Church does not recognize same-sex marriage."
The school added that after Zmuda's marriage "the school administration was left with no acceptable alternative that would allow him to remain eligible for employment at Eastside Catholic School."
A Q&A part of the statement also indicated that Zmuda would not be rehired.
The school also noted that it is "proud" of its students.and respects those who identify as GLBTQ.
"Throughout this challenging time, they have been respectful and thoughtful and we will continue to offer ways to help our students understand Catholic teaching and to express their thoughts in a manner that allows ECS to effectively fulfill its educational mission as a Catholic school."
Since Zmuda's firing, Eastside Catholic's theater teacher, Stephanie Merrow, announced her engagement to another woman. Since the announcement earlier this month, Merrow's employment status has been changed from part-time employee to independent contractor, in a move that is believed to be related to her engagement announcement.