Second Hostage Situation in Paris: 5 Hostages Being Held; Reports of 2 Killed, Several Wounded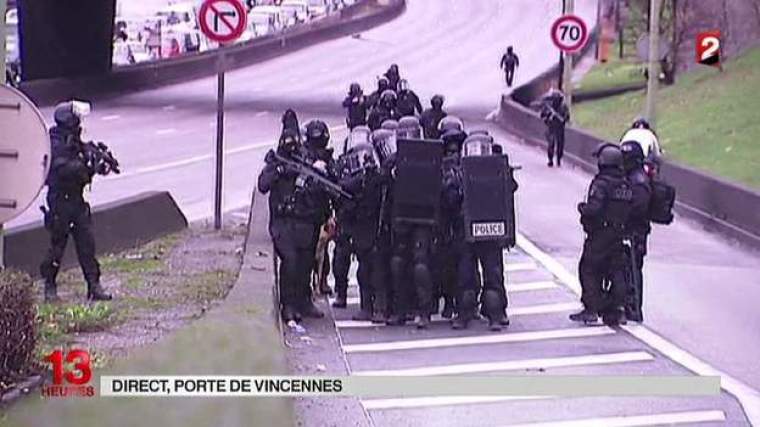 A second standoff situation has developed at a grocery store in Paris, and police believe the suspect who has taken hostages might also be involved with the killing of a policewoman on Thursday.
The AFP reports that the attack has been carried out by Amedy Coulibaly who has taken at least five hostages, including women and children, in a Kosher grocery store in eastern Paris. Two of the hostages are said to be in their 80s. Police have moved in to surround the building and evacuate anyone in the area; schools have been placed in lockdown in order to protect children near the store, and parents have gathered outside the school.
Authorities believe Coulibaly might also be with suspect Hayat Boumeddiene, the woman suspected of being involved in the shooting death of officer Clarissa Jean-Philippe on Thursday during a routine traffic stop.
Coulibaly has reportedly issued a statement saying he'll keep the hostages captive until the Charlie Hebdo gunmen are freed.
This is the second hostage situation in Paris on Friday, with officers also working to subdue a hostage standoff with the Kouachi brothers, Cherif and Said, who allegedly walked into the office of the satirical newspaper Charlie Hebdo and killed 12 people on Wednesday.
Ambulances have responded to the scene of the Paris grocery store and there are reports of several people being wounded, and possibly two people have been killed.
French media have also reported that Coulibaly was seen carrying two machine guns into the grocery store.