Major Secular Group Grades Clinton an 'A,' Trump an 'F,' on Issues Atheists Care About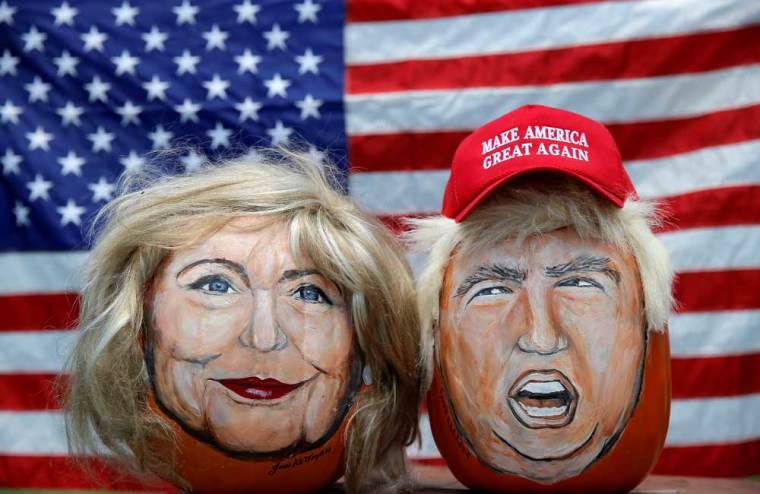 One of the largest secular lobbying groups in America has graded Democratic nominee Hillary Clinton an "A," while giving Republican nominee Donald Trump an "F," ahead of November's presidential elections.
"The nonreligious are now the largest voting bloc in the country and it is essential that they know where the candidates stand on these critical issues," said Larry T. Decker, Executive Director of the Secular Coalition for America.
"These guides will empower secular voters to hold political candidates accountable. Donald Trump's flunking grade should serve as a wake up call to his campaign about the political peril of pandering to the religious right. This divisive rhetoric no longer resonates with an American electorate that increasingly accepts science, embraces religious pluralism, and values the separation of church and state."
The newly released 2016 Presidential Voter Guides analyze how the candidates ranked on questions related to the separation between church and state; prejudice against the nonreligious; pro-abortion stance; support for sex-education curricula; and other issues.
While both Clinton and Trump have spoken out about their Christian faith, Clinton describing herself as a Methodist and Trump as a Presbyterian, a Pew Research Center poll from July revealed that nonreligious voters, who are a growing percentage in America, overwhelmingly back Clinton at 67 percent, compared to only 23 percent support for Trump.
Decker said that while the nonreligious voters are more likely to identify with the Democratic Party, the party's recent platform failed to make any mention of nonreligious voters.
"If the Democratic party wants to keep the support of nonreligious voters, it is imperative they listen to secular voices within their party and give them the respect they deserve," Decker said.
In the past, the Secular Coalition for America has joined forces with other leading atheist groups, including the Richard Dawkins Foundation for Reason and Science, in order to fight what they describe as "discrimination" against non-believers in the U.S.
The Openly Secular coalition explained in 2014 that "atheists and other nonreligious people not only face discrimination on a regular basis, but the prejudice often goes unrecognized because it can be socially acceptable to distrust those outside the majority religious faith."
Despite the growing non-religious demographics in the country, a Gallup poll from July 2015 found that Americans would be least likely to vote for an atheist, along with Muslim or socialist president.
While a large majority of Americans said they would back a generally well-qualified person for president who happened to be Catholic, black, female, Hispanic, Jewish, Mormon, LGBT, or evangelical Christian, that support dropped for a potential Muslim candidate to 60 percent, followed by 58 percent for an atheist contender, and 47 percent for a socialist candidate.
The poll found significant differences in voter age groups, however, with those between the ages of 18 and 29 much more likely than those 65 and older to support an atheist president.