Sen Mike Lee Proposes Law to End 'Higher Education Cartel,' Accreditation Cronyism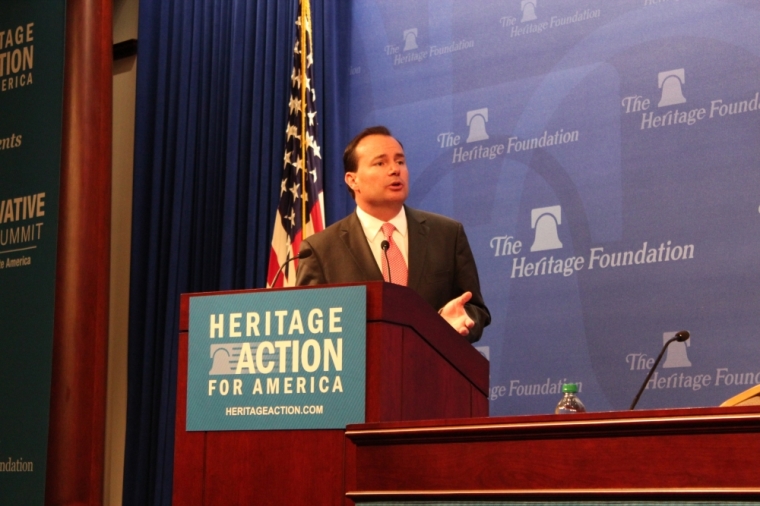 WASHINGTON – U.S. Senator Mike Lee (R-Utah) presented his new bill on higher education reform, attacking the current accreditation and federal loan system as a "higher education cartel."
"Restrictive policies artificially narrow America's path into the middle class and into economic opportunity," Lee declared at The Heritage Foundation on Monday. "In effect, the federal government today operates a kind of higher education cartel — federally approved accreditors act as a gatekeeper to keep unwanted providers out of the market."
Lee argued that the current rules do not protect students from "bad actors" so much as they protect "incumbent colleges from innovative competitors." He explained that, in America's information economy, college education is more important than ever before but also blocked by many barriers.
"The challenge to policy makers is to overcome that paradox, by reconciling two seemingly contradictory facts," the importance of higher education and the diminishing quality but exploding cost of the bachelor's degree. "To succeed in the 21st Century global information age economy, the vast majority of Americans will need at least some post-secondary knowledge and skills, but a four year sojourn at a traditional brick and mortar — "Ivy" — residential institution is no longer the only way to get them."
Lee's Bill
"The Higher Education Reform and Opportunity Act of 2013," (S.1904) which Lee introduced last month, would amend federal law to allow states to create parallel accreditation systems, expanding higher education options for federal student loans.
Lee promised that "College presidents can rest assured that if they like their regional accreditor, they can keep their regional accreditor." Poking fun at President Obama's promise "if you like your health care plan, you can keep your health care plan," the Senator added, "and I mean it — I am absolutely sincere."
"For the first time in history, students don't have to go to college to go to college," Lee declared, and his bill would offer new opportunities for higher education outside the traditional four-year setting.
More Opportunities for College Education
"Under state accreditation, America's higher education market would become as diverse as the job-creating industries that are looking to hire new workers," Lee declared. He explained that states could work with businesses to craft courses tailored to what the business needs. "Imagine computer courses accredited by Apple or Google, Dow could accredit a chemistry program, Boeing could craft its own 'aerospace engineering' major," the Senator said.
Even churches and other civic organizations could offer courses, Lee explained, educating the public "for next to nothing, and as part of their missions." He suggested that some professionals could teach college-level courses as "their form of tithing or community volunteering."
"Non-profit groups like The U.S. Historical Society, or The Sierra Club, or The Mayo Clinic, could accredit programs in their respective fields for competency-measuring exams," the Senator proclaimed. States could expand the options for higher education outside the traditional college atmosphere, even onto hand-held devices via Massive Open Online Courses (MOOCs).
"How long does one think that we really have to wait for Heritage University?" Lee quipped, appealing to his audience at the conservative think-tank.
Three Conservative Goals This Reform Achieves
Lee also listed three conservative goals his bill would achieve. It would "protect the new market from the cronyism that almost inevitably targets centralized power," the Senator explained. He argued that special interests are less likely to sway fifty competing states than one massive federal government.
This also would allow "competitive federalism to work its magic, just as the Founding Fathers always intended," by enabling fifty different models of higher education to compete in America, and give voters more direct power over their education systems.
"Finally, it will preserve and reward what does work at America's colleges and universities," Lee concluded, praising the current institutions as "the best colleges everywhere."
Lee argued that "the greatest threats to equal opportunity are the unintended consequence of dysfunctional government policies."