Sen. Wendy Davis Supporters Celebrate One Year Anniversary of Abortion Bill Filibuster
Democrats gathered in Austin, Texas, on Wednesday to celebrate the one-year anniversary of Sen. Wendy Davis' famous 11-hour filibuster that temporarily prevented the state's 20-week abortion ban from being passed.
Davis joined her gubernatorial running mate, lieutenant governor candidate Leticia Van de Putte (D), and 1,600 of her supporters at the Palmer Event Center in Austin on Wednesday for the event. The Houston Chronicle described the event as "part pep rally, part fundraiser."
The anniversary party opened with a prayer.
"As we begin our celebration of the anniversary of the day that women in Texas said 'no' to a state legislature that refuses to trust us, we thank you for giving us our voice, we thank you for the leadership of our candidates for governor and lieutenant governor," the prayer read, in part, according to the Daily Caller.
"We ask you to strengthen our resolve and our determination to change the government of the state of Texas with our votes for the Democratic nominees," the prayer continued. "We ask you to inspire every eligible voter in the state of Texas who believes that our state government must represent all the people of Texas, not just the rich and well-connected."
One year ago, Davis, from Fort Worth, spoke for 11 straight hours and successfully killed Senate Bill 5, an omnibus abortion bill that banned the practice at 20 weeks of pregnancy, required abortion clinics to meet surgical care center standards, and required abortion doctors to have admitting privileges at a nearby hospital.
Although Davis' filibuster was successful, Texas Gov. Rick Perry called a special session to have the abortion bill passed two weeks later.
Davis' filibuster launched her into the national political spotlight, and many critics argue that the attention gave her enough credibility to run for governor.
"The filibuster one year ago today was validation that people do want and need someone to stand up and speak truth to power," Davis told her supporters at the event. During her 24-minute speech, Davis implored the 1,600 attendees to continue their support by voting in the upcoming gubernatorial election. Davis is trailing Republican Greg Abbott, the state's current attorney general who is also running for governor.
Those who supported the omnibus abortion bill had their own celebration on Wednesday, gathering at Texas' Capitol and wearing the color blue, the same color they wore one year ago when they attended Davis' filibuster. They were joined by abortion advocates who wore orange. Those who supported the abortion legislation have criticized Davis and supporters for celebrating the filibuster, as it ultimately failed to stop the abortion ban from passing.
"I think it's interesting that they would celebrate a failed filibuster attempt. But that's certainly up to them," Abby Johnson, a former director for Planned Parenthood who is now a pro-life advocate, told The Houston Chronicle.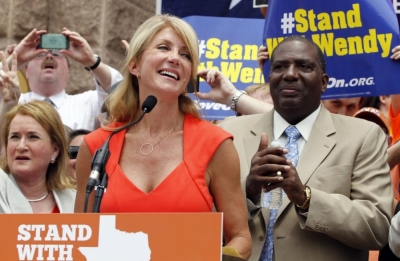 Republican gubernatorial candidate Greg Abbott also released a statement on Wednesday, reaffirming his opposition to abortion.