Sermon on the Mount prompts feud between Ben Shapiro, Candace Owens: 'By all means quit'
'The Bible is not about you,' Owens told Shapiro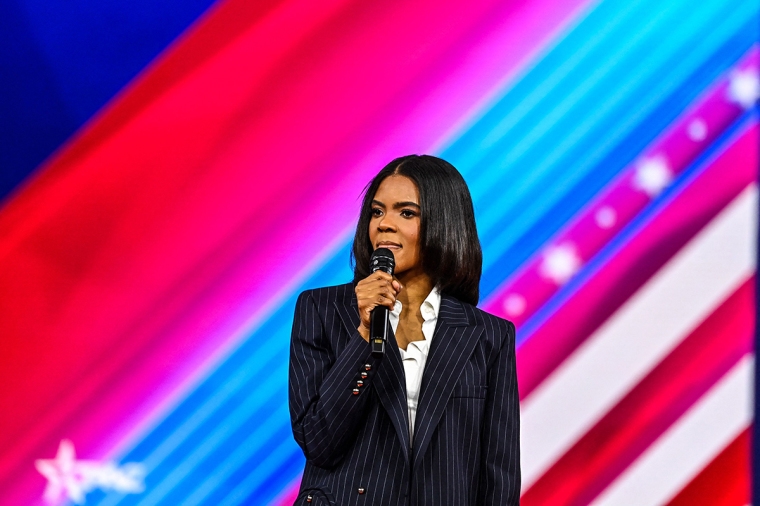 Daily Wire editor emeritus Ben Shapiro suggested Wednesday that his colleague Candace Owens should resign from the outlet after she replied to his criticism by quoting Jesus Christ.
Owens took to X on Tuesday to quote the Gospel of Matthew, including portions of the Sermon on the Mount when Jesus promised blessing for peacemakers and those who are persecuted for the sake of righteousness.
"No one can serve two masters," she also wrote, quoting a different portion of Jesus' words in the same Gospel. "Either you will hate the one and love the other, or you will be devoted to the one and despise the other. You cannot serve both God and money."
"Christ is King," Owens appended in a subsequent tweet.
Blessed are the peacemakers: for they shall be called the children of God. Blessed are they which are persecuted for righteousness' sake: for theirs is the kingdom of heaven. Blessed are ye, when men shall revile you, and persecute you, and shall say all manner of evil against…

— Candace Owens (@RealCandaceO) November 14, 2023
Her tweets came the same day a video of Shapiro emerged on X that showed him criticizing Owens as "absolutely disgraceful" for her rhetoric on the Israel-Hamas war, saying, "her faux sophistication on these particular issues has been ridiculous."
During the short clip that went viral, Shapiro did not elaborate on what he found specifically objectionable about anything Owens has said on the issue.
Ben Shapiro slams colleague @RealCandaceO for her "absolutely disgraceful behavior" in front of a visibly shocked audience.

Shapiro goes on, saying "her faux-sophistication on this issue is ridiculous."

Tensions rising at Daily Wire? pic.twitter.com/ao5pWbuWfj

— autumn groyper (@autumngroyper) November 14, 2023
Owens has been obliquely critical of Israel's prosecution of the war against Hamas since the terrorist group's Oct. 7 attacks that resulted in the deaths of at least 1,400 people, a majority of them civilians, as well as the abduction of 240 hostages, including Americans.
"No government anywhere has a right to commit a genocide, ever," Owens tweeted on Nov. 3. "There is no justification for a genocide. I can't believe this even needs to be said or is even considered the least bit controversial to state."
In two tweets made in response to pushback from commentator Dave Rubin earlier this month, Owens doubled down and suggested that she was making a "blanket statement" against genocide, and that she "won't be backing down or apologizing or further clarifying this statement."
During an interview earlier this month with comedian Ami Kozak, who is Jewish, Owens referenced alleged discrimination against white people on college campuses and asked, "What makes Jews so special?"
Kozak pushed back when Owens later suggested that Muslims are required to be in Jerusalem's Muslim Quarter, which he noted is not legally mandated.
Owens compares the media's recent outcry over antisemitism to their complete silence on anti-White racism.

"What makes Jews so special?" pic.twitter.com/nWmuAcZIqD

— autumn groyper (@autumngroyper) November 14, 2023
Owens has also been critical of former U.S. Ambassador to the U.N. Nikki Haley for her strong pro-Israel stance, sarcastically endorsing the GOP presidential candidate as president of Israel.
More than 24 hours after Owens' tweet quoting Jesus, Shapiro fired back: "Candace, if you feel that taking money from The Daily Wire somehow comes between you and God, by all means quit."
Candace, if you feel that taking money from The Daily Wire somehow comes between you and God, by all means quit. https://t.co/qachKhAuHo

— Ben Shapiro (@benshapiro) November 15, 2023
Owens replied to Shapiro 14 minutes later, writing: "You have been acting unprofessional and emotionally unhinged for weeks now. And we have all had to sit back and allow it and have all tried to exercise exceeding understanding for your raw emotion. But you cross a certain line when you come for scripture and read yourself into it. I will not tolerate it."
She also quote-tweeted Shapiro's response and accused him of being "utterly out of line by claiming that I cannot quote biblical scripture."
"The Bible is not about you," she added.
Owens' clap back to Shapiro came shortly before her interview with former Fox News host Tucker Carlson premiered on X, during which she touched on their spat by saying the video of Shapiro's comments about her was likely secretly recorded.
"I can't respond to it on a level of intellect, because there's nothing that he has expressed — at least in that short clip — that he fundamentally disagrees with in terms of what I have said, but I will say that I'm not going to respond with the same ad hominem attacks," she said. "I don't think it helps further the discussion."
"If that was me that was caught on a video saying that about colleagues that I work with, I would be embarrassed," she said, noting she "would never, at a private event, stand on a table and talk badly about Ben."
She added that she believes the video "speaks more to Ben's character than it speaks to mine," and said that Shapiro had yet to reach out to her privately regarding the matter.
Shapiro has also been critical of Carlson, accusing him of exhibiting "moral blindness" for his "hands-off" stance regarding the Israel-Hamas conflict.
Carlson has repeatedly emphasized his belief that U.S. political leaders should be focused more on the problems afflicting their own country than on foreign conflicts.
"Of course, I'm not for Hamas at all," Carlson said during a recent interview with comedian and podcast host Theo Von. "I'm for America, actually. I shouldn't even have to answer that question. 'Are you for Israel or Hamas?' I mean, obviously, I'm for Israel over Hamas, but that's irrelevant. I'm for America, and no one even asks that."
"And I feel deep resentment about that, that the concerns of this country are of no concern," he added.