Sex With Robots Goes Against God's Plan, Christian Ethicists Warn, Urge Ban on Child Sex Robots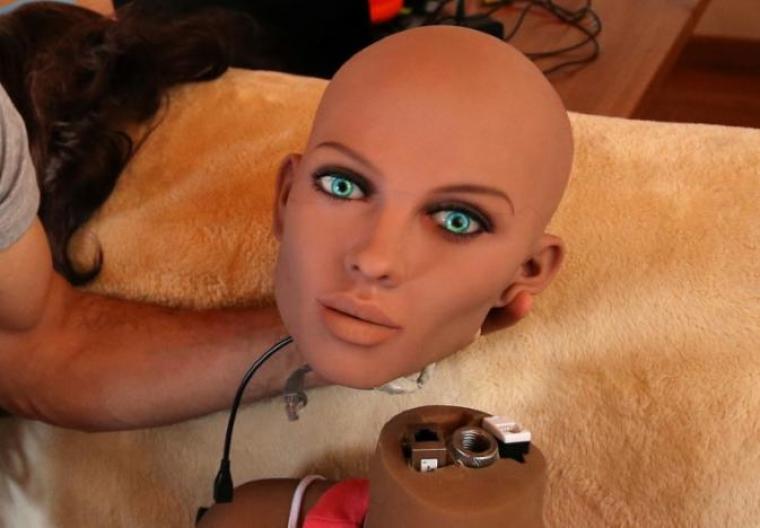 A number of Christian ethicists have responded to a new report exploring the possible benefits and dangers of humans having sex with robots, including robots designed to look like children, stating that such sexual activities go against God's design.
The Foundation for Responsible Robotics recently released it's first consultation report, titled "Our Sexual Future With Robots," which explores several big questions in the growing field of humans having intimate relationships with robots, including whether sex with robots designed to look like children should be against the law.
Tobias Winright, associate professor of Theological Ethics and the Maeder Endowed Associate Professor of Health Care Ethics in the Gnaegi Center for Health Care Ethics at Saint Louis University, told The Christian Post in an email Wednesday that there should be a ban on child sex robots.
"As a Christian, I think non-mutual, non-consensual sexual activity is contrary to mutually donative love-making. Thus, sexual activity with a simulacrum seems to me quite a stretch from when two persons, who are made in God's image, sexually express their love for each other, transcending and giving beyond the self with the other, and thereby imaging God who is agape," Winright said.
"So, for Christians, at least, big questions arise with regard to robot sex in general. Any sexual activity that treats the other person as merely an object or a thing for only one's gratification is morally problematic, and I worry that sexual activity with an object such as a robot might encourage, through regular practice over a period of time, such an attitude toward an actual human being, whether one's spouse or a future partner," he continued.
The ethicist said that another question is whether the day will arrive when robots could be considered persons, and therefore capable of giving consent to sex and to be mutually loving. He said that he's "not confident" that that's what consumers of such robotic products desire, however.
Winright further suggested that in some ways robot sex is "probably analogous to masturbation, which many theologians today no longer consider necessarily sinful."
He added, however, that if child sex robots are used "much like child pornography," then that makes it "immoral."
"And even sexual gratification with adult sex robots pales in comparison to the real thing."
The FRR report takes into account public surveys and opinions of various experts in the field, and finds that there is a market for sex robots, albeit men are twice as likely than women to engage in such a practice.
The report finds that robots would be accepted as sex workers, and says that they could potentially help with sexual healing and therapy — but also warns that sex with robots could lead to greater social isolation.
As to whether sex with child robots would help to reduce sex crimes, FRR states that there is major disagreement on the issue.
"On one side, there is a small number who believe that expressing disordered or criminal sexual desires with a sex robot would satiate them to the point where they would not have the desire to harm fellow humans," the report outlines.
"On the other side, there are scholars and therapists who believe that this would be an indulgence that could encourage and reinforce illicit sexual practices. This may work for a few but it is a very dangerous path to tread and research could be very difficult," it continues.
"It may be that allowing people to live out their darkest fantasies with sex robots could have a pernicious effect on society and societal norms and create more danger for the vulnerable."
Professor Noel Sharkey, co-director of the FRR, said in an interview with BBC News on Wednesday that there have been calls to ban child-like robots used for sex.
He cited an incident in Canada, where a Newfoundland resident was charged with the possession of child pornography at the airport after bringing with him such a robot he purchased from Japanese company Harumi Designs.
The man has pleaded not guilty in the ongoing case.
Dennis P. Hollinger, the president and Colman M. Mockler Distinguished Professor of Christian Ethics at Gordon-Conwell Theological Seminary in South Hamilton, Massachusetts, also told CP on Wednesday that child sex robots should be banned, arguing that they would contribute to pedophilia.
"It is difficult to imagine that child sex robots can provide any therapeutic value that truly enables one to overcome sexual desires for children. Rather, they would facilitate such feelings and actions and hence be an endangerment to children," Hollinger said.
He argued that sex with robots "is contrary to the very nature of sex, a very personal giving of one's self to another."
"From a Christian standpoint sex is a 'one-flesh' relationship that is the most intimate, loving, uniting act between two human beings. Robots for sex in general should perhaps not be banned by law, but we must see robotic sex as intrinsically troubling ethically," he added.
The question of whether people having sex with robots is morally and theologically acceptable has been explored in a number of articles, such as a 2015 piece in which CP spoke with three Christians who've written on the topic.
"As I understand the Gospel message, our goal as humans is to progress in our formation in Jesus so that we can better participate in Christ's redemptive purposes for the world," said Christopher Benek, an associate pastor at First Presbyterian Church of Ft. Lauderdale.
"When we do this we become more fully human, living into the image of God in which we were created. In contrast, when we go against God's intentions for us by making idols of sexbots, we offer them the worship that takes place in the sexual experience. When we do this we not only rob God of God's glory, but we dehumanize ourselves in the process," he added.