Shawn Johnson Believes God Has a Bigger Plan After Tragic Miscarriage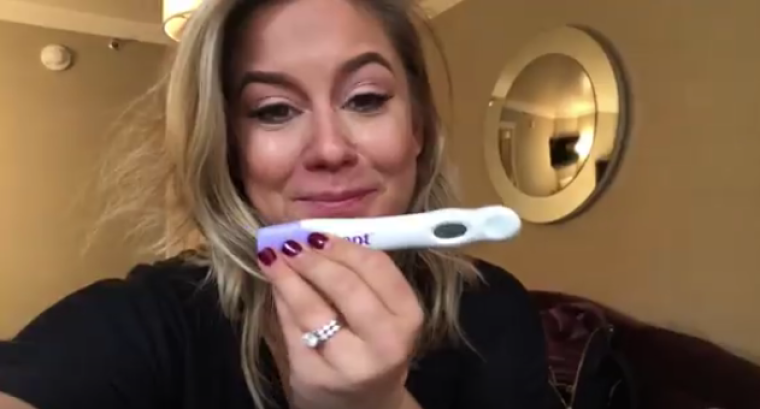 Shawn Johnson East, the former Olympic gymnast whose video documenting her miscarriage has gone viral, is finding solace in God.
In a Facebook Live video Saturday, she and her NFL free agent husband Andrew East chatted with their fans about their miscarriage and how they were coping with it. Shawn, 25, said the couple who married last year is believing in God after losing their first child together.
"We know everything happens for a reason," Johnson said in the video. "We believe God's got a bigger plan for us. All we can do is be positive, otherwise we just sink into a hole."
Shawn took to her YouTube page to post a 20-minute video, sharing her first reaction to a positive pregnancy test, her husband's reaction, a doctor's appointment where the couple found out they lost their first child and their emotional reaction that followed. While Shawn initially documented the experience thinking it would showcase her journey into motherhood, she decided to eventually show the world what became one of the saddest moments of her life.
"The past 48 hours have been some of the happiest, scariest, and saddest times of my life," the description of the video reads. "My husband Andrew and I found out that we were unexpectedly pregnant, only to find out hours later some tragic news. I have been crying more than I ever have, but am still optimistic for what is next."
Still, Andrew and Shawn said it was important to share their journey in order to possibly help others experiencing similar issues in life.
"This is by far the hardest video we've ever posted but we felt as though it was a story that needed to be shared as so many struggle with the same thing," Shawn posted on Instagram.
Shawn is a devout Christian who has previously spoken about her relationship with God being the most valuable thing in her life. When reflecting on her gold medal-decorated Olympic career, the gymnast insisted that her faith meant so much more to her.
"God is the answer to everything, and Jesus sacrificed everything on the cross so that when I stood up there and I was given that gold medal, yes it's a monumental and amazing experience and wonderful thing, but it's not the end-all be-all," Shawn previously told "I Am Second." "He will always be my greatest reward and my proudest reward."