Sheriff Won't Enforce New Gun Laws If He Feels They Are 'Unconstitutional'
Even before President Barack Obama officially laid out his plans for banning assault weapons, and closing loopholes in checking the backgrounds of potential gun buyers, by signing 23 executive orders on Wednesday, Oregon Sheriff Tim Mueller had written to Vice President Biden saying his department will not enforce any gun laws he feels violates the Constitution.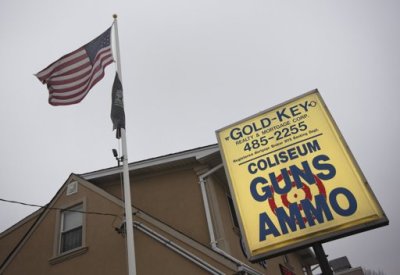 A second Oregon sheriff has also said he agrees with Mueller and has sent the same letter to the White House.
"We are Americans," Mueller writes. "We must not allow, nor shall we tolerate, the actions of criminals, no matter how heinous the crimes, to prompt politicians to enact laws that will infringe upon the liberties of responsible citizens who have broken no laws."
Mueller says the issue became a priority after citizens repeatedly inquired about what his department would do if certain laws were enforced, even asking his personal thoughts on the issue.
The county's two-term law enforcement chief also says he is opposed to laws banning the type of gun or ammunition that citizens who legally own weapons can own or purchase.
"Making criminals out of honest citizens, that's not the right path to go down," Mueller told an Oregon news station.
Crook County Sheriff Jim Hensley believes that slowing down gun violence is simply not a matter of banning weapons, but that the White House and legislative leaders need to look into violent video games as a contributing factor.
"They are addressing the wrong topics," says Hensley. "Kids for years now play video games in which they have committed thousands of homicides. I believe those games are teaching kids games they shouldn't be doing, instilling a mindset to kill as many people as in a video game."
Even governors of some notable gun rights states, such as Mississippi's Phil Bryant, are thinking ahead by encouraging state legislative leaders to pass laws to protect what he considers unconstitutional orders from Obama.
"I am asking that you immediately pass legislation that would make any unconstitutional order by the president illegal to enforce in Mississippi by state or local law enforcement," Bryant, a Republican, wrote in a letter to Lt. Gov. Tate Reeves and House Speaker Philip Gunn, who are also Republicans.
And just to the west of Bryant, Texas state Rep. Steve Toth (R-The Woodlands) indicated he plans to introduce a bill making it illegal to enforce any federal laws restricting semi-automatic firearms or the size of gun magazines.
But they may be difficult since courts usually recognize federal law ahead of state law.
Mueller told The Associated Press that he felt it necessary Biden and others hear from sheriffs because to his knowledge, none of his colleagues were involved to comment or provide input on the recommendations released on Wednesday.
He has compared the enforcement of firearms laws to immigration laws. "We're restricted and prohibited from enforcing all types of federal laws, including immigration laws," he said Tuesday. "It would be unreasonable for anyone to think that I would enforce a federal firearms law."
Linn County Oregon Sheriff Tim Mueller Will Not Enforce Unconstitutional Gun Laws