Shirt Reads 'It's Not Rape, It's a Snuggle With a Struggle;' Pulled From Malls After Public Outrage
Shirt Reads 'It's Not Rape, It's a Snuggle With a Struggle;' Pulled From Malls After Public Outrage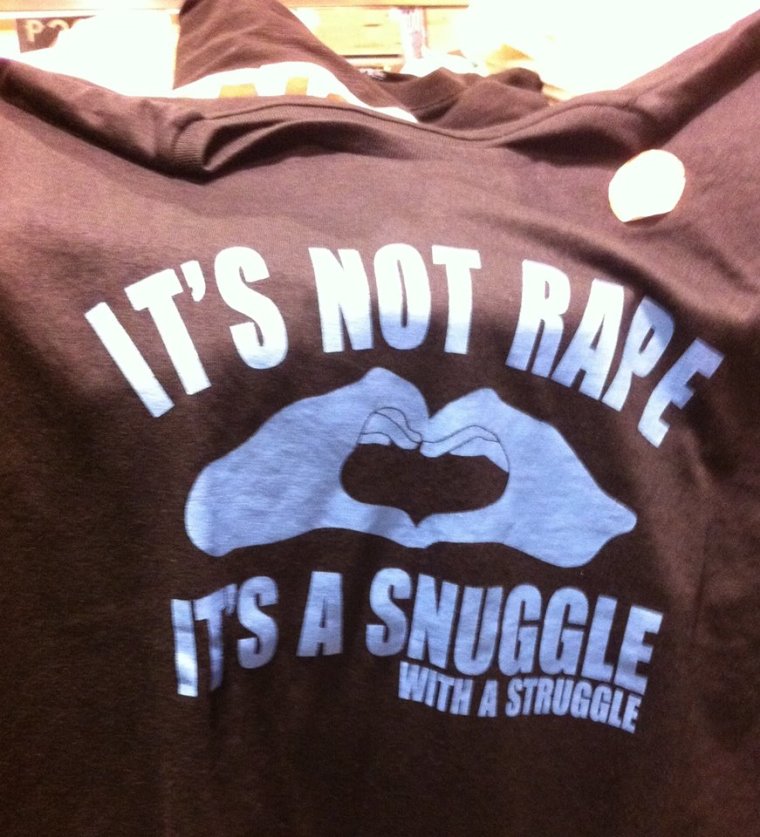 A T-shirt in the SM Supermall in the Philippines has been pulled by the mall's operators after causing an outrage with its slogan: "It's Not Rape, It's a Snuggle With a Struggle."
Writer Karen Kunawicz from Louisiana was the one who noticed the shirt, took a photo, and posted it to her Facebook page. It was immediately shared with other social media users and stirred discussion from an outraged public.
"Really SM Department Store? In the boy's section?" Kunawicz captioned the photo. "SM – the same mall that has the daily angelus and refused to show Tim Burton's 'Sweeney Todd' in the cinemas? Boys listen to Tita Karen – if a girl says NO and pushes you away, just err on the side of caution, she likely means NO. And go watch 'Sweeney Todd.'"
The photo has been shared over 4,000 times, meaning that it is catching worldwide attention. The mall's owner has reportedly agreed to remove the shirt from its shelves. It posted an apology to customers on the Facebook page.
"We have been informed via social media that we have a t-shirt in stock with a message that we too find unacceptable. We do not tolerate such action. SM does not support such irresponsible and malicious acts that mock important and insensitive social issues. We have immediately pulled out all the t-shirts of the consignor that distributes them, and we are investigating why it was included in our delivery of assorted t-shirts. Appropriate action will be taken to ensure this does not happen again. Thank you for informing us," the store posted to its Facebook page.
The chain states that the shirts have been pulled from all of its 46 malls across the Philippines and China.