Singer Tiffany Evans, Who Accused Singers of Worshipping Satan in 2009 Says She Sees Things Differently Now; Talks Being a Light and Putting Family Before Fame (Exclusive)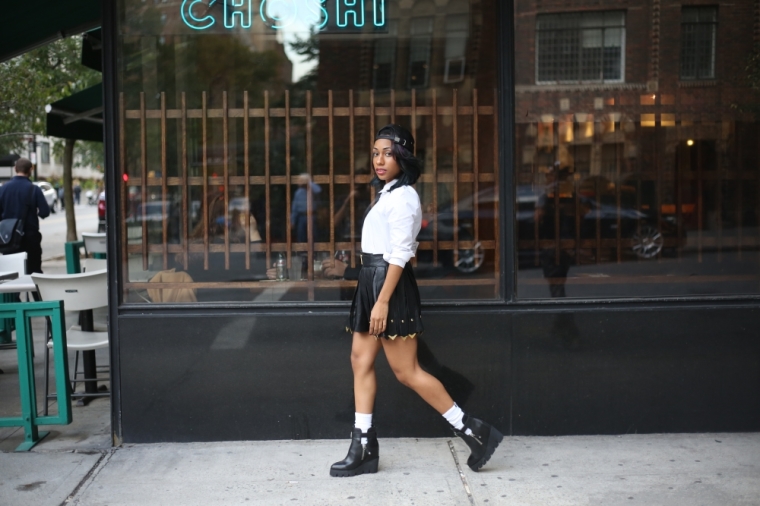 Tiffany Evans made waves when she called out the music industry for its possible Satanic influences in 2009, but now the singer-songwriter is taking a different approach to enlighten people spiritually while readying her comeback onto the music scene.
Evans, 22, got her start as a child in talent competitions such as "Showtime At The Apollo" and "Star Search" before signing to Columbia Records in 2004. Evans got her big break when she debuted her song "Promise" with fellow singer Ciara in 2008 and the song that appeared on her self-titled debut album that same year.
While she began to build a buzz with the song and it's follow up single "I'm Grown" featuring rapper Bow Wow, Evans decided to express herself outside of the recording studio in a tweet about fellow singer Rihanna's song, Russian Roulette six years ago. Months after a public domestic altercation with former boyfriend, singer Chris Brown, Rihanna sang the song about someone coaxing her to shoot herself in a game of Russian Roulette.
Evans, the singer and actress, publicly tweeted that the song may be an indication that Rihanna was worshiping evil forces. Looking back at the comments that seemed to have some fans and entertainers in an uproar, Evans spoke to The Christian Post about approaching the situation differently now that she is older and wiser.
"At that point when I was younger, I used to see things, watch things, run off at the mouth and try to tell everybody what I was seeing or watching at that moment," Evans admitted to The Christian Post. "What I believe now as an adult is there is a heavy influence of evil in a lot of different things, it's not even just in the [music] industry."
Instead of focusing on ousting people for not following the Christian values that she does, Evans said it is important to be a light for others.
"That's all I can really do and showcase God's love, because I really don't know what a person is going through. I don't know if they could be going through any type of depression," she told CP. "They could be going through any type of hurt. But what I try to go back to is praying for your enemies and enemies of God, people who are struggling and may look like they need help or deliverance."
Instead of speaking negatively about others, Evans wants to pray for them while keeping her focus on pursuing her own career. Since stepping away from the industry four years ago, Evans took time to enjoy being a mother to her 2-year-old daughter and wife to dancer Lorenzo Henderson.
After growing up in a family with nine siblings, the singer realized that it was important for her to take time to spend with her own family instead of chasing fame.
"My parents, they got divorced when I was 13. For our younger years we had them together for a while," Evans recalled to CP. "I just believe in family. I believe there is a time that you need to take for yourself in order to grow, to experience different things and kind of find out who you are."
Instead of releasing new material and touring each year since her debut, Evans insists she has grown after taking time to experience what life had to offer. Those experiences have shaped the new material she has been writing in preparation for her comeback, which includes her new sultry R&B song Red Wine.
"If you're always working, you're going to miss out on a lot of stuff. I already had missed out on a lot, and I didn't want to continue experiencing that," she told CP. "I just decided to say 'you know what? I'm just going to take this time to myself and when I do decide to come back I'm going to be able to write about these things and actually say 'this is how I came out of this situation.'"
She may be 22, but the mother and wife has experienced her fair share of challenges in life. Despite the fact that she showcased her talent as a child star who was able to secure parts in Tyler Perry's "Diary of a Mad Black Woman" and "Law & Order: SVU," Evans' family struggled to make ends meet and were even left homeless at one point.
Instead of taking on the role of a victim, Evans used the hard times to strengthen her faith.
"I just learned that everything that happens in your life, you can turn it around and be positive because your life is not your own. You have a testimony for people to hear," Evans told CP. "Know that you can help people with the situations that they encounter in their life. What I took from being homeless and not having much is just to thank God because there is someone out there who is going through a lot worse and some people don't even wake up."
These days, Evans is securing her financial future in multiple ways by being more than just an entertainer, but a businesswoman. Evans started a full service production company with her husband called Little Lady Enterprises and a company called Eye Hunee that sells designer sunglasses and accessories.
She is also readying an EP with a tentative release date for next May. Now that she is an independant artist , Evans has had to learn the ins and outs of the music industry herself.
However, it is her Christian faith that guides the entertainer as she takes on each endeavour.
"When it comes to a lot of things that I do, I pray about it and even the music that I sing. I say 'Lord I want to make sure that I'm not doing anything that is outrageous,' but I do want to speak from my experiences," she said. "I want to touch someone who may be going through the same situation that I went through. I just really believe God guides me."
For more information about Tiffany Evans, please click here.