Newsboys Exclusive: Duncan Phillips Talks Stopping Poverty on Tour, Being More Excited Than Ever About Band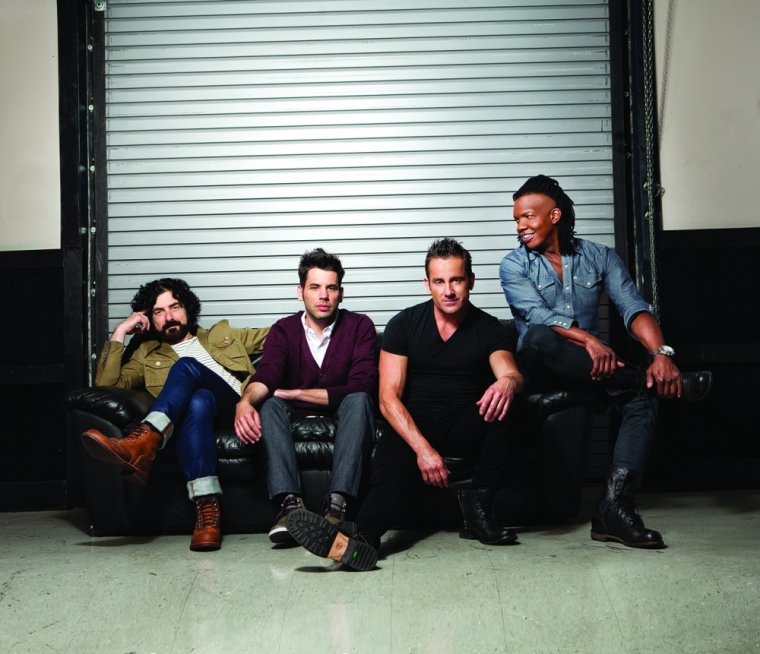 The Christian pop rock band, Newsboys, are grateful that they can still sell out shows after forming close to three decades ago, but the foursome decided to up the ante by working to end world hunger on their current tour.
Duncan Phillips, Jody Davis, Jeff Frankenstein and Michael Tait are currently selling out shows as Newsboys on their "We Believe...God's Not Dead" 2015 Spring Tour. However, the band is doing more than providing an entertaining worship experience for people, but they have partnered with Food For The Hungry (FH) to help put an end to poverty and the spread of HIV/AIDS in Uganda.
The Newsboys' spring tour began last Feb. and will allow the band to stop in over 40 cities. At each show, information about FH and its child sponsorship program will be given to those in attendance.
Phillips, the band's boisterous drummer, opened up to The Christian Post about presenting fans at his shows with the opportunity to give in the FH initiative.
"A lot of people say they want to do missionary work, they want to give but they don't know how. But it's just a very simple way, even if you have a buddy or a couple of buddies you can sponsor a child for $12 each a month," Phillips explained to The Christian Post. "It's that easy for some people, the three of you, the four of you. So everyone's got a few bucks to put aside every day...we all have, it's probably in our couches."
For every child sponsored on their tour, Newsboys will provide one month's worth of medical treatment for mothers at the New Life Clinic Uganda which aims to prevent the passing of HIV/AIDS to unborn babies. Phillips knows first hand about the importance that every coin makes in impoverished communities after visiting some of them himself.
"I've been in there I've been on the field and [seen] the difference that it makes is just mind blowing. For us a couple of bucks doesn't really make that much difference," the drummer told CP. "But you get that same amount of money and you take it to some of these countries, a couple of bucks is a month's income. You might see 50 cents on the ground, yea you might have to pick it up. If they found it on the ground, it might feed their families for a week."
Supporting the HIV/AIDS epidemic is especially important for Newsboys lead singer Michael Tait, who lost his own sister to AIDS after a history of drug abuse. For those who may not have a personal tie to the cause, Phillips insisted it is still important to help the less fortunate.
"To me that's just Christianity 101, helping your fellow brother out. I think we all should give no matter who we are, no matter what level we're at," he told CP. "I think giving is one of the most fruitful things."
Gary Edmonds, the FH CEO, expressed his gratitude for the efforts of Newsboys in a recent statement. "We are grateful to Newsboys for supporting our work to stop the spread of HIV/AIDS to unborn children," Edmonds said in a statement obtained by The Christian Post. "With the support of Newsboys and their fans, we will be able to make a difference in the lives of children living in poverty and expand programs that prevent the transmission of HIV/AIDS to unborn babies."
Although there are countless organizations that aid the impoverished, Phillips said FH was unique because it had a plan for an exit strategy. Instead of continuously giving aid to communities in need, the organization teaches people in impoverished places to sustain their improved living conditions themselves.
Everybody needs help at some point in their lives, according to the drummer who admitted that the Newsboys were only successful because of the help they received from others.
"So many people that are successful have had help along the way. Even Newsboys back in the day, we had help," Phillips admitted. "Because of that, as a band we're doing great. If you can help, you should."
After receiving help, the Grammy nominated group has sold more than 8 million units, has six Gold records, 33 number one radio hits and numerous Dove Awards. After releasing their latest album, Hallelujah For The Cross, last fall the group shows no signs of slowing down with two Billboard award nominations.
Despite the decades that they have recorded and toured in the industry, Philipps takes none of the band's accomplishments for granted.
"To be in it as long as we have and to kind of be riding the success level that we are, I don't take it for granted. We're all stoking so hard saying I can't believe it," he gushed. "People still want to come see us play. I'm the most excited about this band than I've ever been in my life."
Although the Newsboys have experienced their share of ups and downs with numerous members coming in and out of the group since its inception, the latest huge change happened six years ago with lead singer Michael Tait joining the group.
"I think with Michael coming in, it was a massive risk. Changing lead singers as you're on the downward kind of spiral, we had nowhere else to go in reality," he told CP. "But saying all of that, we get to do it all again. Because of that history, I think the best is yet to come."
During a time where people are buying records less, a live show is important. Phillips takes pride in his band's ability to give their all on stage which is a mentality that keeps Newsboys excited for each performance.
"We just want to give you the best that we possibly can, if you come pay the $30, $40, $50 to see the Newsboys..we want to give you $100 worth. That spirit is still very much alive and well in the heart of this band for sure," Phillips told CP. "You come, you're going to have some church but man we're going to spank you with some production to. We minister to you but man we're going to give you a show where hopefully it's one of the best you've ever seen."
For more information about Newsboys and their tour, please

Was this article helpful?

Want more articles like this?

Help keep The Christian Post free for everyone by making a one-time donation today.

We're sorry to hear that.

Hope you'll give us another try and check out some other articles. Return to homepage.