South Asia Flooding Death Toll 20 Times Higher Than Harvey; Christians Helping as Diseases Spread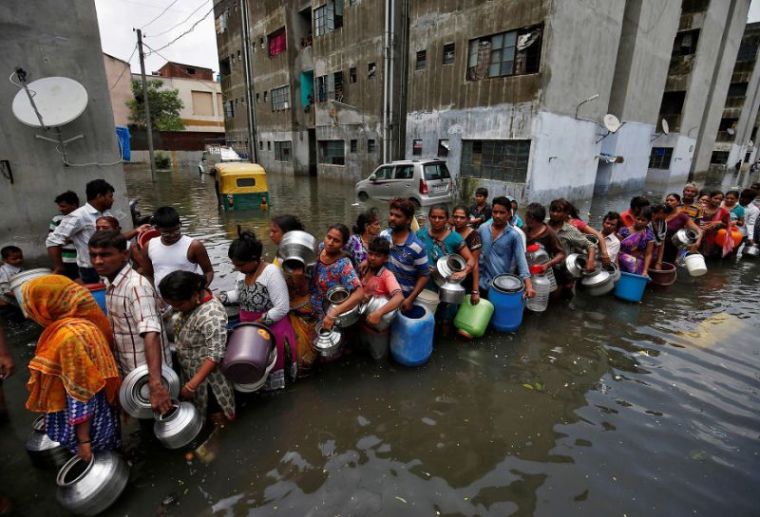 Christian groups are serving as the "hands and feet of Christ" as the death toll from the rains and flooding of South Asia's monsoon season has risen to 1,400 people, which is nearly 20 times higher than Hurricane Harvey's death toll of 70.
Affected countries include India, Pakistan, Nepal and Bangladesh, with Reuters reporting on Wednesday that besides the 1,400 people killed, thousands of others have been hit by outbreaks of diarrhea, malaria and dengue.
Tens of thousands have been left living in tents, while more than 5.9 millions acres of cropland has been destroyed.
"These people need our help, and we are doing all we can to meet their needs," said Martin Faller, deputy director of the International Federation of the Red Cross in the Asia-Pacific region.
Diarrhea and respiratory infections have affected 13,000 people in Bangladesh alone.
"Diseases such as diarrhea, malaria and dengue are on the rise in some areas and we need support to prevent further death and suffering," said Mozharul Huq, secretary general of the Bangladesh Red Crescent Society.
The city of Mumbai in India and its 18.4 million population suffered some of the worst damage, with homes, businesses, hospitals and roads completely flooded.
Ministries such as the Grand Rapids, Michigan-based Mission India have praised their partners on the ground, calling them the "hands and feet of Christ at this time."
"A lot of our partners are coming alongside the community and trying to step up and help out the areas that are being severely impacted by the amount of flooding that's taking place," said Mission India's Erik Morsehead in an interview with Mission Network News on Wednesday.
"I think it's a two-prong approach. It's definitely the urgency of just helping your neighbors, whether they're Christians or not, and coming alongside. And with them coming alongside, it also presents the opportunity to showcase the love of Christ and the message of the Good News," he added.
"You know, during a time when people are just losing their homes and family members, it's an opportunity for our partners to ... not only help them physically, but help them spiritually as well."
The British Pakistani Christian Association reported that millions of Pakistanis are now temporarily homeless due to the floods, with Christian communities battling serious water-related diseases.
"In Essa Nagri, a large well known Christian enclave in Pakistan, blocked sewers caused flood waters to be retained for an exceptionally long period," the BPCA said.
"The resulting mix of effluence within the deluge water is believed to have caused a huge increase in the number of reported infections for the many water-related diseases that are still rife in Pakistan," it added.
The group said that it's hoping to send in a medical team to undertake examinations and provide free treatment.
"We are finding that many individuals with symptoms are reporting illnesses late to avoid charges they cannot afford. We need to raise U.S. $2,614 (£2,000) for a fully equipped competent medical team for three days duration across flood ravaged areas. The team will undertake free medical check-ups, will provide free vaccines and treatments and will provide advice on better health," the group added, linking to a donation page for people who would like to help.
Save the Children added that it's often the poorest families that are hit hardest by flooding disasters, pointing to the 5.9 millions acres of destroyed cropland.
"Across flood-affected parts of Bangladesh, India and Nepal, millions of people have lost their main source of income, whether it be from destroyed crops and dead livestock, damage suffered to local businesses or because they are displaced. Most often it's the poorest families who are worst-affected, the ones who really cannot afford a month or two without any income," said Save the Children India's President Thomas Chandy.
"That's why it's critically important that we help restore people's livelihoods as quickly and efficiently as possible, so families can regain a sense of independence and control over their lives," he added.