Over 1,200 Dead in India, Nepal, Bangladesh as Major Floods Wreak Havoc, Cause Building Collapses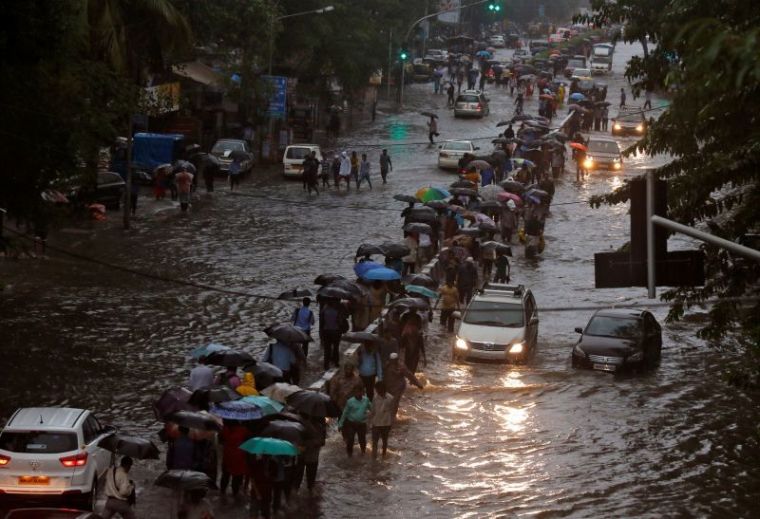 Floods stemming from monsoon rains in South Asia have reportedly killed over 1,200 people across India, Nepal, and Bangladesh, forcing million out of their homes and leading to building collapses in cities.
The Guardian reported on Thursday that as many as 40 million people have been affected by the floods, which are the deadliest experienced in the region in years.
Over 18,000 schools have been destroyed or damaged, Save the Children added, leaving 1.8 million children without classes.
"We haven't seen flooding on this scale in years and it's putting the long-term education of an enormous number of children at great risk. From our experience, the importance of education is often under-valued in humanitarian crises and we simply cannot let this happen again. We cannot go backwards," said Rafay Hussain, Save the Children's general manager in Bihar state.
"We know that the longer children are out of school following a disaster like this the less likely it is that they'll ever return. That's why it's so important that education is properly funded in this response, to get children back to the classroom as soon as it's safe to do so and to safeguard their futures," Hussain added.
At least 11 people were killed during a six-storey building collapse in the Indian city of Mumbai, Reuters said, following two days of torrential rains that have paralyzed the country's commercial and financial hub.
More than a dozen people are still missing in the collapse, rescue workers said, including a 117 year old.
"There was a massive bang. We couldn't see anything due to the dust and smoke. Once the dust settled, we realized it was a building collapse," said area resident Amina Sheikh.
King Edward Memorial hospital was one of the many institutions affected by the rainwaters in Mumbai, forcing doctors to vacate the pediatric ward.
"We are worried about infections ... the rain water is circulating rubbish that is now entering parts of the emergency ward," said doctor Ashutosh Desai.
The International Federation of Red Cross and Red Crescent Societies detailed how families were stuck on rooftops surrounded by rising waters in Jamalpur District, Bangladesh, surviving on the food they had taken as they fled the floods.
"We have been living on this roof for several days, but after two days the food ran out, and we had nothing safe or clean to drink," Abdul Malek told Bangladesh Red Crescent Society rescue teams who helped his family.
"When the Red Crescent came, they provided water, medicine and water pots. We cannot describe how grateful we are."
The relief organization said that 8.1 million people had to flee their homes in Bangladesh, with the floods having killed over 140 people there, and damaged or destroyed 697,000 houses.
Google meanwhile pledged $1 million relief to the flood-hit areas in South Asia.
"We are committing $1 million from Google.org and Google employees to Goonj and Save the Children for their relief efforts," said Rajan Anandan, vice-president, South East Asia and India.
Google further activated its "SOS Alerts" function for the crisis in India, Bangladesh, and Nepal, much like it did for the floods that hit Texas in the wake of Hurricane Harvey over the weekend.