Southern Baptist Pastor Shane Hall Dies From Stomach Cancer Days After Baptizing Daughter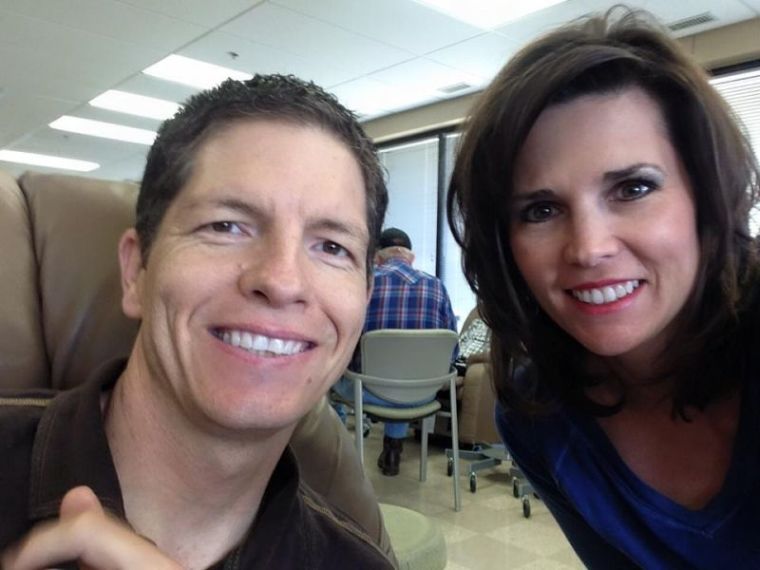 Just days after baptizing his young daughter Mallory, Shane Hall, the beloved pastor of First Southern Baptist Church in Oklahoma City, Oklahoma, died following a three-year battle with stomach cancer on Friday. He was 46.
"Dear First Southern Church Family ...Our dearly loved Pastor Shane passed this afternoon peacefully at home. God has chosen to heal him in an eternal way. Certainly, our prayers, support, and sympathy are extended to Misty, the girls, and the extended family. For us, as a church family, we grieve and seek to understand while we lean on a loving, faithful God," Joe Sherrer, associate pastor for discipleship at First Southern Baptist, announced in a statement on Facebook Friday night.
Hall's wife, Misty, who had been sharing updates on her husband's health, declared in a hope-filled post on Facebook Friday night that "Tonight he is worshipping with Jesus."
"'For to me, to live is Christ and to die is gain.' Phil 1:21'we are of good courage, I say, and prefer rather to be absent from the body and to be at home with the Lord.' 2 Cor 5:8," she added.
On Feb. 9, Misty had announced that all medical options to save her husband's life had been exhausted and they were just trying to make Hall's final days as comfortable as possible.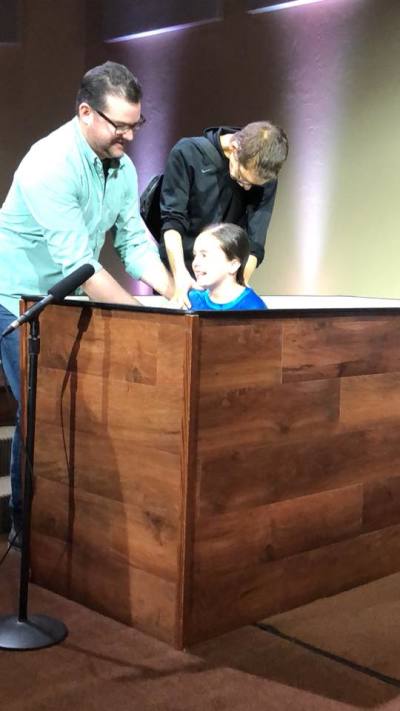 "We continue to see God's sustaining grace on Shane and, yet, we are also aware that his condition is not improving. There is no further medical treatment that is available to us so we are focusing our attention on his nutrition and controlling the pain," she wrote.
She also shared how their younger daughter, Mallory, accepted Jesus Christ despite the struggles being experienced by their family. 
"This journey for 3 1/2 years has been one of difficult struggles and victories and this week was no different. In the midst of a very difficult couple of weeks our Mallory professed Christ as her Savior. We are rejoicing with her in her decision and giving thanks for the Lord's provision of salvation and eternal hope," Misty wrote.
She then shared photos two days later on Sunday Feb. 11, showing her frail husband baptizing Mallory.
Misty told Baptist Press that her late husband told her in January that he wanted to live long enough to see Mallory profess Christ as her personal savior. When her daughter made that step and to help Hall fulfill his desire, Misty called it "truly a miracle."
"I just wanted to baptize Mallory," Shane had told Misty, according to BP. "So, for him to say that and then to see it within two or three weeks was just a precious gift to him. I felt like, that's what kept him here for a while, his wanting to fulfill that desire to see her come to know the Lord."
Mallory professed her faith in Christ on Feb. 7 to her mother, just four days before her father was able to baptize her with the help of First Southern Baptist children's minister, Neal Livingston, according to BP.
President and CEO of the Southern Baptist Convention Executive Committee Frank S. Page, who prayed with Hall as he battled his cancer, called him a hero.
"When I heard about Shane Hall's miraculous efforts in helping to baptize his daughter, I wept," he told BP. "It spoke of a father's love. It spoke of a pastor's determination. God bless him and his family as they continue to make a difference."
Visitation for Hall, who also leaves behind older daughter Maci along with extended family and friends, will take place on Monday, Feb. 19 from 6-8 p.m. at Kiesau Funeral Home in Clinton, Oklahoma. A family graveside service will be held on Tuesday, Feb. 20, at 10 a.m. in Elk City, Oklahoma, while a memorial service is expected to take place on Wednesday, Feb. 21 at 10 a.m. at the Southern Hills Baptist Church Worship Center located at 8601 S. Pennsylvania, Oklahoma City. The Shane Hall family, in lieu of flowers, has asked that gifts be made to the BGCO Pastors' Conference.