Steph Curry Given NBA Man Of The Year Honors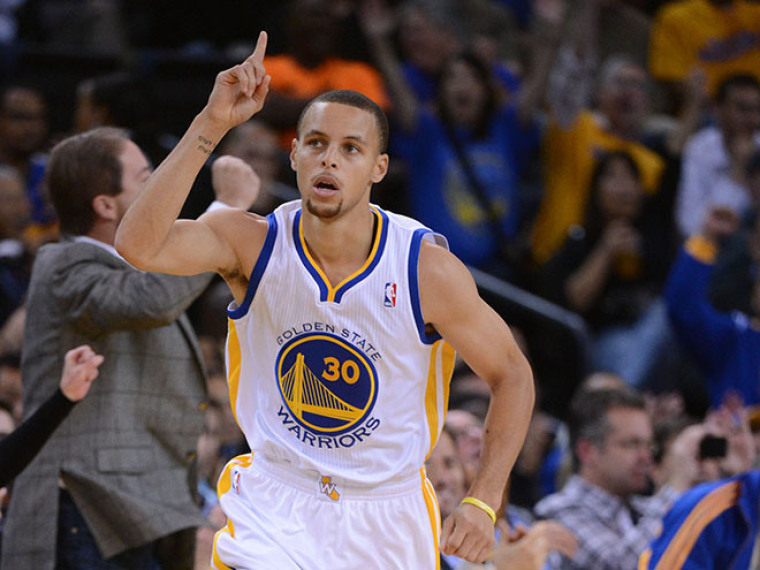 Steph Curry is more than a 2014-2015 NBA champion and league MVP, the Christian athlete is now the NBA Player of the Year for both Sports Illustrated and Rolling Stone magazine.
The 27-year-old Golden State Warriors point guard was given the honor from both publications this week after already receiving the honors of Sportsman of the Year at the BET Awards and Best Male Athlete at the ESPY's and Teen Choice Awards.
While tennis star Serena Williams was given Sports Illustrated's highest honor of Sportsperson of the year, the publication made it clear that he had little competition.
"There can be only one Sportsperson, but there is still plenty of individual excellence to highlight across the landscape of sports. For the NBA, there is little question who was 2015's winner...After leading Golden State to a franchise-record 67 wins and the franchise's first NBA championship in 40 years, 2014–15 MVP Steph Curry picked up this season right where he left off last June," an explanation of Curry's honor states. "As the Warriors were making headlines for winning their first 24 games, Curry was leading the league in scoring (32.3 points at week's end) and making threes at an unprecedented rate. His current pace — 5.1 per game — is more than the Nets are hitting as a team (4.8)."
Rolling Stone referred to Curry as more than "NBA Player of the Year" but a "Millennial Man."
"Curry is ambition without self-destruction, how power feels without how power ruins, a man with a strong identity who's still infused in a sense of community," Rolling Stone writes of the Warriors guard. "He's never trying too hard, except he's always trying too hard. He doesn't walk this tightrope so much as he weaves it on the fly."
Although Curry is receiving high honors across multiple platforms, there was once a time when he was told he would not make it in the NBA. In a video for the CoachUp service that provides athletes with private coaching opportunities, Curry reads from a 2009 NBA draft scouting report while demonstrating some of his superior athletic abilities.
"Stephen's explosiveness and athleticism are below standard. He is not a great finisher around the basket," Curry reads from the report. "He needs to considerably improve as a ball handler [and] often struggles against physical defenders. Stephen must develop as a point guard in order to make it in the league. He will have limited success at the next level. Do not rely on him to run your team."
As Curry read each portion described in the draft report, he showcased his abilities to defend, dribble and score with various exercises before the words "2015 World Champion" flashed across the screen. Although the Christian athlete managed to make a name for himself in the league, the CoachUp website revealed that he has been overlooked multiple times throughout his career.
"MVP and World Champion, Stephen Curry was overlooked coming out of high school, and undervalued on his way to the NBA. Draft reports challenged his athleticism, ball handling, and leadership," according to the CoachUp website. "Doubted at every level, Stephen silenced the skeptics by becoming an elite point guard, and one of the league's best players."
Curry has proven to exceed expectations and spoke about having to shake off doubts when accepting the honor of league MVP earlier this year. He spoke about his blessings, despite some of the struggles he endured.
"There were obviously good times and bad times. Times I wanted to shut it down," Curry said in his speech, which is featured on the official NBA website. "It just made me feel like how blessed and thankful I am to be in this position."