Steph Curry Reads 2009 NBA Draft Report Calling His Skills 'Below Standard'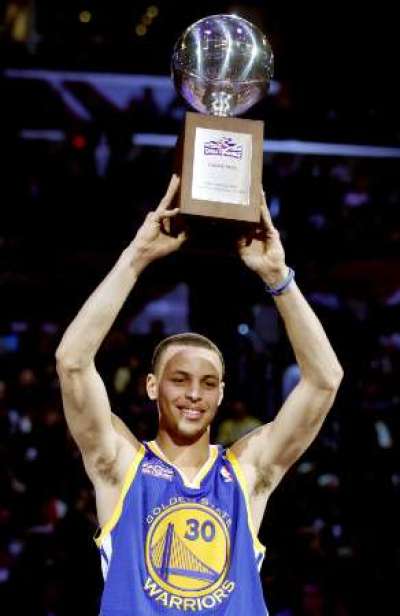 Steph Curry may have won the 2015 NBA championship with his Golden State Warriors, but he recently recalled a 2009 draft report that claimed he would have limited success in the league.
Curry, the 27-year-old Warriors point guard who was named the league's MVP last season, stars in a new video for the CoachUp service that provides athletes with private coaching opportunities to help people improve in over 30 sports.
In the video, Curry reads from a 2009 NBA draft scouting report while demonstrating some of his superior athletic abilities.
"Stephen's explosiveness and athleticism are below standard. He is not a great finisher around the basket," Curry reads from the report. "He needs to considerably improve as a ball handler [and] often struggles against physical defenders. Stephen must develop as a point guard in order to make it in the league. He will have limited success at the next level. Do not rely on him to run your team."
As Curry read each portion described in the draft report, he showcased his abilities to defend, dribble and score with various exercises before the words "2015 World Champion" flashed across the screen.
Curry posted the video on Twitter by writing, "Actions speak louder than words. Check out my new @CoachUp video. #ImproveYourGame."
Although the Christian athlete managed to make a name for himself in the league, the CoachUp website revealed that he has been overlooked multiple times throughout his career.
"MVP and World Champion, Stephen Curry was overlooked coming out of high school, and undervalued on his way to the NBA. Draft reports challenged his athleticism, ball handling, and leadership," according to the CoachUp website. "Doubted at every level, Stephen silenced the skeptics by becoming an elite point guard, and one of the league's best players."
Curry has proven to exceed expectations and spoke about having to shake off doubts when accepting the honor of league MVP earlier this year. He spoke about his blessings, despite some of the struggles he endured.
"There were obviously good times and bad times. Times I wanted to shut it down," Curry said in his speech, which is featured on the official NBA website. "It just made me feel like how blessed and thankful I am to be in this position."
Curry has been vocal about his faith for years, and also wrote about it playing a part in his continued success.
"I've always believed that success for anyone is all about drive, dedication and desire, but for me, it's also been about confidence and faith," Curry previously wrote in The Cauldron. "To excel at the highest level  —  or any level, really  —  you need to believe in yourself, and hands down, one of the biggest contributors to my self-confidence has been private coaching."
Earlier this year, Curry took time out to reflect on his Christian faith when speaking to Christian sports apparel brand, Active Faith. According to the Christian athlete, his relationship with Jesus Christ started around middle school.
"My parents had us in church every Sunday, every Wednesday. It was more of a tradition at that point; I didn't have a personal relationship with the Lord until I went to the altar call one Sunday and the youth pastor told us to make a decision for ourselves," Curry told Active Faith. "The youth pastor told us we had to make a decision for ourselves, we couldn't rely on our parents. It had to be a decision on our own, and that's when I made it.
"There are so many things we have to overcome in this life with Jesus, His work on the cross, He's paid the ultimate price for us, so I'm proud to be a child of God," Curry told Active Faith.