Steph Curry Prays With Lakewood Church Pastor John Gray After Game 4 Injury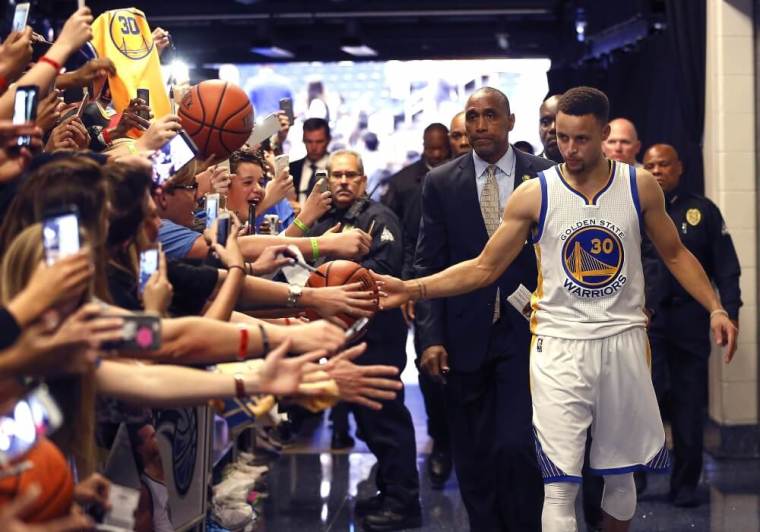 Lakewood Church Pastor John Gray's prayers for Golden State Warriors MVP Steph Curry might have been answered. The star point guard has a grade 1 MCL sprain in his right knee, an MRI revealed on Monday, according to ESPN. It is considered the least severe injury of its kind.
"Thanks for all the prayers and messages. Can feel all the positive energy. God is Great! All things considered, I'm Gonna be alright! #DubNation," Curry tweeted out to his more than 5 million followers on Monday.
Gray was on hand, along with others, after Curry's game four injury on Sunday and prayed for the star, who is an outspoken Christian. A video posted by ESPN showed pastor Gray, along with others, greeting Curry with hugs before the group huddled together in prayer following the game.
Fresh off an ankle injury during game one of the Warriors' first-round series with the Houston Rockets, Curry took a nasty spill during Sunday's game, spraining his right knee. He is expected to be out of commission for the next two weeks.
Curry recently made a visit to Lakewood Church in Houston, Texas. On Saturday, Gray posted a pic to Instagram of him, his wife, Aventer, Curry, and Golden State players Harrison Barnes and James McAdoo at Lakewood Church, along with the message: "My starting five! @grayceeme, @hbarnes, @jamesmcadoo ansd @stephencurry30! Who wants to play us? Seriously great having these brothers at church and just worshipping the Lord together. Me and my wife — we just like these ballers. Only difference is they dunk on other ballers and we dunk on the devil!"
The Golden State guard was possibly in Houston to attend Lakewood Church's Go Conference for Men, a one-day event promoted as a pit stop for men to refuel, recharge and renew their inspiration.
Curry's personal inspiration to play professional basketball comes from an unlikely source: a desire to keep the sport held in high esteem. The Christian Post previously reported Curry as saying, "I have certain guys who I looked up to. Jordan, Kobe, those guys. Passing that on to doing my part to kind of keep that influence of basketball where it should be is kind of why I play the game."
"For the youth that are watching today's game and where it is, that would be something very special, in 15 or 20 years, [to] hear stories of kids growing up watching me play and being inspired by what I do on the floor, and how I play the game ... "
Watch Steph Curry and Lakewood Church Pastor John Gray pray together in the video below: