Steph Curry's Wife Says God Was in Control of OT Game 4 Win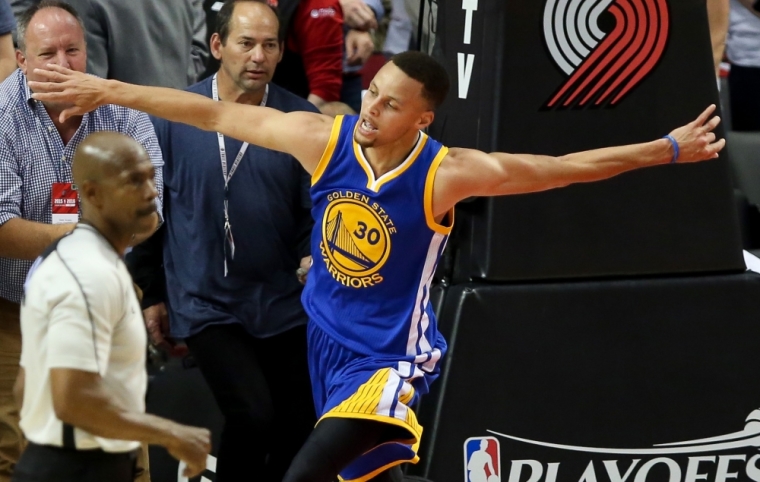 When he returned from a knee injury Monday night, Steph Curry seemed to be only a shell of himself when he made just two of 13 three-point shots. But something remarkable happened during overtime that the Golden State Warriors point guard's wife believes was a part of God's plan.
Curry, 28, managed to make NBA history in the overtime of the playoffs for Game 4 against the Portland Trailblazers. After scoring 17 points and becoming a trending topic on numerous social media platforms, his wife, Ayesha Curry, gave God the glory.
"So proud! Speechless. … God is always in control, always," Ayesha tweeted after her husband's historic game.
Before making NBA history with the most points scored during overtime, Curry had a momentous NBA season where he broke his own record by making 300 three-pointers in a single season. He explained his motivation for playing at such a high level having to do with inspiring youth who are watching him instead of shooting for fame and fortune.
"I have certain guys who I looked up to. Jordan, Kobe, those guys. Passing that on by doing my part to kind of keep that influence of basketball where it should be is why I play the game," the Golden State Warriors' point guard told USA Today Sports back in April. "For the youth that are watching today's game and where it is, that would be something very special, in 15 or 20 years, (to) hear stories of kids growing up watching me play and being inspired by what I do on the floor, and how I play the game and what not."
While there is no denying the hard work Steph puts into his athletic career, his former NBA star father, Dell, also credits God for his son's talents.
"It's just God-given abilities in different ways and you just have to develop those skills that you have and try to work on the ones that you're weaker at, and I think that is what Steph has done every year. Every summer he has gotten better," he said in a Philly.com report last year. "He has changed parts of his game. Even from a leadership role. That is a part of the game that makes your overall game better. I think he's worked on that as well."
In his NBA MVP acceptance speech last year, Steph spoke about how much his parents influenced his game.
"Mom you are our spiritual guidance and our disciplinarian at times when pops was away. ... The way that you raised us, not taking any slack," Curry said in his speech. "We knew sports was important to us and our family but there are priorities in life. Obviously faith is foremost, how we did in school is important. If we didn't handle that business then there were no privileges."
While the player shared notable memories with his teammates and Warriors staff, he also made it clear that his faith was one of the key reasons for his success.
"Sometimes people make it seem like you have to have certain prerequisites or a crazy life story in order to be successful in this world. But the truth is you really don't," Curry said. "It doesn't matter where you come from, what you have or don't have, what you lack or what you have too much of. All you need to have is faith in God, an undying passion for what you do and what you choose to do in this life, and a relentless drive and the will to do whatever it takes to be successful in whatever you put your mind to."