Stephen Colbert Shares Question for Pope Francis; Talks Favorite Saint, Hymn and Bible Verse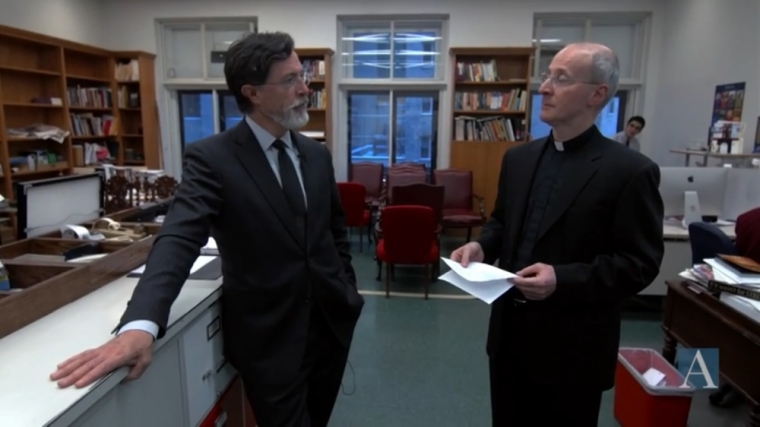 Comedian Stephen Colbert, who's set to take over as host of the "Late Show" in September, has shared in an interview the question he would ask of Pope Francis, along with his favorite saint, hymn and Bible verse.
Fr. James Martin, editor-at-large at America magazine, interviewed Colbert in a video posted on Monday and asked him a series of questions about his Roman Catholic faith.
When asked about a question he would direct at Pope Francis if he could, Colbert said: "What do you do to get that smile on your face in the morning?"
He added: "The Pope seems so happy. I was wondering, what is your regimen in the morning?"
The former "Colbert Report" host noted that Mother Teresa would get up every morning, make herself smile, and say "yes."
Colbert said that Peter is his favorite saint, because of his flaws.
"I always liked Peter because he's the rock, but the rocks were between the ears. Because he has the insight, or the grace, to know that you are the Messiah, the Son of God. And then he denies Christ. He's angry, like he's known as having anger. I like him because he's super flawed."
The comedian recited parts of Matthew chapters 5 and 6 for his favorite Bible verse, where Jesus tells His followers not to spend their time worrying about food, water, or clothing, noting that God will provide. Colbert added that the passages were used during his wedding.
He then identified "Hear I Am Lord" and "O Come, O Come Immanuel" as his favorite hymns, and together with Martin sang parts of them and other Catholic songs.
Colbert has publicly noted his faith on a number of occasions in media, and has said that he teaches Sunday school.
In 2012, a profile piece in The New York Times highlighted a tragedy Colbert suffered in 1974 at the age of 10, when his father and two of his brothers died in a plane crash.
Colbert reflected about the incident: "There's a common explanation that profound sadness leads to someone's becoming a comedian, but I'm not sure that's a proven equation in my case."
He added: "I'm not bitter about what happened to me as a child, and my mother was instrumental in keeping me from being so. She taught me to be grateful for my life regardless of what that entailed, and that's directly related to the image of Christ on the cross and the example of sacrifice that he gave us. What she taught me is that the deliverance God offers you from pain is not no pain — it's that the pain is actually a gift. What's the option? God doesn't really give you another choice."