Steve Harvey Blames Prayer for Miss Universe Gaffe
I Asked God to 'Increase My Global Persona; You've Got to Be Real Specific With God,' Says Comedian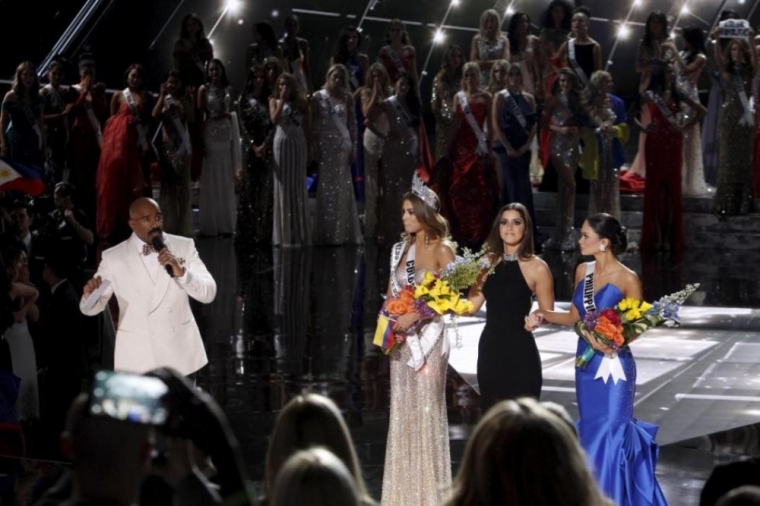 Steve Harvey's Miss Universe flub was the subject of laughs heard around the world, but the comedian and host believes the mishap was a result of his prayers.
The 59-year-old talk show host mistakenly announced Miss Colombia as the iwinner of the annual Miss Universe Pageant last month before realizing his mistake and crowning Miss Philippines as the actual winner. The flub, made on live television, resulted in memes, criticism and outrage around the world.
After issuing his apologies and reflecting on the matter, Harvey is revealing that he prayed for the moment to happen.
"I was asking God to help me increase my global persona. I don't appreciate the route he took," he said, according to the Hollywood Reporter. "You've got to be real specific with God. It was a challenging night for sure."
Right before going live as host of the pageant, Harvey hinted about God giving him the opportunity to appear on the live show.
"Look at where God brought me! #MissUniverse2015," Harvey tweeted before the event started.
The comedian, author, and actor has been vocal about his Christian faith in the past. During his last stand up comedy show in 2012, an emotional Harvey glorified God for his platform.
"Somebody tweeted me and said: 'Your career is what [you're] paid for, your calling is what you're made for.' God has positioned me just this way to be just like I am, to say what I say, how I say it," Harvey said in his final stand-up comedy show at the MGM Grand in Las Vegas. "I'm just a living witness that you can be an imperfect soldier and still be in the army fighting for God Almighty. Don't you think you got to be perfect, 'cause I ain't."
As an entertainer, Harvey knows the influence of celebrity and has made it a point to use his platform responsibly. For that reason, sharing his testimony with young men is important to him.
"This is one of the most important works I do. I think God put me in the position to do all of those other things to do this," Harvey told The Dallas Weekly in 2013. "I have taken the fame He bestowed upon me and I use it in a way that would be beneficial to some young men who otherwise may not get opportunities to sit with some positive men who can show them what manhood is really about."
In a video Harvey posted on You Tube in October 2015, the entertainer explaines during an interview that God provided him with the gifts he has presented to the world, and refuses to compromise them by getting drunk or high on drugs. Instead, he focuses on prayer and his faith.
"God gives you a gift. He don't need your help to enhance it," he said in the YouTube video on his channel. "He needs your attention, your faith, your prayer to enhance your gift."