Strong Majority of Americans 'Concerned' by Obama's Lack of Strategy, ISIS a 'Serious Threat'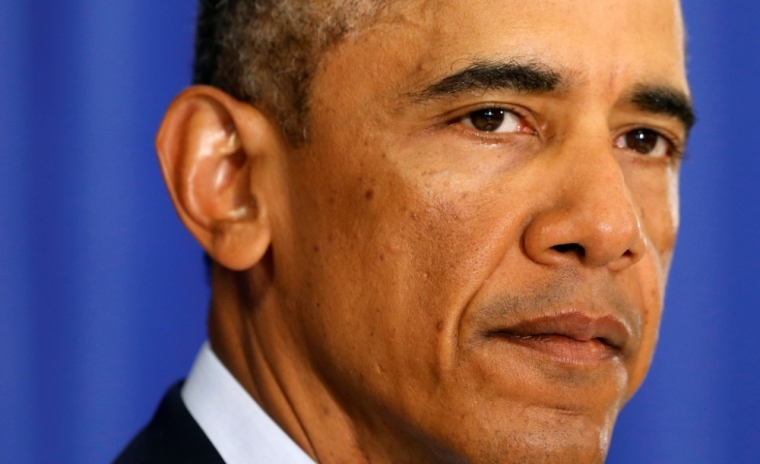 A strong majority of Americans are worried after President Barack Obama admitted last Thursday that the United States does not have a strategy to combat the Islamic State of Iraq and Syria (ISIS). A majority of Americans also deem ISIS to be a "serious threat" to the United States.
A Rasmussen poll released Tuesday found that 67 percent of likely American voters consider ISIS, also known as ISIL or the Islamic State, to be a "serious threat" to the U.S., while 73 percent said they are "concerned" that the U.S. does not have a strategy yet to deal with the terrorists. Forty-seven percent said they are "very concerned" by the president's admittance of a lack of strategy. Only four percent of those polled said they are "not concerned at all."
The poll of 1,000 likely voters had a margin of error of plus or minus three percent.
As ISIS militants have made headway in seizing a number of areas and cities in Iraq, a country the United States fought to liberate during the George W. Bush administration, Obama has used selective airstrikes to prevent ISIS from advancing any further. Obama had made it clear, up until his reaction to ISIS' execution of a second American journalist on Tuesday, that he did not plan to send in any more ground troops to Iraq. However, Obama may now be considering that option.
"Our objective is clear and that is to degrade and destroy ISIL so it's no longer a threat — not just to Iraq but also to the region and to the United States," Obama said. "Now what we need to do is make sure that we've got the regional strategy in place that can support an ongoing effort, not just in the air but on the ground to move forward. It's something that over time is gonna be effective."
Obama's own reluctance to get more involved in fighting ISIS might have been because only 52 percent of Democrats polled consider ISIS to be a "serious threat" compared to the 82 percent of Republicans and 70 percent of independents that feel that way.
The poll found that although only 30 percent of Americans feel that the U.S. should send ground troops back to Iraq, that number is up 12 percentage points from when they polled on the question in December.
Meanwhile, those in opposition to sending ground troops to Iraq have fallen drastically from 71 percent in December to 58 percent just a month ago. Currently, the poll finds that only 41 percent of Americans are opposed to sending ground troops back to Iraq with a substantial 29 percent undecided.
The public's spike in trepidation toward ISIS in the last month may be attributed to the widely publicized video-recorded beheading of American journalist James Foley last month. The militants claimed the execution to be a "message to America" regarding the U.S. airstrikes against the group's forces in Iraq. Although this survey was conducted before ISIS released "a second message to America" in the videoed beheading of a second American journalist, Steven Sotloff, on Tuesday, that incident may play a role in the public's perception of the ISIS situation in the future.
In Obama's press conference in response to Sotloff's death, the president makes the claim that ISIS' horrific killings of Americans will only "stiffen" the American effort to fight those terrorists.
An earlier Rassmussen poll released Aug. 25 found that 61 percent of Americans feel that the U.S should hunt down Foley's executioner.
Secretary of State John Kerry said Wednesday, while at a ceremony honoring a Texas lawyer who is the State Department's special representative to Muslim communities, that the United States will hold ISIS accountable for the death of Sotloff and Foley.
"When terrorists anywhere around the world have murdered our citizens, the United States held them accountable, no matter how long it took," Kerry said. "And those who have murdered James Foley and Steven Sotloff in Syria should know that the United States will hold them accountable too, no matter how long it takes."