'Sunday Best All Stars' Top 3 Talk Second Chances, Disappointments, Recording Music Together (Interview)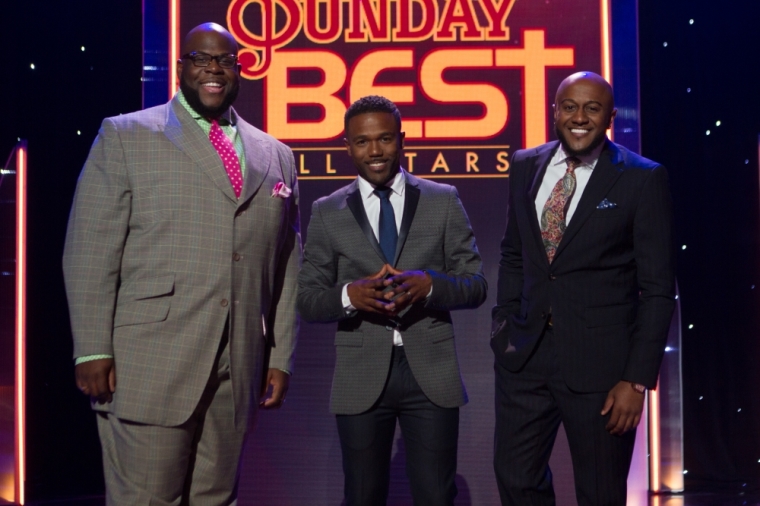 Instead of giving up on their dreams, three men are taking a second chance at being crowned the winner of "Sunday Best All Stars," and win or lose Clifton Ross, Dathan Thigpen and Zebulon Ellis are witnessing God's power move throughout the BET gospel music competition.
In the eighth season of "Sunday Best All Stars," the hit BET network show switched its format and let fans vote for their previous favorites that fell short of winning the competition in the past. The top 10 finalists who were given a second opportunity on the show glorified God with powerhouse voices. But only three men remain after withstanding judgement from tough industry veterans, which include Pastor Donnie McClurkin, gospel singer Yolanda Adams and fellow gospel songstress Kierra Sheard.
While Ross, Thigpen and Ellis are excited for the opportunity to win a recording contract with one of the biggest musicians in gospel music, Kirk Franklin, the journey throughout the competition has proven to be just as fulfilling.
"The most rewarding thing has been just the feedback from the fans telling me they appreciate the testimony and the songs, how much they were blessed and how much they felt the Holy Ghost right inside of their living rooms. That's what I do this for, to make sure God is moving through me," Ellis, the 33-year-old worship leader at The House of Hope church in his hometown of Atlanta, Georgia, revealed to The Christian Post. "That's what this is all about, to make sure people are blessed and to make sure people have some type of encounter with God. If I can be the conduit to make that happen, then I am satisfied."
Thigpen, the 34-year-old Jackson, Mississippi, native, said he gets emotional when he sees people's response after they witness him minister through song. Although he serves as the praise and worship leader for Faith Christian Center in Atlanta, Georgia, returning to "Sunday Best" has provided him with an entirely different platform.
"You see posts about people who saw your performance and they say, 'You know, I was sitting at home, I watched your performance and I was feeling some type of way, and then when your song came up I was blessed.' Just to see the outpour of all of that — that's what I love to see," he told CP. "I think that's exactly why I'm here, to spread that. I literally was reading posts with tears in my eyes because it's like prophecy fulfilled. What I was made to do is happening."
While each finalist is overjoyed withhaving the opportunity to be used by God to inspire people through song, they also had to overcome disappointment after previously losing the competition.
"No one enters competition without desires to win. I had to fully digest losing," Ross, a 30-year-old music teacher at Bryant Alternative School in Alexandria, Virginia, said. "I wanted to fully mask it but I really learned to press through it. That's how I learned myself because I embraced it, fully digested it, picked the meat from the bones and I realized I needed to grow more."
Now, it seems things have come full circle for former season 2 hopeful Ross and his fellow competitors.
"It's been six years since the last time I was on and I've grown so much in the last six years. I've really devoted myself to working on me and just evolving, not only in my voice but as a person spiritually and mentally," Ross told CP. "To come back on the show, make it this far and get responses from the viewers like, 'We feel your heart, we feel your presence, we believe in you.' That was my only prayer to God was that I reach people's heart."
Kirk Franklin, the "Sunday Best" host and executive producer who is awarding the winner of the show with a recording contract on his Fo Yo Soul Entertainment record label, spoke about the importance of reformatting the show so that people could have another opportunity to achieve their dreams.
"It's all about giving people second chances," said Franklin, the 45-year-old veteran host and executive producer of 'Sunday Best' to CP. "We just thought it would be really cool this season for people to have another opportunity to get close to their dreams. How many people don't get that opportunity? It turned out to be an incredible idea that the people really gravitated to."
Thigpen has used his second chance on the show to learn from his past mistakes after appearing on season 3 of the competition.
"We have life learned lessons coming back and you're bringing that to the table. When you're eliminated from the competition hindsight is 20/20," he said. "I was more focused on what would work and what I would need to do to make it work and now I'm here."
Although Ellis has faced struggles throughout the competition with the ailing health of his mother and father, he sang through it all and sees the growth in himself as a performer after appearing on the show in season 2.
"It was a different experience because six years is a lot of time for a person to grow spiritually, mentally and physically. I'm more of an artist, I'm more of a minister now," Ellis told CP. "I've been through some more things that can attest to my testimony that I sung onstage and so it's just made for a greater experience with God."
Each of the top three hopefuls have been vying for viewers' votes, but insist that whatever the outcome of the competition is they will support one another wholeheartedly.
"We're enjoying this ride together. We all decided we are going to do a song together, we're brothers in this," Ross revealed to CP. "The title only belongs to one person so we're going to support whoever wins and we're going to move on because there are three totally different voices here that are coming together. It's all in love since we're all lifting up the name of Jesus."
To find out who will win "Sunday Best All Stars," tune in to the season finale at 8 p.m. Sunday, Aug. 30, on BET. For more information, please visit http://www.facebook.com/BETSundayBest.