Super Bowl Commercials: the Sexier the Better? Research Says No
Although the Super Bowl used to conjure up notions of football and tailgate parties, this annual American pastime has morphed into an event that evokes expectations of controversy, sex, and more controversy. Advertisers continue to push the scandal envelope with risky commercials, but a recent study conducted by the University of Wisconsin-Eau Claire suggests that sex, in fact, does not sell.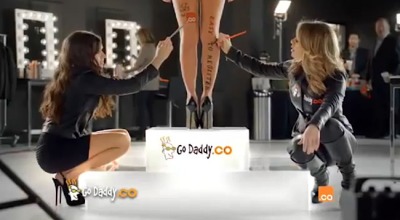 The Super Bowl has gained a reputation for being controversial. Who can forget Janet Jackson's "wardrobe malfunction" of 2004, when during the halftime show performance fellow singer Justin Timberlake "accidentally" exposed Jackson's right breast?
Or the 2004 half-time performances by Kid Rock and rapper Nelly, whose suggestive forms of physical expression, such a crotch-grabbing, are anything but "PG rated?"
Accompanying these scandalous half-time shows are hyper-sexualized commercials. Although lingerie company Victoria's Secret is a Super Bowl patron known for its racy ads, this year the main focus is around a teaser commercial for web hosting company, GoDaddy.
The recently released teaser commercial features female racecar driver Danica Patrick and fitness guru Jillian Michaels painting the body of a model who appears to be nude.
The advertisement then invites those interested in seeing "more" of the super model's body and more scandalous commercials to visit the GoDaddy website.
KIA Motors Company also released a Super Bowl teaser which, although more subdued than the GoDaddy commercial, has still grabbed the attention of critics.
The teaser features supermodel Adriana Lima, scantily clad, waving a black and white racing flag in slow motion.
Researchers at the University of Wisconsin-Eau Claire, who have been analyzing Super Bowl ads for more than two decades, found that ads containing sexual imagery fell 10 percent below the median score of "likability" by the general public, compared to ads not containing sexual imagery.
According to Chuck Tomkovick, the marketing professor who oversees the study, the results of the research reflect gender differences in America.
"American males have a voracious appetite for this stuff, particularly the pornography," Tomkovick told CP, adding that these racy ads are, in his opinion, a form of soft core pornography.
Tomkovick points to the change in American values he has seen over the past decades, with hyper-sexualized commercials dominating the airwaves and Las Vegas being advertised as a "family destination."
"This is just part of the way we are evolving and it is not our finest hour," Tomkovick said, adding that the way to restrain this trend toward sex is for people of character to rise above it.
So why do advertisers still push the sex envelope when research shows that wholesome ads are preferred over racy ones?
Melissa Henson, director of Communications and Public Education for the Parents Television Council, attributes a lack of creativity as the reason for continued sexy ads.
"[Advertisers] cling to sexual content, I think, often because it's easier than coming up with something that's genuinely innovative, or clever, or entertaining," Henson told The Christian Post.
"I think a lot of it has to do with pop culture and influences," she added, asserting that "[pop culture] is not so much reflecting society as it is shaping society."
As Robert Peters, General Council at President Emeritus at Morality in Media, told CP, the commercials do strike a chord with the "typically young, foolish" generation.
"There's been quite a bit of research done on brain development in recent decades … The human mind is still developing well into adolescence," Peters told CP.
"Looking at this stuff doesn't help us, it hurts us," Peters added.
Many critics concerned with America's sex obsession question what can be done to stop the trend.
Peters asserts that Americans can expect advertising companies to take no responsibility for their productions.
"If the broadcasters were genuinely interested in serving the public interest in contrast to their own selfish purposes of whatever nature they are, propaganda or pure profit ... they would acknowledge the fact that the imagery they put out over the airwaves has an impact on people,' Peters commented.
"We are our brother's keeper … one day we're all going to answer for whether we did or didn't act like our brothers' and sisters' best interests in mind or whether we just acted to gratify our own base desires," he added.
Others suggest parents and moral citizens take the responsibility in their own hands. Henson of the Parents Television Council suggests "letting your purchase decisions reflect your own moral convictions."
Teresa Tomeo, media activist, motivational speaker and syndicated Catholic talk show host, suggests viewers take an activist stance, giving television networks feedback on what they like and don't like.
"Strong grassroots efforts can make a difference. Just look at what happened with 'The Playboy Club' on NBC which was canceled after only three episodes. Public pressure on the advertisers had a lot to do with ending that series," Tomeo contended.
"Unfortunately, I don't think I have been able to call the Super Bowl a 'family friendly' event for a long time. That may change if concerned viewers speak up," she added.
Some companies feel the sting of public criticism and act accordingly. Last year, Sketchers ran a very risqué Super Bowl ad featuring Kim Kardashian. Although the company denies any claims of booting Kardashian from its Super Bowl slot, this year the shoe company's commercials will instead be featuring a far more family friendly company mascot – Mr. Quiggles, the French bulldog.
Still, the sexy advertisements are not expected to end any time soon. Despite the research evidence, many advertisers continue to argue simply that sex does draw in viewers.
When asked why he chooses to continue showing sexy ads, Bob Parsons, GoDaddy's founder, told USA Today that simply, "Sex sells on the Super Bowl."
Observers contend that, as usual, sexy advertisements will likely dominate this year's Super Bowl, scheduled for Sunday, Feb. 5 at 6:30 p.m. ET.