Super Bowl LII: 4 Times Philadelphia Eagles QB Nick Foles Showcased His Faith
4. Nick Wears WWJD Bracelet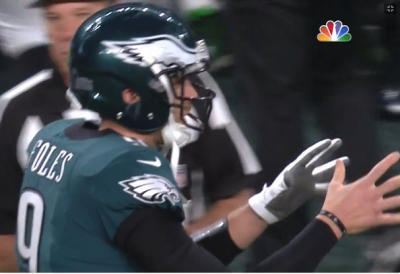 Since taking over for former starting QB Carson Wentz after a season ending injury in Week 14, Foles has been giving God the glory. On Super Bowl Sunday, he was spotted wearing a WWJD bracelet.
After leading his Eagles to a 41-33 victory over the New England Patriots on Sunday night, Foles made sure to give God the glory after being named the Most Valuable Player of the game.
"Unbelievable. All glory to God," he said when receiving the honor.
Weeks before, Foles echoed similar sentiments when receiving the NFC Championship trophy last month.
"Words can't describe what I feel right now. I said it out there, all glory belongs to God," he said at a press conference last month, according to NFL.com. "I wouldn't be here without any of that. I'm grateful and humbled to be a part of this team, to be in this moment, to share it with our family and fans. All the people that love this franchise. It's unbelievable. Words can't describe."