Survivors praise God after deadly tornado kills at least 23 in Alabama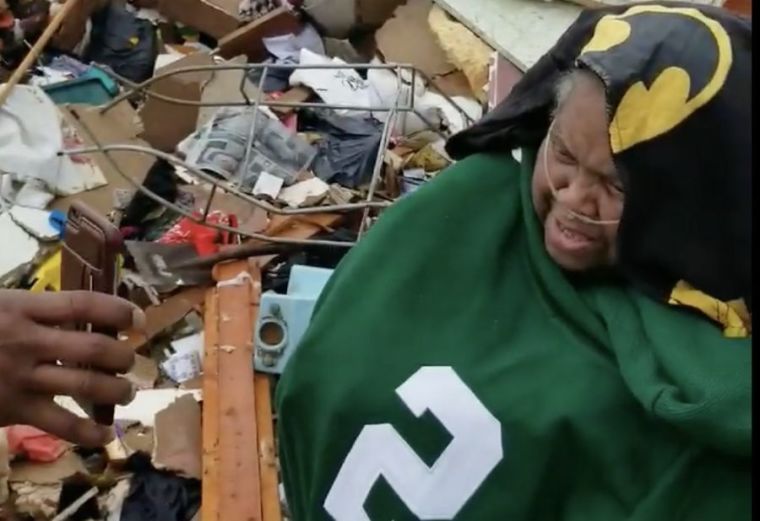 Survivors praised God following a powerful tornado in Alabama Sunday that left "catastrophic" damage, at least 23 dead and another 20 still missing as of Monday.
Lee County Sheriff Jay Jones said at a news conference Monday that most of the destruction is concentrated along Alabama Highway 51 in Beauregard that is about a half-mile wide.
"It looks almost as like someone took a giant knife and just scraped the ground. There are slabs where homes formerly stood," he told reporters. "Whole forested areas, trees are just snapped and lying on the ground."
Delrico Eiland shared a video on Facebook of his 72-year-old aun, Earnestine Reese, after her house was destroyed along with her daughter's trailer in Beauregard.  
In the video, according to CNN, Reese, who suffered a broken hip and will undergo surgery on Monday, tells her grandson, Kingston Frazier, via FaceTime, that she thanks God for sparing her life even though she lost her house.
"I thank the Lord. You tell God, 'Thank you, God.' You hear me? You hear me? Tell God thank you. Tell God thank you," Reese tells her grandson. 
Another grandmother, who said she was home alone with her dog Ginger when the tornadoes hit, wept as she was reunited with her young granddaughter.
"Can you say 'Thank you God?'" she told her granddaughter in a touching video highlighted by CBS News.
"It's like a war zone. I knew it was bad but I just didn't know how bad. We sat in the closet for a long time.  Didn't know 'cause when I went in, the door was open and then it was closed tight and I didn't have a roof.  So I didn't know if I opened it what would fall, if anything would fall," the emotional woman told a reporter.
Jones confirmed the latest death toll with WRBL-TV while noting that two people were in intensive care.
"Unfortunately, our toll, as far as fatalities, does stand at 23 at the current time," Lee said.
The county's coroner, Bill Harris, told AL.com that the ages of the dead range from children to the 80s. He also told CNN's New Day that more than a dozen people may not be accounted for.
"We could have as many as 20 that may not be accounted for right now," he said Monday.
Harris warned that this number could change, as it includes tornado victims who may have fled from the storm and just haven't been able to check in with family yet. A search for the missing is still underway.
Jones told WRBL-TV on Sunday that families in the area had "lost everything they ever had."
Rita Smith, spokeswoman for the Lee County Emergency Management Agency, told Fox 5 that about 150 first responders had quickly jumped in to help search debris after the tornado hit Beauregard.
Reacting to the devastation Sunday night, President Donald Trump wished the victims blessings from God.
"To the great people of Alabama and surrounding areas: Please be careful and safe. Tornadoes and storms were truly violent and more could be coming. To the families and friends of the victims, and to the injured, God bless you all!" he said in a statement on Twitter.