Switchfoot frontman reveals why the band won't conform to cultural Christianity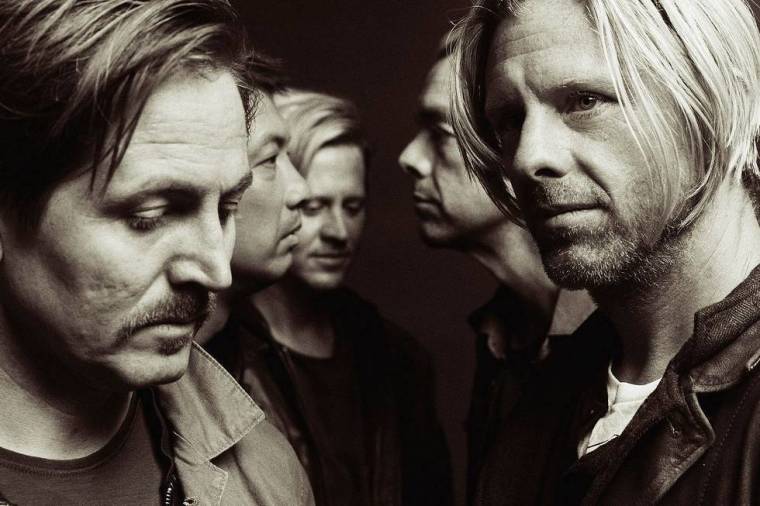 Grammy Award-winning rock band Switchfoot will be releasing their new album Native Tongue on Jan. 16 and in an interview with The Christian Post frontman John Foreman details how the band has managed to keep their music Christ-centered without conforming to cultural Christianity.
During times of social unrest in the world it's music that can truly unite people, and for Foreman and his band that has always been the heart behind their songs over the last 20-years. Native Tongue promises to do just that by promoting love as a dialogue in times of division.
Switchfoot's 11th studio album features 14 songs recorded primarily at Melody League Studios in the band's hometown of San Diego, California. The diverse collection features the band's anthemic title-track and a few of their staple reflective songs, among others.
Below is an edited transcript of CP's interview with Foreman in which the lead singer unpacks the profound meanings behind the songs on the album and shares the theology they follow which has kept them from conforming to cultural Christianity.
CP: What's the message you want to get across in Native Tongue?  
Foreman: Being in a band with my brother, I know a thing or two about fighting. I'm continually reminded that the reason why we fight is because we care, because we are passionate. I feel like a parallel could be made with the political scene that we have in our nation. I'm reminded that when someone has a distinctly different view than I do of politics, that heartbeat of what we're hoping to accomplish is hopefully a nation where we can see the Constitution lived out.
We have a common drive for goodness, for greatness, and to see the ideals in which our country was founded lived out. I'm reminded that underneath all of that, even as a believer, I see the idea that there's something inherently beautiful about this person that I vehemently disagree with. There's a compassion and grace that starts the conversation.
I'm reminded that no matter what our family story is, there's someone who changed our diapers in the middle of the night, or someone who gave us a bottle in the middle of the night — that these are acts of love, acts of service are why we're here. Someone cared in the middle of the night when they didn't want to, they loved us into being.
So let's start there, let's start with this commonality, this identity, and let's move from there. Instead of starting with anger, starting with fear, which I think is a common vernacular on Twitter, on Facebook, on the local news programs. I feel like let's rewind the clock a little bit and let's start back before that, before we learned how to hate, we were brought into this world with love.
CP: Was there a theme behind this album?
Foreman: The backbone of this record would be, I think maybe the same of almost any record we've ever made, which is attempting to come to terms with reality, wrestling with the current state of the world, within and without. I think there's a lot of unrest, there's a lot of reasons for fear, frustration, anger, pain, beauty joy, it's all mixed in together. I think Native Tongue is born from that and wanting to speak into that. We wanted to make this album as diverse as possible with every song feeling like it had its own DNA.
The subtext is, love is our native tongue but there's a lot of different ways to say it and we're all coming from a different place. Hoping to find unity among diversity, everyone saying and believing and thinking the same thing — that's not unity, that's just one color. You actually have to have different opinions and different beliefs and different understandings of the world for there to be unity, and that's what I hope for within my country, within my church, within my family. All you can hope for is people loving each other through their differences.
CP: You guys are very clever with using Christian themes or language in your music, and because of it your work appeals to all people. How do you avoid getting caught up in cultural Christianity?
Foreman: I found it really helpful, early on, the distinction that Soren Kierkegaard makes between the church and what he calls Christendom. He's the father of existential philosophy, a really hard to read Danish writer, who had some incredible things to say. He distinguishes between Christiandom and the church, saying a church is the bride of Christ, the body of Christ; it's imperfect, but living, breathing, acting out the love of who God is here on the planet.
Then Christiandom is all the trappings that go with it. The things that often are confused for Christianity. The things that sometimes are bought and sold in the name of Christ but don't have anything to do with Christ.
I really found that distinction really helpful. Maybe because I'm a pastor's kid and I really appreciate authenticity and I love it when I see any form of authenticity. So for me, when I hear a song, the question that I'm asking at the end of it is: Do I believe it? I feel like there are a million different songs that need to be sung and it's not my job to judge whose is better or worse. I just know what my role is and what I'm supposed to do.
I had one of my heroes tell me early on, my job is to be honest, that God doesn't need a lawyer. That's a pretty high calling, to be honest. I feel like I see that in the Psalms and I see that all throughout the Scriptures. It's the same thing you hear in the blues, it's the same thing I grew up listening to with the local punk bands, it's that honesty. That's the way I want to sing, the way I want to play, and I feel like that's my role. It's not my job to decide what the rest of the church is doing, it's just my job to be a specific part of the body that I've been called to be.
I want to just keep that conversation going. I want everyone to be invited to the to the table. If you don't look like me, you don't smell like me, if you don't believe like me,  I want you at the party. Let's keep the dialog going, let's talk. And I think music is the best way to communicate these things.
CP: Tell us the story behind the song that kicks off the album, "Let It Happen."
Foreman: I'm a control freak. I spend most of my time professionally obsessing over details, and changing and rearranging lyrics and the melody. I know what it's like to desire that semblance of control, and want to fix and change. I think I bring that into a lot of areas, it might be unwanted and unhelpful.
That song for me, I love the fact that it kicks off the record because it feels like an invitation for the listener to allow this album to sweep over them and to intervene with the eyes of wonder, rather than the eyes of the cynic. I feel like children are really good at letting it happen. There's a trust and a surrender in that process. And for me, late at night I go down to the beach and I sit on this one rock and I pray and meditate and think and I feel like I'm reminded of how small I am.
Whether or not I'm choosing to let it happen, it's happening. The universe is happening all around me, the stars, I have no control over their patterns. I can either choose to fight it and brace myself against it or I can embrace the love that I'm being offered. For me, that's what that song is about.
I think there's a parallel with surfing, where you can choose what you do on the face of a wave but you can't change the wave itself. You can choose what you're doing and how your dancing in the life you've been given, but there's wisdom in knowing that there's things you can't change and accepting them.
CP: 'Prodigal Soul' is another song that really stands out in the album. Is there a story behind that?
Foreman: One of my favorite books is a Henri J. M. Nouwen book that's a rebrand painting of that story, the prodigal son. In that painting you see the father, you see the younger son, you see the older son and you begin to realize, there's a lot more than just one character involved.
Prodigal, in fact, the common vernacular, we all think of the story and we think of the son returns, but it actually means that you spend your money really unwisely. That's what prodigal means. I think I can relate to that, not just financially but I think timewise and emotionally. I think I throw myself around in ways that I regret and look back on in frustration. So I think this song, for me, is about maybe people think that when they see you on stage they think you got it all figured out. But I am so far from that, I am the epitome of the opposite.  
The song's about the idea that I want to come home. I want to embrace my true identity and location and place in the world which is beloved by my maker. When I'm found in that identity, suddenly all these other longings and prodigal elements of my life are put in the proper context.
CP: Your song "Take My Fire" is a declaration that the enemy will never take your fire. What empowers that statement? What keeps that fire going for you guys after so many years?
Foreman: Anytime I'm awakened to the reality that's bigger than myself, I am reminded of a bigger story than just my own strength and weaknesses. The song talks about essentially the fact that the fire has been given to me. The ancient flame has been given to me and it's my job to carry that fire.   
I think that looks different for all of us. But how do we make sure we're continuing to spark other people and their flame as well?
CP: Is there a song on the album that you hold dear?
Foreman: I always equate music with archaeology, every day your job is to get up with the shovel and start digging and that's your job. Sometimes you dig up a piece of broken pottery, sometimes you dig up a paper bag, whatever, but sometimes you dig up a lost city and it feels like you just uncovered this beautiful, incredible thing. You say that you wrote a song but really it felt like the song was already there. Those are my favorite songs.
The 14 that made the cut for this album we whittled down from like 100, so these are our favorites.
It's like you love all your kids, but these are the ones you chose to put through college, you know, lol.
CP: Anything else you'd like to add?
Foreman: One thing about the record is we really are hoping that people can listen to it as a whole. Nothing against Spotify or iTunes or anything, but when I was a kid you'd listen to the record and you'd look at the liner notes and it was like an experience. We're hoping that we can provide that for people. That we can give them the lyrics to print out, give them all that stuff so they can accompany their musical journey with the visuals that go with it.
Switchfoot recently announced the North American leg of the Native Tongue Tour, which kicks off in Asheville, N.C. on Feb. 14th. For more information on the new album and the band click here.