Switchfoot's Jon Foreman On How He 'Embraced the Chaos' by Performing 25 Concerts in 24 Hours
In this exclusive interview, Jon Foreman shares how he "embraced the chaos" by performing 25 shows in just 24 hours.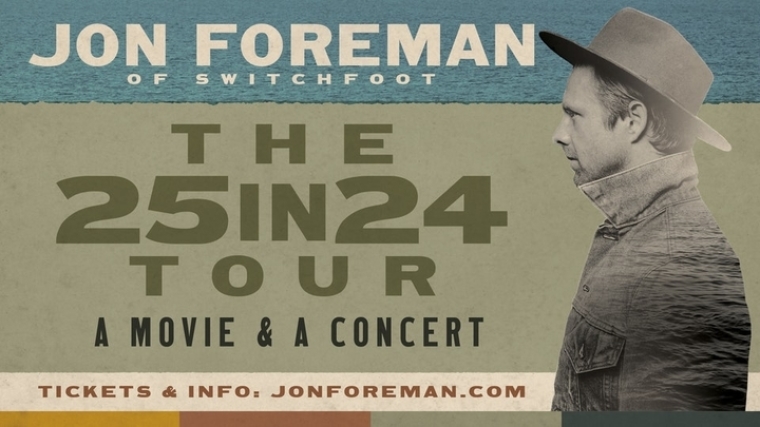 For Switchfoot frontman Jon Foreman, music is more than entertainment; it's a conduit for community, self-reflection, and growth. And, by fulfilling his seemingly impossible dream of performing 25 shows in just 24 hours, the singer/songwriter witnessed firsthand the comradery, joy, and fellowship that comes from song.
"It was a wild ride," Foreman told this reporter in an exclusive interview. "It was a wonderful, crazy experience and there are so many things that stuck out to me along the way. I think the biggest takeaway from the entire experience was how beautiful community is, and how community springs from the risk of letting your guard town and being open with each other."
Foreman's musical journey is chronicled in the forthcoming documentary "25 in 24," which follows the singer as he performs in everyday settings across San Diego including a gas station, a children's hospital, a Mexican restaurant, and his old high school, among others. Performing in unconventional venues, Foreman explains, allowed him to step out of his comfort zone and forced him to "embrace the chaos."
"I felt like if I chose standard concert halls and theaters, that, to me, feels a little more normal and certainly what I'm used to," he explained. "For this event, I wanted to stretch it and see how far outside the normal we could get. For most of these places, there was no stage, there was no hierarchy there was just this feeling of comradery. I think that community that came out of the event, that's what I'm gonna take away from it. They were all renegade, rogue, set-up-and-go shows, and they ended up being some of my favorite shows."
Still, to ensure a relatively smooth operation, "25 in 24" took a great deal of thought, time management, and planning, from handpicking venues and circumventing California traffic to remembering the lyrics to 75 songs.
"I think there's a threshold of chaos that I've become accustomed to over the years," Foreman chuckled. "You get to a point where, all these crazy things have happened over the years where there are moments, in, for example, Latin America, where you're genuinely concerned about your wellbeing or the welfare of your friends or bandmates. To be in your hometown, what's the worst thing that can happen to you? You lose your voice or something?"
Even with meticulous preparation, Foreman knew the feat wasn't possible alone, so he invited friends and musicians from all over the world to join him on his adventure -- and they gladly agreed.
"The event left me so thankful for my friends, family, and the community that I come from, this diverse group of people who joined together for this crazy embrace of chaos," he said.
"25 in 24" was inspired by the intimate and personal Switchfoot aftershows, Foreman revealed, as well as his own curiosity over "what would happen if you attempt to do something that seems impossible."
"What happens if you succeed? What happens if you fail?" he said. "I wanted to explore those possibilities."
Another motivating factor, he explained, was the fear of living a life of mediocrity.
"Heaven is at hand, and abundant life is available in every moment," he said. "The now is pregnant with possibility, and so I think my greatest fear would be to go through day after day, year after year, decade after decade, and to not be present in the present and rather than embracing the beauty of the moment, to simply exist. I think that that would be a waste of the life that I've got, the blood in my veins, the breathe in my lungs crying out for beauty and truth and the One who made me."
He added, "The counter to that fear would be love, and perfect love casts out all fear. So, that would be my goal, to embrace the love of my Maker in the moment."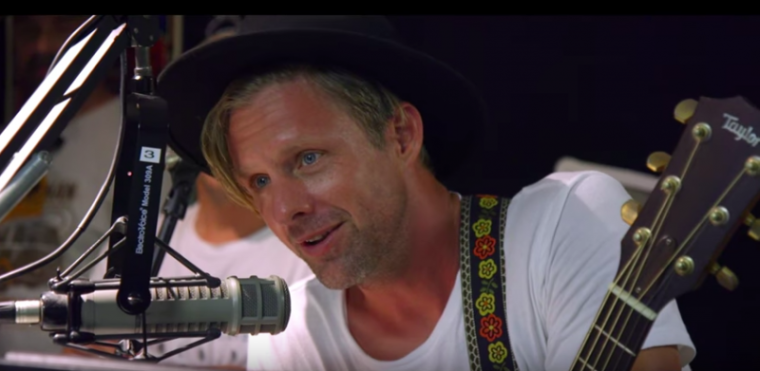 At the end of his journey, Foreman was left with an overwhelming sense gratitude for those around him and realized that true community sometimes stems from the unlikely places. In many ways, he reflected, the experience was a metaphor for his spiritual life.
"Whatever you're wanting to do to prepare, prepare, prepare," he said. "From tuning your instrument to getting ready to play, preparing the best you can is crucial. The same applies to spiritual maturity. Preparation for eternity is so important, whether that's meditation, prayer, reading, or spending time alone."
Rather than feeling depleted from his experience, Foreman said he felt invigorated and refreshed discovering that beauty comes from taking risks.
"You can either stop the song because you broke the tune, or you can live it out and make the best of the moment," he said. "The best way forward is to embrace the moment for what it is. That embrace is a confession of sorts; embracing the moment is also to accept who you are and who you're not, your flaws, your shortcomings, and to bring that to life. There's something beautiful about that."
"25 in 24" will be screened in select theaters starting in February 2018. You can watch the trailer here. On March 1, Foreman will embark on the 25 IN 24 Tour, where he will perform live as an acoustic trio and screen the film for attendees. For tickets and tour dates, visit www.jonforeman.com.