Syrian Christians 'Let Down' by Pope After Vatican Takes Muslims to Rome Instead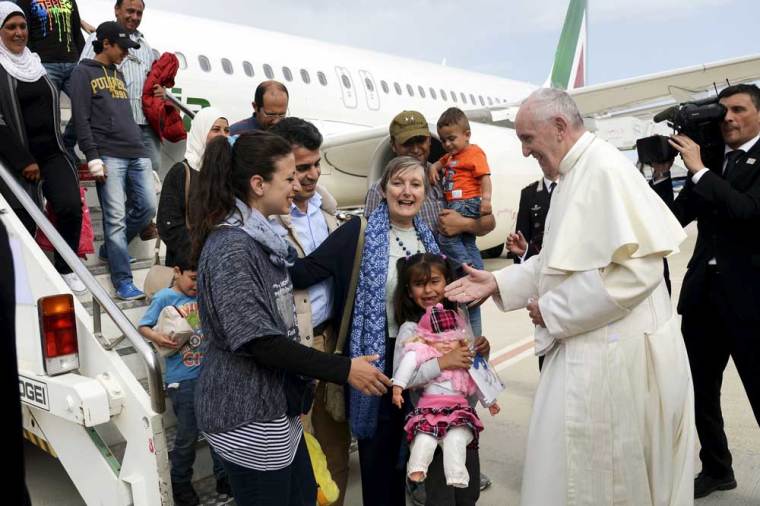 Three Syrian Christian refugees say they were "let down" by Pope Francis after the Vatican said they would be moved from their Greek-island refugee camp to Rome but suddenly chose to take three Muslim families instead.
As it was reported in mid-April that Pope Francis took 12 Muslim Syrian refugees back to Rome after his visit to the Greek Island of Lesbos, The Daily Mail reports that three Syrian Christians were initially among the the 12 lucky refugees selected by the Vatican to be taken to Italy.
According to Mail Online, siblings Roula and Malek Abo and their friend Samir were so excited when they were told they were among the 12 selected by the Vatican.
"They said they would take us to Italy, to pack our bags and to meet them the next day," the 22-year-old Roula Abo explained. "It was so secretive — they didn't announce it to anybody and we were told to keep it a secret."
"It seemed so unofficial — we didn't know who they were or if they would really take us,' Roula added. "I thought they might be organ traffickers — we had no idea."
Their excitement, however, was quickly shot down when they were told the very next day that they were no longer going to be taken to Rome because something was wrong on their registration papers.
"I was so excited to go to Italy — it was such a relief," Samir told the Daily Mail. "They offered me my future on a plate, and then 24 hours later they took it away."
"They had even told me that after a few months I could be reunited with my family and they would arrange for them to come from Damascus and join me in Italy," Samir continued.
Roula, Malek and Samir now face the possibility of being deported to Turkey as they wait for their asylum application to be processed.
A frustrated Roula was perplexed by the Vatican's decision to exclude them from the trip.
"If they can do this for 12 people they can do it for more," Roula told The Daily Mail. "If you have promised to take people back to Italy will something like registration papers stand in your way?"
Roula and Malek, 28, fled from Qamishli, Syria, in March after hearing about the Islamic State beheadding Christians in Raqqa. They arrived in Lesbos on April 1, 10 days after the European Union reached a deal to send asylum seekers arriving in Greece after March 20 to Turkey.
Community Sant'Egidio, the charity that organized the trip, has brought over 250 Syrian refugees to Italy since March. The organization's spokesman, Massimiliana Signifredi, declined to specify on the Vatican's selection process but told the Daily Mail that the incident was "regrettable."
"The problem here is the three Syrians arrived after the March 20 deadline. They arrived just after the agreement between the European Union and Turkey," Signifredi explained. "Our staff went to Lesbos and spoke with the people who were selected. But everything was decided by the Vatican."
Signifredi said he believes the pope desired to help Christians and argued that the pontiff must be "suffering" from the fact that he wasn't able to take Christians.
"The question why the pope took only Muslims is difficult to understand and he was suffering, I think, because he wanted to do something also for Christians as the chief of the Catholic Church," Signifredi stated. "But he couldn't because there is this international agreement [with the EU]."