Tall Tale: Sources Say Viral Story of Disfigured Girl Being Tossed From KFC is an Epic Hoax That Bilked Public Out of $135K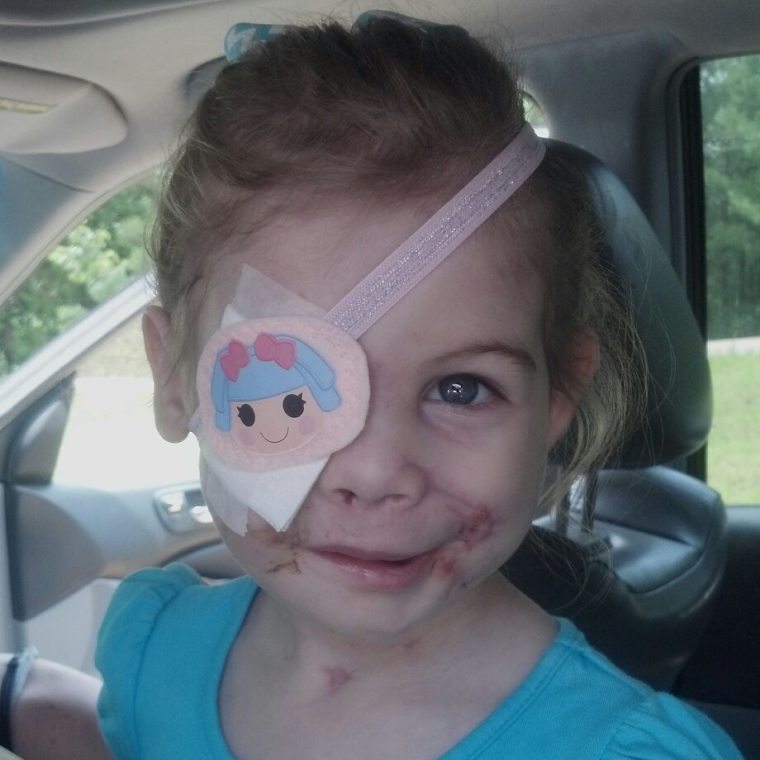 The heartbreaking story of 3-year-old Victoria Wilcher being tossed from a Jackson, Mississippi, KFC last month because her badly disfigured face — caused by a pit bull attack — was scaring customers, is a tall tale that resulted in the public being bilked out of $135,000 in sympathetic donations, says a local report. Her family, however, maintained late Monday that their story is true.
Sources with intimate knowledge of an investigation being carried out by a third-party mediator highlighted evidence to the Laurel Leader-Call showing that the story was "generated out of whole cloth." And as the story unravels, public goodwill is quickly snowballing into collective wrath.
"If these family members are going to use her for monetary gain, she needs to be removed from the care of these people and placed with someone who has her care as their main objective … where are this child's parents?" noted Devon Davis-Mossman on the gofundme page that has raised more than $135,000 of the $200,000 the girl's family is seeking from the public.
Late Monday night a Facebook support page called Victoria's Victories run by the disfigured girl's aunt, Teri Rials Bates, denied the report.
"I promise it's not a hoax. I never thought any of this would blow up the way it has. The article circling the Web calling this a hoax is untrue. The article itself say the investigation is not complete. It is not over until KFC releases a statement," said Rials in a post.
"The media outlet running this story is not connected with KFC. The family has not asked for anything, a[n] attorney is handling all the media publicity for the family pro bono. Please do not believe untrue media. I have personally watched this family go without to provide for Victoria. They have not and would not do anything to hurt Victoria in any way," the post ended.
KFC has refused to comment on the report until the investigation is complete, but released a statement on Friday according to WJTV.
"We continue to take this report seriously, and of course have great sympathy for Victoria and her family. Since we have so far not been able to verify the incident in our internal investigation, we have also hired a third-party consultant to conduct an independent investigation to help us resolve this matter," said Jackson franchise owner Kirk Hannon in the statement.
"We have always prided ourselves on respect for all people and we will continue to emphasize this to all our employees. In addition, regardless of the outcome of the current investigation, KFC Corporation has committed $30,000 to assist with Victoria's medical bills. Along with the KFC Corporation, we are determined to get to the truth and address the situation appropriately."
According to the Laurel Leader-Call's sources, the girl's grandmother, Kelly Mullins, who was reportedly with her when she was asked to leave the store, told KFC that the incident happened on May 15.
On May 16, Victoria's Victories wrote: "We had a small adventure yesterday, Victoria pulled her feeding tube out, but thanks to the great people at Batson Children's Hospital she is home today waiting for her new sister! Mom & Baby Abby come home today too!"
There are two KFC locations close to Blair E. Batson Children's Hospital according to the report — on Woodrow Wilson Drive and Meadowbrook Drive.
"The source said surveillance videos show that at no time on May 15 were any children in the store who match the description of Victoria Wilcher or Mullins. The tapes were viewed in both the Meadowbrook and Woodrow Wilson KFC locations in Jackson, the source said. In hours of tape, the source said one small boy with his parents is seen, but they order food and leave the store," notes the report.
The grandmother also claimed that she ordered mashed potatoes and sweet tea on May 15 and the investigation so far has reveal no record with that order.