Tamar Braxton Reveals Why She Feels 'Humiliated' by 'The Real' Firing
Tamar Braxton Reveals Why She Feels 'Humiliated' by 'The Real' Firing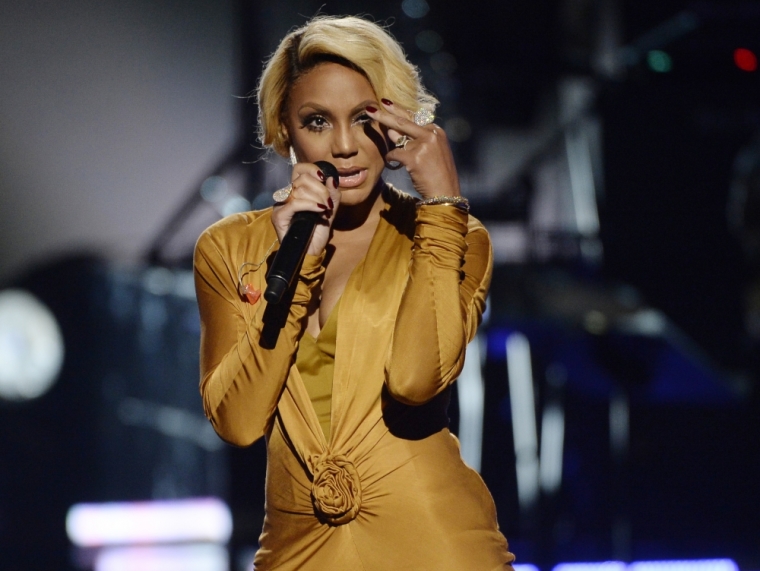 One week after Tamar Braxton told fans that she was "stabbed in the back" by someone on the "The Real" talk show, the singer is revealing why she was fired as a co-host.
On Thursday night's episode of WE tv's reality series "Braxton Family Values," the broken hearted Emmy-nominated singer confided in her older sister, Toni, about "The Real" drama.
Tamar fought through sobs as she revealed that producers told her entertainment executive husband, Vincent Herbert, that she did not get along with her castmates.
"Vince told me that they told him that I don't get along with the castmates. I really loved my position and 'The Real," Tamar told Toni through tears. "I was expressing my life stories with a bunch of ladies who I loved and really genuinely respected. People telling me that I don't get along with my friends, or are they my friends? I don't know."
Tamar insisted that she didn't know what she did wrong in the situation.
"I could understand if I did something wrong, but I don't know what I did, I feel disrespected," she said on the show. "I feel disregarded because there's never been a conversation like we don't like the way things are going. I'm OK with change, but can we respect each other with the change?"
The telling episode comes one week after Braxton's candid Instagram post where she expressed some frustration in her firing.
"I love you all but I have been stabbed in the back by someone I stupidly trusted. (Not my man or my sisters.) I am not about to be tried and tested to snitch and it's not in good taste to tell you who. But as #tamartians you are very smart and can figure things out on your own," she wrote. "But know that every one who smiles in your face is not your friend and is not cheering for you and will lie and try and tear you down to try and dim your light. Thank God He holds my future and my hand!"
Braxton's departure from the talk show where she served as a co-host alongside the likes of Jeannie Mai, Tamera Mowry-Housely, Adrienne Bailon and Loni Love was officially announced in a joint statement from the talk show.
"'The Real' and Tamar Braxton have mutually decided that Tamar will not be continuing with the show for its upcoming third season. She will be leaving in order to concentrate on her solo career," a statement from the show reads. "Everyone associated with 'The Real' appreciates Tamar's efforts and the contributions she has made to the show's success, and we wish her all the best for the future."
While Tamar could not deny being upset and feeling humiliated, she also spoke about God having a plan in the midst of her disappointment.
"From my experience with God, He really wants you to jump and leap and when you don't He'll give you a push. So that's how I got to look at it. I'm being pushed into my destiny," she said. "Don't think that because you don't want me somebody else won't me. Can't stop my blessing. My name is written in the book.