Tamela Mann Shares Emotional Response to Police Shootings in Facebook Live Post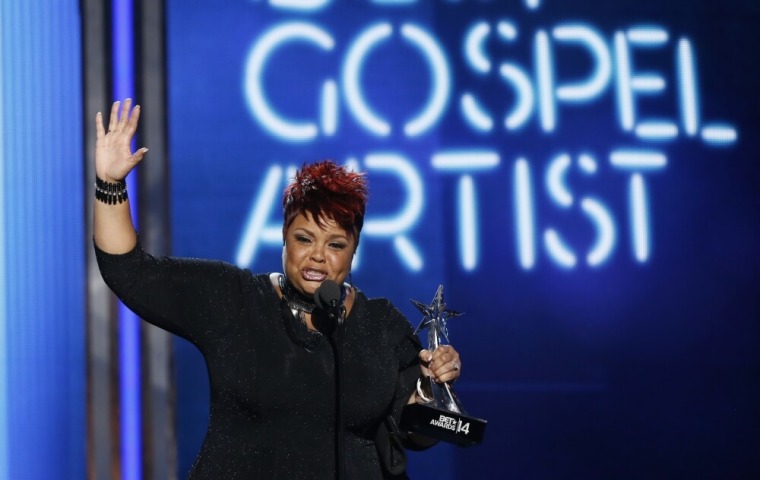 Instead of celebrating the success of her album One Way, which is No.1 on Billboard's gospel music charts, Tamela Mann went on Facebook Live Saturday to talk about the death of Terence Crutcher who was shot by a Tulsa police officer last month.
Mann and her comedian husband, David, were emotional when they took to Facebook Live with their son to speak out against the shooting of unarmed black man Terence Crutcher, 40, by police officer Betty Shelby in Tulsa, Oklahoma, on Sept.16. While details are still emerging about Crutcher, who stopped his SUV in the middle of a road, blocking two lanes of traffic and reportedly shouting that his vehicle was going to blow up, local police have revealed that PCP was found inside his vehicle.
Police arrived at the scene after 911 calls were received reporting that "an abandoned vehicle was blocking the street and a man was running away, warning that [the vehicle, left running] was going to blow up," according to local news station KFOR.
The Manns, however, spoke about their distress over watching new reports about unarmed black men dying at the hands of police officers in recent years.
"We're watching the news again and you would think it's a repeat story, but it's not a repeat story. It's the same thing over again," David said on the Facebook Live video, before questioning how to teach his sons and grandsons to deal with police brutality.
"I may not have all of the facts but the end result is all the same. Dude has his hands raised and boom just like that somebody's father, somebody's husband, somebody's twin brother, in this case, is dead."
For years people have been protesting the deaths of black men at the hands of police in the form of the Black Lives Matter movement while using the #blacklivesmatter or #blm hashtags. Now, the Manns are calling for the use of a new hashtag.
While the Manns, who star in the Bounce TV sitcom "Mann & Wife" and the BET Network reality show "It's A Mann's World," are known for bringing laughs to their audiences, they were somber as they called for the use of a new hashtag "#stopkillingus."
Despite the call for a new hashtag, David also revealed why he supports the mantra "Black Lives Matter."
"Everybody who knows us and knows our family .. we just love people whether you're black, green, yellow or white. It doesn't matter to us," he said. "But when you have to follow a protocol when you're stopped by the police, there's something wrong with that. Black Lives Matter because they're the ones getting shot when your car is stalled."
Tamela made sure to focus on prayer as she addressed the millions of people who watched the video stream.
"We've got to get back to the basics, which is God, because that's how our people got free. They were praying to God and they stood together," she said. "Make sure you pray when y'all getting ready to leave your houses. I'm serious. Pray to the Lord to cover you. From bumper to bumper, each mirror to each mirror, these are critical times."
Tamela previously told The Christian Post that she believes people struggle so that they can encourage others with their testimonies.
"A lot of things that we go through as individuals and families, everything is just not for you," Tamela told CP. "It's a testimony for you to encourage somebody else, to share and tell somebody that they can make it so that we can all have triumph over whatever the situation is that we're going through."