Tamra Judge Blasts 'Jesus Barbie' Alexis Bellino for 'Giving Jesus a Bad Name' (Video)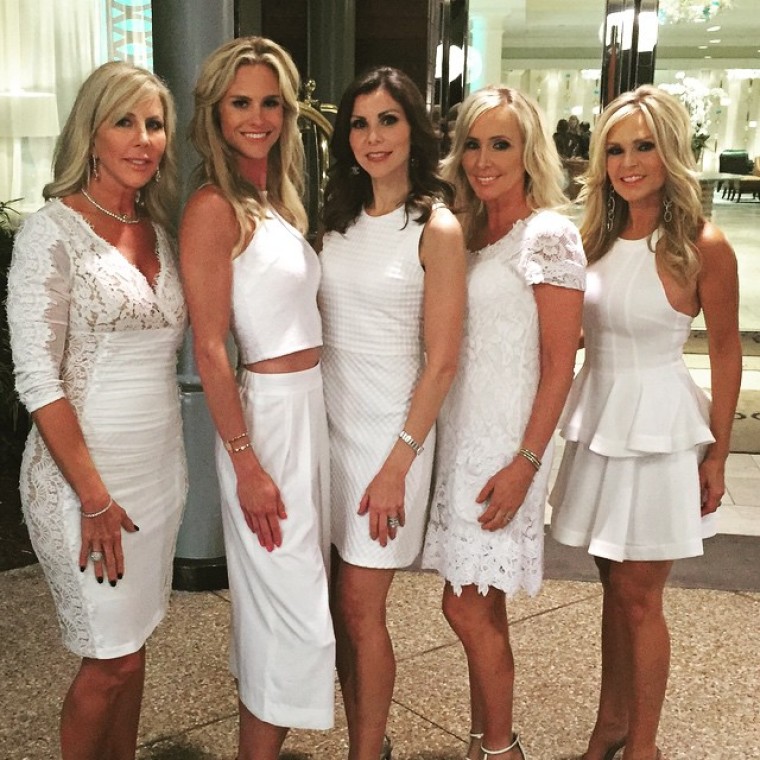 "Real Housewives of Orange County" star Tamra Judge accused her former-co-star Alex Bellino of "giving Jesus a bad name" during Monday night's season 10 Bravo reunion show.
During the season finale, viewers saw Judge, who was once branded the show's villain, get baptized as part of her spiritual journey to accept Jesus as her savior. While her current co-stars applauded the move, Bellino questioned Judge's sincerity in an email that host Andy Cohen read aloud during the taping.
"... When I became a cast member five years ago, I knew that I would be judged because of my appearance and my love for Jesus, with Tamra being my biggest harasser," Bellino wrote in the email.
"But over time, the viewers saw that I'm far from perfect and regardless of my bra size, my love for people and my non-backstabbing showed through. ... I do love Jesus which is why I cannot sit back and watch a mockery be made of my Savior. The greatest part of a walk with God is that He loves you where you are, you don't need to be perfect.
"However, that doesn't give you a hall pass to become baptized and then continue your old, unkind and manipulative ways. Someone's faith is not for entertainment, it's their sole reason for their existence. Sincerely and forever, Jesus Barbie."
Judge, who made famous the term "Jesus Jugs" after screaming it at Bellino during a heated exchange, blasted her email as judgmental and ungodly.
"She's the type of Christian that gives Jesus a bad name," said Judge. "I'm sorry you feel that way, I will pray for you and this is my journey, not hers. ... If she was a good Christian she probably would not be judging me right now."
Bellino rose to stardom on the hit Bravo reality show in season 5 as a devoutly Christian married mother of three and model. Her constant clashes with Judge became a focal point in her storyline before her departure two years later. Judge said Bellino's faith was never the problem, but rather her behavior on the show.
"She contradicted herself as a 'good Christian' but yet she would do things like that," Judge said, referring to the scathing email.
Former housewife Gretchen Rossi, who like Bellino is a believer and has grievances with Judge, commended the email.
"Omg! @alexisbellino schooled @Tamrabarney with that letter calling her out for continuing to be unkind and manipulating ... #proudofyouLex," she tweeted after the show aired.
Judge previously denied faking her baptism during an interview with The Christian Post and said the sacred ritual changed her life for the better. She also apologized for calling Bellino Jesus jugs.
"I think in the past six months I've felt like a new person. But it's just one of those things where I wanted to make it right with the Lord," she said. "I'm not saying I'm perfect, and I'm not saying I'm at church every single Sunday. I try to go every Sunday, I'm joining a Bible study. … As you know, your mindset changes [after being baptized]."