Tasha Cobbs Leonard Producing Pastor William Murphy's Next Album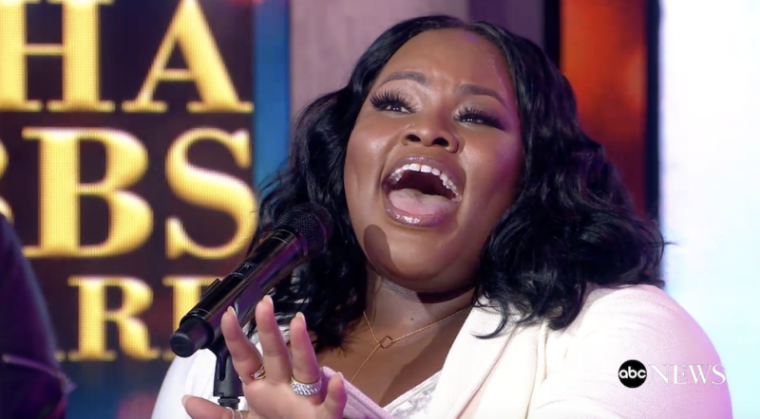 Tasha Cobbs Leonard and her husband, Kenneth, are producing the upcoming album from pastor and gospel singer William Murphy III.
Murphy, the Grammy nominated and multiple Stellar Award-winning pastor of the dReam Center in Atlanta, Georgia, is having a live recording of his next project Bridges at his church on March 1. Cobbs Leonard and her husband will serve as producers for the album, according to a statement released to The Christian Post.
While Cobbs Leonard's husband is known for being a music director, she is known for leading worship with her powerhouse voice. Now that she's involved in Murphy's project, Cobbs Leonard took to Instagram to express her excitement.
"I'm so excited about this! #Bridges is about to shift your worship life and #Bridge Gaps Supernaturally," she wrote. "Meet us at @dreamcenteratl Next Week March 1 to be a part of this life changing experience!"
Cobbs Leonard got her start as a worship leader at Murphy's church. Murphy is known for hits like "Praise is What I Do" and "Everlasting God." The pastor previously spoke about the woman he calls a spiritual daughter and how she has supported him and his ministry.
When Murphy's church began in 2006, it was filled to capacity on opening day. While he thought all who came would join the church, Cobbs Leonard was the only person to step forward and do so.
"She is not just my friend, not just our formal worship leader, she literally is my spiritual daughter and still submitted to my life and my ministry. She displays that on a weekly basis," he said in a previous interview with BlackGospel. "There's nowhere she goes that I don't know about. She's fully submitted to me as her pastor, as a spiritual father.
"I said to her, 'Nobody raises their kids for them to go live in the basement. You've got to go and do what God has called you to do,'" he said. "Everybody's got a base, everybody's got a home. This is your home, this is where you'll be based out of. This is where you'll be accountable too."
Murphy said Cobbs Leonard has honored his church and believes her success comes as a result of her obedience.
"You see the fruits of her submission, her loyalty and her obedience," he said. "I'll say the same thing about Tasha that I say about myself. She hasn't been perfect, but she has been faithful."