TD Jakes Partners With Inspire Properties to Release New, Interactive Bible App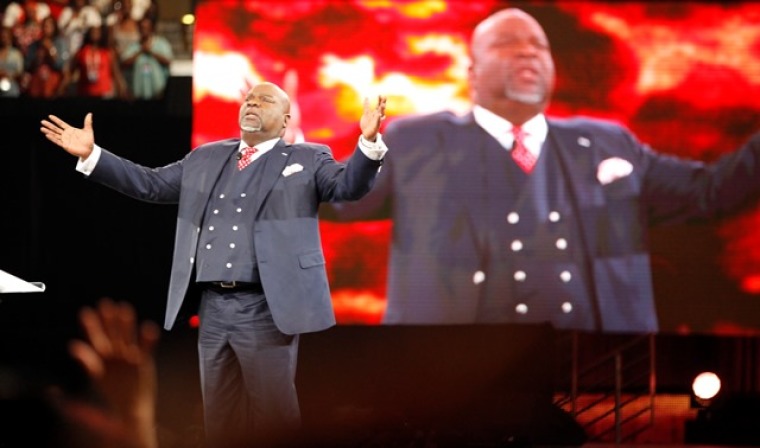 Megachurch pastor T.D. Jakes has partnered with Inspired Properties to create an interactive Bible app that allows users to explore Scripture while also engaging with Christian music, prominent speakers, Bible studies, and more.
The T.D. Jakes Ministries Bible App, available through iTunes for $19.99, includes access to live-streamed services from The Potter's House in Dallas, Texas, keynote speakers from Christian conferences like ManPower and Woman Thou Are Loosed, and Christian music. 
Users of the new product will not only be able to read the Scripture but also hear a dramatic narration of various biblical stories.
Jakes said in a statement that the purpose of the app is to provide accessibility for Christians, especially in the 21st Century. 
"The key to biblical understanding is accessibility," Jakes said. "It's critical to get bibles in the hands of the people in an easy, user-friendly way so that they may experience its power to transform lives in a personal way. Technology allows the Word of God to be experienced fully against the backdrop of the digital language."
The app was introduce to the general public on January 21 after having a successful run with The Potter's House congregation in December 2015. Since it was introduced late last year, the app has received over 10,000 downloads.
Dr. Antipas L. Harris, associate professor of practical theology & ministry at Regent University, praised the T.D. Jakes Ministries Bible App on The Potter's House website, saying the product takes advantage of modern technology to make the Word of God more accessible.
"The 21st century presents us new technology for innovative means of communication.  Bishop T.D. Jakes once again, has broken the mold! His new Bible aid joins a rich Christian tradition of Bible translators and missionaries," Harris said.
"The Bible app makes the Word of God more easily accessible to this generation. Indeed, the Word has become like one of us and has made its residence in modern technology," he added.
Jakes has previously encouraged Christian leaders to take advantage of modern technology to reach a greater audience, telling those in attendance at the 2014 International Pastors and Leadership Conference that their leadership is pointless if they are not seeking to make a change. 
"If God gave you two or five talents and He comes back and you still have what he gave you, you didn't lead [...] if you're not making any change, you're taking up space," Jakes said during the 2014 conference that focused on technology, church infrastructure, and leadership. 
Along with Jakes, several other Christian leaders have hopped on the new wave of faith-inspired technology. Rick Warren, lead pastor of Saddleback Church, has received positive feedback for his Purpose Driven Life Devotional App, and Pope Francis brought the Catholic Church into the digital age through his mobile Missio app and The Pope App.