Tebow's Faith, or Skills, in the Spotlight as Broncos and Patriots Face Off?
Tonight's game between the Denver Broncos and the New England Patriots could very well be the NFL's most-watched game, as sometimes awkward newcomer Tim Tebow faces off against veteran powerhouse Tom Brady — with fans on both sides likely praying the AFC divisional playoffs matchup results in their favor. Whatever the case, the way the game goes will mostly be due in part to how well both teams play — and not necessarily how hard any particular party prays.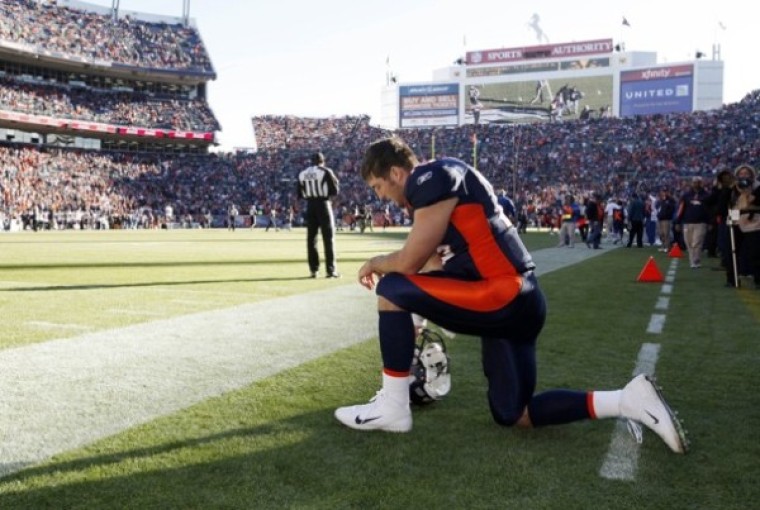 Tebow is a favorite among Christians who are not only amazed at how the quaterback's apparently limited abilities often result in a victory (many times, due to the support of his teammates); the faithful also seem to admire the former Florida Gator QB and evangelical Christian's refusal to put his love for, and open dependence on, God on the sidelines.
The 24-year-old obviously loves Jesus. NFL fans, and those who might have never so much as blinked at a football game before the 2011 season, also have an obvious love, hate, or simple admiration for the young athlete. There are also some in every camp who simply wish Tebow would stop giving God the glory for every connecting pass or winning touchdown — at least so blatantly. Either way, everyone seems to have an opinion about the young quarterback, now a superstar, best-selling author and top product endorser.
Tonight's game, which also determines who will move on to have a chance at the Super Bowl, will be the first time the Broncos (currently 10-6-0) have made it to the AFC playoffs in five years, while having won the coveted Vince Lombardi Trophy twice, and failing to capture it four times in its franchise history. The Patriots (currently 13-3-0), on the other hand, have earned an AFC Championship win six times and the Super Bowl three times.
In addition, Brady has been playing pro since 2000, and was ranked by his peers as the number one NFL player of 2011 (fans put him at number three); he ranks, based on QB stats, as second only to the Greenbay Packers' Aaron Rodgers. Tebow, on the other hand, currently ranks number five based on his stats, and an estimated 40,000,000 fans and anti-fans will tune in tonight to see if the first-round NFL draft pick will succumb to, or overcome, the odds.
But in the midst of spectators who simply want to see an excellent game, are others, likely Christians and the curious, who want to see how God might show up and deliver another miracle, assuming He actually cares about football, as some have questioned.
Richard H. Clark, co-founder and editor-in-chief of Christ and Pop Culture, an online publication that discusses Christian reaction to and engagment with popular culture, acknowledges that it is Tebow's blatant display of faith that has actually made him so popular, more popular than Brady in some respects.
"Tebow's rise to fame is a particularly encouraging one to me, primarily because of the authentic and unassuming nature of his faith," Clark told The Christian Post.
"The nature of his outspokenness is almost always tied to his humility — he understands completely the concept John the Baptist made clear: for Christ to increase, we must first decrease. We would do well to learn from Tim Tebow in this respect: it's not essential that we are respected and admired in order for Christ to be held up."
Pastor Tim Lucas of Liquid Church in Morristown, N.J. had a few thoughts to share with CP about Saturday night's Tebow-Brady match-up, which he noted has been billed as "Jesus vs the Prophet" in some circles.
"Tim Tebow definitely incarnates that Romans 1:16 boldness. Paul wrote 'I'm not ashamed of the gospel' and Tim Tebow is definitely not," Lucas said, adding that the star quarterback forces other Christians to reflect on how they live out their own faith.
"He's 24 years old, a virgin, a millionaire with the Western world as his stage, and he continues to openly look to Christ for all things," the New Jersey pastor added.
Lucas did express some caution, however, as to how "Tebowmania" may appeal to superstition among some observers, especially after Tebow threw for 316 yards and set a postseason record of averaging 31.6 yards per completion in the Bronco's Jan. 8 meeting with the Pittsburgh Steelers.
Referencing John 3:16, which Tebow is known for wearing on his eye black during his college games, Lucas said the "par excellence" verse of evangelical Christianity about God's love for the world appears to be leading some fans into perhaps wrongly looking into "divine connections" when there might not actually be any.
The Liquid Church pastor also noted that fans would do well to remember that God "gives and takes away" and cares as much for the "losers" as He does for "winners" — which is what John 3:16 highlights, and Tebow himself has expressed.
In a special interview with "The NFL Today" host James Brown, to air at 7:30 p.m. ET before the game, Tebow says he learned early on in life that God is no respecter of persons.
"We play a sport. It's a game. At the end of the day, that's all it is, is a game. It doesn't make you any better or any worse than anybody else," he says in an excerpt of the interview made available by CBS News. "So by winning a game, you're no better. By losing a game, you're no worse."
In the end, Lucas, observed, Tebow's consistency cannot be denied — the former Florida Gator has praised God with equal fervor after both good games and bad. "He is displaying what a messy faith looks like on the grandest stage in the world," the pastor said.
The last time the Broncos and New England Patriots met under such circumstances as tonight was in 2006, when the Broncos defeated Brady and his team 27-13. Will Tebow, who closes out every game, win or lose, with a nod to his Lord and Savior Jesus Christ, overcome his weaknesses (such as ensuring complete passes), capitalize on his teammates' strengths and manage to lead the Broncos to a repeat victory?
Personal opinions and politics aside, that is what true fans of the game will be watching for when Tebow, who is prohibited from wearing the now even more famous John 3:16 verse on his eye black, marches onto the field, his heart likely racing, as millions look on to see if his team will play hard and move ahead, or get crushed and go home.
Watch the Broncos and Patriots face off at Gillette Stadium in Foxborough, Mass., tonight at 8 p.m. ET on CBS.