Teen Exorcists Say Harry Potter's Magic Comes From Satan as They Take on London's Hotbed of Evil in New BBC Documentary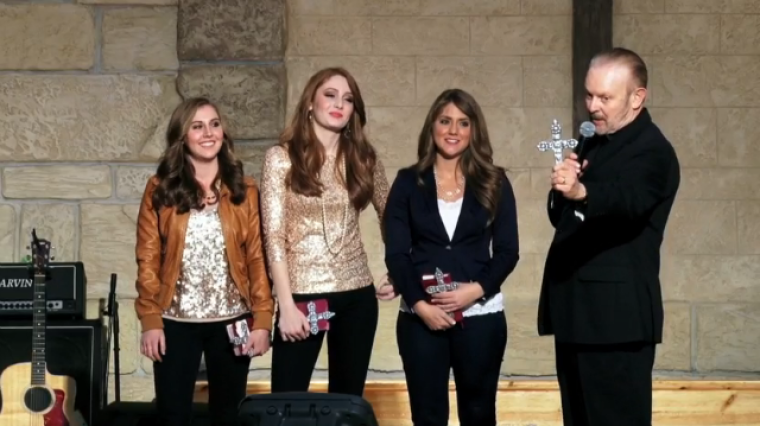 Three demon chasing teenage girls, who say London's reputation as a hotbed of witchcraft peaked with the rage over Harry Potter, and their reverend mentor, who claims to have cast out 15,000 demons over his career, will be the stars of a new BBC documentary this week.
In a promotional clip from the documentary, which will debut on BBC on September 12, Brynne Larson, 18, and sisters Tess and Savannah Scherkenback, aged 18 and 21, respectively, who have vowed never to read the Harry Potter novels according to an Express report, dismissed the notion that the magic highlighted in the books could be anything but pure evil.
"I think it's been centuries in the making. But I believe it all kind of came to a pinnacle, a peak with, well Harry Potter books that have come out and the Harry Potter rage that swept across England," said Savannah in the clip discussing the popular books in the back of a London taxi.
"The spells and things that you are reading in Harry Potter books, those aren't just some things that are made up. Those are actual spells, those are things that came from witchcraft books," added Tess.
A list of the dangerous spells, charms, curses and jinxes culled from the Harry Potter books are posted on the website pojo.com.
They include, Conjunctivitis, a curse that damages your opponent's eyesight; Riddikulus, when combined with a laugh it can defeat a boggart; Avada Kedavra, an unforgivable curse which murders opponents and Engorgio, a charm that enlarges items.
Here is the related video:
The girls, who came to London armed with crucifixes and Bibles after casting out evil spirits in the Ukraine, told the Express that they want to stop British teenagers from inviting the devil in through the spells and satanic Harry Potter magic.
Eighteen-year-old Brynne explained why the popular J.K. Rowling fantasy books should never be embraced as something good in the BBC clip.
"Harry is using this magic for good. So here we have this dangerous idea that you can use this magic for good or bad when in reality all magic is bad because they are getting their power from satan," she said.
After years of training with Brynne's father, the Reverend Bob Larson, the teenage exorcists, who all have black belts in karate, say they wage a physical as well as a spiritual battle every day.
According to Brynne, promiscuity is also causing demonic possessions in people who are catching "sexually transmitted demons" according to the Express.
With the teenagers' made-for-tv looks and management, however, the exorcists' trainer, Rev. Larson, has been accused of manipulating his meetings to make money. He told the Express, however, that it was a ridiculous accusation.
"I'm not 'curing' anyone, it's God's power that is delivering them from the demon. I am just an instrument to help make that happen," he said. "Money and motives. Every time someone is in God's work it always comes up.
"People pay thousands to go to drug rehab or for a psychiatrist but there is this idea that spirituality should be free. It is not uncommon for a pastor in America to make up to a million dollars a year. I can assure you that we are nowhere near that," noted Reverend Larson.