Teen who saved 12-year-old girl's life in mall shooting says God placed him there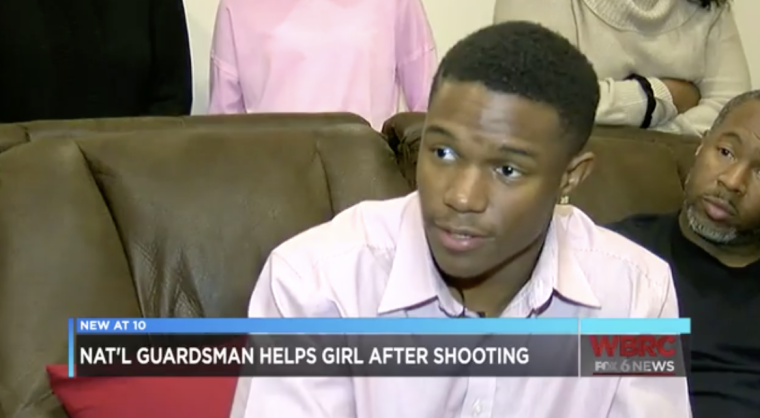 National Guardsman Rashad Billingsley is being hailed as a hero after he saved a young girl's life when a gunman opened fire at a mall in Alabama. 
Just minutes after Billingsley walked into the Riverchase Galleria in Hoover to buy a pair of sneakers on Thanksgiving night he heard gunshots.
"Not a minute after we got in the store the gunshots were fired," Billingsley told local news station FOX 6. 
The National Guardsman said his military training immediately kicked in and he ran toward the commotion as everyone ran away from it. His bravery and quick thinking enabled him to save the life of 12-year-old Molly Bennett. To Bennett's mom, he's a "hero." But Billingsley says he's giving God all the credit for putting him at the right place at the right time.  
"Let me just say first all thanks to God for me being in that store," 18-year-old Billingsley wrote on Facebook. "I'm a strong believer and believe everything happens for a reason … and my reason for being there was to help little Molly."
Bennett was shot in the back by the gunman and Billingsley ran over to her and immediately started administering first aid as he was trained to do as a military medic.
"Molly was complaining that her back hurt," he said. "I saw she had blood on her shirt and when I lifted it up, I saw she had a bullet wound." Billingsley grabbed a shirt off a store rack and used it to apply pressure on the gunshot wound until paramedics arrived. Bennett had no idea she had been hit until she overheard others' saying it.
"She's a strong, brave little girl," he said. "I'm glad she made it through."
Bennett has now been discharged from the hospital and is back home with her family. 
Two others who were shot that evening include Emantic "EJ" Bradford, who was shot and killed by a Hoover Police Officer who mistook him for the shooter. The police department later said that Bradford was likely not the man who shot Bennett. The other individual has not been named but did survive. 
"It could have been me," Billingsley said of Bradford's shooting. "He was in the Army like I am. I send prayers to his family."