Televangelist Jim Bakker Says Christians Can Survive End of World by Buying His Condos and $150 Water Bottles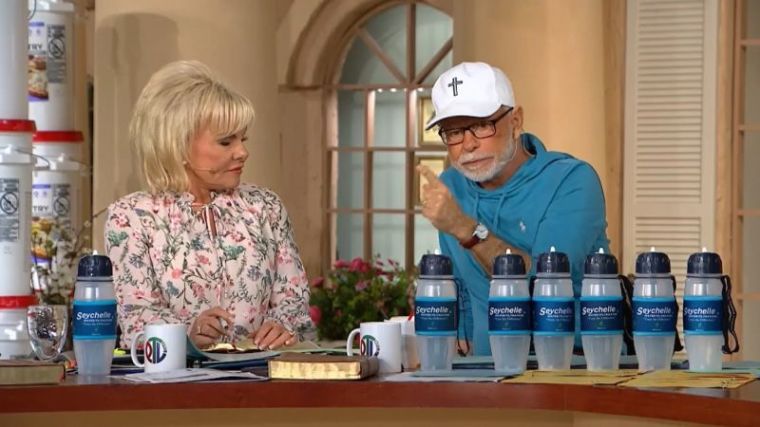 Controversial televangelist Jim Bakker has claimed that the Missouri town in which he is building a Christian community is equipped to survive the end of the world, and is selling survival gear, such as packs of bottles that cost $150.
Baker said on his program "The Jim Bakker Show" earlier this week that various prophets have predicted that if there is a major world disaster and humankind faces the end of the world, people in large cities are not going to be able to survive.
That is why for 15 years Bakker has been building his Morningside community in Blue Eye, Missouri, which will come with an amphitheater, houses for the residents, and a chapel that can be used for weddings.
He also is advertising survival gear, such as a pack of six "extreme survival" water bottles being sold for $150. His website claims that the bottles are "designed using a combination of both Advanced and Radiological filters."
"You all are going to know soon why God brought us here," Bakker said on Tuesday's show.
"Do you know the people from the government, from NASA, the research from so many of them, they have said in their research that the safest place to live in troubled times is right here. That's why God brought us here," he added.
The televangelist further said that he is looking for "people on fire for God" to live in the community, stating that "there is nowhere on earth you could live with more of God's generals."
Bakker did not clarify what he was referring to when he claimed that NASA deems Missouri safer than other locations, however.
"Friendly Atheist" blogger Hemant Mehta wrote Thursday that he researched Bakker's NASA claim but could find no such research. 
"Bakker is just trying to sell property using the same fictional scare tactics he uses to sell buckets of disgusting glop," he concluded.
Throughout the rest of the show, Bakker advertised various survival meal packages, and spoke with community pastors about the importance of trusting in God's plan in the wake of apocalyptic fears.
"I'm determined to let you know what we have here what's going on and what God is doing," he told the audience.
The Daily Mail, which visited the Morningside location in August 2017, noted that the community "looks similar to a theme park, featuring a brightly painted indoor town square dominated by a 15ft tall Jesus statue."
Back in 2015, Bakker even warned that viewers who fail to buy his food products may find themselves forced to eat human flesh in nightmarish end-times scenarios.
"The Bible says they're going to eat their arms, the Bible says they're going to eat their babies, then it says they're going to eat their children. That's what people do when they get hungry," Bakker warned.
"When you're huddled in a corner with your grandbaby and they're screaming and crying and there's no food — I don't want that blood on my hands."
Bakker rose to fame in the 1970s with his nationally renowned Praise The Lord Ministries, but he ended up in prison for financial wrongdoing and alleged rape that cost him his ministry.
Back in February, following the death of the late Rev. Billy Graham, Bakker revealed that the world famous evangelist had visited him during his five-year prison stay to offer hope.
"Billy Graham came into my prison when I was there. He wrapped his arms around me when I was a mess. I was cleaning toilets at that moment and I was at a very low moment in my life," Bakker recalled in an interview. "Billy Graham walked in and threw his arms around me and said, 'Jim, I love you.'"