Terry Jones, 7 US Christians Face Arrest Over Anti-Islam Film?
Egypt Issues Warrants, Requests American Residents Be Extradited to Face Charges
Controversial Christian minister Terry Jones and seven Copts living in the U.S. have been charged by Egypt's prosecutor general with insulting the prophet Muhammad and inciting sectarian strife due to their alleged involvement with an anti-Islam film produced in the U.S. and cited as the cause of violent protests in several Middle East and North African nations.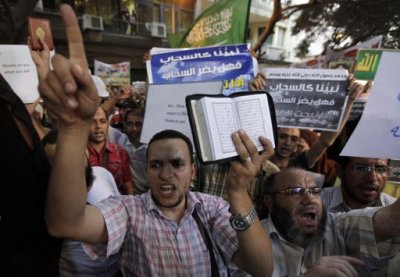 The prosecutor general has reportedly requested that all eight individuals be arrested by Interpol and brought to Egypt to face those charges, which also include threatening the country's independence and peace.
Jones, based in Florida, was named along with Morris Sadek, Morkos Aziz Khalil, Fekry Abdelmessieh, Nabil Adib Bassida, Nahed Metwally, Nader Farid Nicola and Elia Bassily, according to Egyptian and U.S. media.
Jones, known for his antagonism toward Islam, its prophet Muhammad and the Quran, reportedly sought to promote the "Innocence of Muslims" film to coincide with his "International Judge Muhammad Day" on the eleventh anniversary of the 9/11 attacks on the U.S.
The Dove Outreach Center minister, who has drawn rebuke from members of the Christian community for his controversial actions, responded to Egyptian's arrests warrants in a statement shared with The Christian Post.
"Again, the face of Islam is very clear. Islam is a religion of intolerance. It does not tolerate criticism of Muhammad, the Koran or even Sharia. It has a fourteen hundred year history of intolerance," said Jones.
"It is time that we join together in the west and give a very clear signal that we stand against terrorism, against intimidation, against fear, against every form of violation of human rights, civil rights, violations against women and children of which Islam is the prime example. We must protect freedom of speech. Freedom of speech and freedom of expression are the very cornerstone of a free society. As we began to limit that, or lose that, we will lose the ability to govern ourselves."
The Rev. Rob Schenck, an evangelical Christian who is often critical of Jones, issued a public statement condemning the Egypt prosecutor general's actions and defending Jones' right to freedom of speech, "even if it is offensive and abhorrent."
"For Egypt to issue this arrest warrant for an American citizen exercising his constitutionally protected, God-given freedom of speech is an outrageous insult," said Schenck, also Lead Missionary with the D.C.-based Faith and Action outreach ministry.
At the same time, Schenck added, "It is sad and reprehensible for a Christian to mock and deride others as Terry Jones has done. Jesus taught that we are to treat our neighbors as we ourselves would be treated.
"His actions are definitively un-Christian and maybe even anti-Christian. Nevertheless, he has an inherent right to air his opinions, regardless of how preposterous they may be."
It was not immediately clear where in the U.S. the Coptic Christian immigrants live, but Elia Bassily, also known as Nakoula Basseley Nakoula, originally introduced himself to the media as "Sam Bacile," and claimed to be the producer of the "Innocence of Muslims" film, described in reports as a low-budget amateur work. Bassily, a 55-year-old Los Angeles resident, was briefly questioned by authorities over the weekend but not arrested.
Morris Sadek is reportedly responsible for translating the film's 14-minute trailer, promoting it and disseminating it online and among Egyptian media. Sadek, based in Virgina, is described as a "maverick" by Coptic Solidarity and recently had his Egyptian nationality withdrawn for allegedly calling for a war against the land of his birth. It was reportedly Sadek who called on Jones to help with promoting "Innocence of Muslims," which portrays the prophet Muhammad as a womanizer and child abuser.
A spokesman with the U.S. Department of Justice's public affairs office told The Christian Post on Wednesday that the department had "no comment" on Egypt's extradition request. Observers have speculated that the arrest warrants are more symbolic and meant to appease those angry over the insulting nature of "Innocence of Muslims."
Protests, few of them violent, have been spreading globally since Sept. 11, 2012, when angry Libyans gathered at the U.S. embassy in Benghazi to protest "Innocence of Muslims." Four Americans were killed when the consulate in Benghazi was attacked. Various religious and political groups and figures, including the U.S. and Egyptian governments, have condemned the violence.