Texas Church Massacre 'Wasn't Over Religious Beliefs,' Authorities Say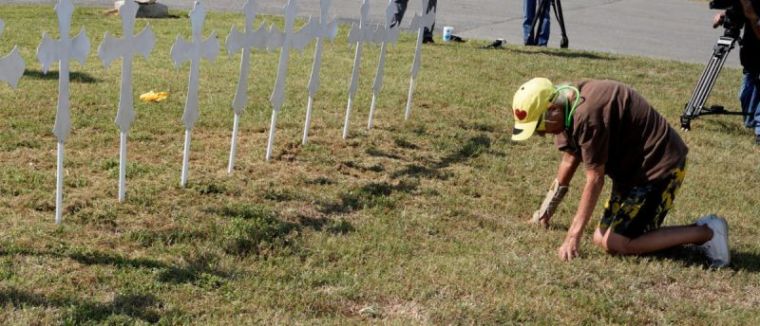 Devin Patrick Kelley's assault on a worshiping Texas congregation on Sunday morning that left 26 people dead and about 20 others wounded was not a religiously or racially motivated attack, a state official said.
As it emerged after the shooting that the late 26-year-old culprit was an atheist, many on social media were quick to speculate or jump to conclusions about whether Kelley's actions were stirred by an anti-Christian animus he may have held. However, authorities don't believe that is the case.
At a news conference on Monday, Texas Department of Public Safety Regional Director Freeman Martin told the media that in the morning before the attack, Kelley had sent threatening text messages to his mother-in-law who attended services at Sutherland Springs' First Baptist Church along with Kelley's ex-wife.
"We wanted to get that out there that this was not racially motivated, it wasn't over religious beliefs," Martin assured, according to CBS. "There was a domestic situation going on with the family-in-laws."
"It's a senseless crime, but we can tell you that there was a domestic situation going on within this," Martin added. "He had expressed anger toward his mother-in-law."
Reports indicate that while victims of Kelley's actions ranged in age from 18 months old to 77 years old, Kelley's mother-in-law was not even in attendance when the violence ensued. However, Kelley's ex-wife's grandmother, Lula White, was in attendance and was killed in the massacre, CNN reported.
According to CBS, Martin also told reporters that Kelley made a phone call to his father on his cellphone while he was engaged in a high-speed chase after fleeing the scene of the crime.
Kelley, who was shot by a neighbor before fleeing the church property, allegedly told his father that he was shot and wounded and didn't think that he was going to be able to make it out alive, a statement that would later prove to be true.
Authorities believe that Kelley shot and killed himself.
Kelley, who was discharged from the Air Force on a charge related to accusations that he assaulted his wife and child, was tied to three weapons found by authorities.
Special Agent Fred Milanowski of the Bureau of Alcohol, Tobacco, Firearms and Explosives told the media at the Monday news conference that a Ruger 556 rifle was found at the church.
According to CBS, Milanowski explained that two handguns — a Glock 9 mm and a Ruger .22-caliber pistol — were discovered from the vehicle in which Kelley's body was found.
According to Martin, Kelley did not have a license to carry a gun in Texas.
"So how was it that he was able to get a gun? By all the facts that we seem to know, he was not supposed to have access to a gun," Texas Gov. Greg Abbott told CNN. "So how did this happen?"
Kelley reportedly purchased the AR-556 rifle in April 2016 from the Academy Sports & Outdoors store in San Antonio and allegedly checked a box that indicated that he did not have a criminal history that would disqualify him from owning a gun when filling out paperwork to acquire the weapon.
Additionally, Kelley also wrote down a Colorado address when filling out the paperwork.
According to CNN, about 4 percent of the town of Sutherland Springs, which has a population of about 600, was killed in Kelley's attack.
Also killed in the attack was 14-year-old Annabelle Pomeroy, the daughter of the church's pastor Frank Pomeroy, who was traveling with his wife, Sherri, when the shooting occurred.
"We lost more than Belle yesterday, and the one thing that gives me a sliver of encouragement is the fact that Belle was surrounded by her church family that she loved fiercely, and vice versa," Sherri Pomeroy told CNN. "We ate together, we laughed together, we cried together, and we worshipped together. Now most of our church family is gone, our building is probably beyond repair and the few of us that are left behind lost tragically yesterday."