Pro-Abortion Advocates Shout 'Shame on You' After Texas House Passes 20-Week Abortion Ban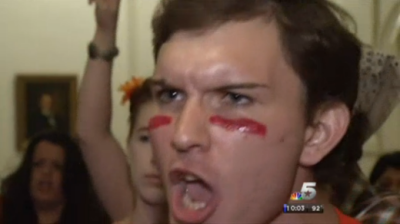 The Texas House of Representatives reconvened Wednesday morning for a final reading of House Bill 2 that passed in the chamber 98-49 late Tuesday, following 10 hours of debate and consideration of 26 amendments, none of which passed.
Following the vote, Republican lawmakers were confronted by opponents of the bill who chanted "shame on you" as they exited the House chamber.
Rep. Jodie Laubenberg (R-Parker), is the author of HB 2, a bill that if passed by the Senate and signed into law by Republican Gov. Rick Perry, would ban late-term abortion after 20 weeks gestation, and require abortion facilities to meet the same safety standards as ambulatory surgical centers. The bill would also require abortionists to have admitting privileges at a local hospital located within 30 miles of the abortion clinic, and to administer RU-486 in person.
On Wednesday, Rep. Ruth Jones McClendon (D-San Antonio), introduced an amendment that was quickly tabled by lawmakers because it was to offer financial and Medicaid benefits that are already provided by the state for children who are in foster care and to parents of adopted children.
McClendon offered the amendment because she said it would "encourage parents to put kids up for adoption," and added that "if we're going to ask for more children to come into this world, we should provide for them if we are not going to allow women to have abortions."
Laubenberg said that McClendon's "amendment falsely assumed that abortion services would not be available. 'It goes under the assumption that if a child is born in need that there are no services available, and that is also not the case,'" the Texas Tribune reports.
Before the offered amendment was tabled, Rep. Elliott Naishtat (D-Austin) lamented that since HB 2 would prohibit late-term abortions, "thousands more newborns will be born."
HB 2 now moves to the Senate Health and Human Services Committee, which will take up the measure before being voted on by the upper chamber as early as Friday.
During Tuesday's debate on the House floor, Rep. Jason Villalba (R-Dallas) held up a sonogram photo of his son, who is at 13 weeks gestation, and spoke to his colleagues about having the ability to watch his son's reactions and movements during this early stage in his wife's pregnancy. He proclaimed that his son is "a beautiful gift from the Almighty," and he was not going to accept being "accused of conducting a war on women" because he chooses "to protect human life."
Villalba told The Christian Post on Wednesday that he chose to share the sonogram picture of his son because he wanted to humanize the discussion members were having about abortion.
"So often when we talk about the abortion debate it's very esoteric, very ambiguous, very philosophical, but in the end, what we're dealing with here are human beings," Villalba explained. "I wanted to bring that back to the members of the House in a very real and impactful way because this is a human and this is my baby. And it's real when you know someone and that someone is speaking from the heart about what's so important to that person. And that's what I wanted to do yesterday, is to just bring a human element to this discussion."
When asked by CP how HB 2 is going to benefit his constituents, the freshman member of the Texas legislature said that by supporting the legislation, he's "protecting the newest Texans."
"And that's what this is about," Villalba stressed. "It's about protecting our citizenry. And so that's why it will benefit my constituents because we're protecting human life within the state of Texas."
Speaking about the provisions in the bill that would require abortion facilities to meet the same safety standards as ambulatory surgical centers and require abortionists to have admitting privileges at a local hospital, Villalba said the bill is intended to enhance the safety for women who undergo an abortion procedure.
"What we're saying, is that if you're going to have a major surgical operation, you should do so within the medically sufficient environment of an ambulatory surgical center – that is about protecting women. I think this is a pro-woman piece of legislation."
He continued, "I know the argument is 'well, the ultimate effect of this is it will eliminate a number of clinics in Texas.' And my response to that would be: we're not prohibiting these clinics from operating. We're just saying that if they're going to provide this procedure, then make sure that you have the requisite medical background to do so."
"These clinics can upgrade. They're not prohibited from upgrading. In fact, they're given a year to do so," he said.
Planned Parenthood and Senate Democrats who are opposed to HB 2 and its companion bill, SB 1, kicked off a speaking tour in Houston on Tuesday for the "Stand with Texas Women" rallies that will be held in select cities across the state. The rallies will feature Cecile Richards, president of Planned Parenthood Federation of America, and Sen. Wendy Davis (D-Ft. Worth), who will be traveling on the Planned Parenthood tour bus through Saturday.
View more videos at: http://nbcdfw.com.