Texas Man Finally Cleared of Rape After 12 Years in Prison Says His Faith Has Been Strengthened; 'My Father God Was Behind Everything'
Michael Phillips Exonerated in 1990 Sexual Assault Case, to Receive Nearly $1 Million in Compensation
A 57-year-old Texas man cleared this week of raping a teen girl in 1990 told reporters that he was only able to cope with being branded a guilty man because of his "father God," and expressed the conviction that God had been working behind the scenes all along to bring him justice.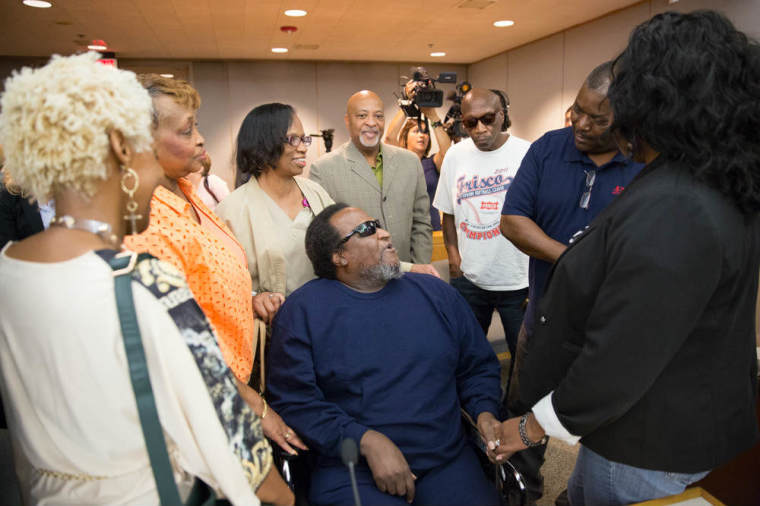 After prosecutors found evidence showing that Michael Phillips, currently wheelchair-bound, was not the one who raped a 16-year-old girl more than two decades ago, a judge ruled on Friday that the Dallas man should be exonerated. The new evidence was based on DNA testing, which Phillips did not request, but which Dallas County District Attorney Craig Watkins pursued through his Conviction Integrity Unit.
"My father God that got me through this. That's all I got to say," Phillips told reporters during the court appearance. "That speaks for itself. Pick up His book, it's truthful … see you through anything."
Watkins, the district attorney who revisited Phillips' case, celebrated the man's name being cleared, but expressed remorse for how the justice system had failed him.
"This is a great day for Mr. Phillips but a terrible day for our justice system," he told The Associated Press.
Phillips served 12 years behind bars for the 1990 crime after taking a plea deal at the recommendation of his attorney, who reportedly thought his client had little chance of receiving a fair trial as a black man accused of raping a white girl. Although the teen victim had picked Phillips out of a photo line-up as her attacker, once his DNA was compared to the profile linked to the semen in her rape kit, another man emerged as the culprit.
Lee Marvin Banks, the man identified as the rapist, reportedly lived at the same motel where Phillips lived and worked, which is where the crime took place. Despite being identified as the assailant, Banks will not face prosecution because the statute of limitations in the case has expired. However, according to USA Today, Banks' criminal record will note that he was a match in the rape.
As for Phillips, who suffers from sickle cell anemia and lives in a nursing home, he was overjoyed to finally have his innocence publicly validated.
"I never imagined I would live to see my name cleared. Six of my siblings died from the same disease, so I thank God for sustaining me in prison. I always told everyone I was innocent and now people will finally believe me," said Phillips in a statement provided by the Dallas District Attorney's Office.
Phillips, whose father died while he was behind bars, told reporters separately, "It feels good now that I know that my father God was behind everything. Everything He does puts me in awe. It just makes my faith stronger and stronger every day."
In addition to having his name cleared, Phillips will be awarded financial compensation for his troubles. According to the district attorney's office, Texas awards an exoneree $80,000 for every year he or she was wrongfully imprisoned. Phillips' case, however, still awaits formal exoneration by the Texas Court of Criminal Appeals. It was unclear when the appeals court would issue its ruling.